Herb Brooks, the brilliant, complicated coach who led the United States to the "Miracle on Ice" at the 1980 Olympics, died Monday afternoon in a car accident.
Brooks, 66, was traveling to Chicago after spending the weekend working to support hockey in northern [nl]Minnesota. He had just finished playing in a U.S. Hockey Hall of Fame golf outing.
He was killed when his vehicle rolled over at a highway intersection north of the Twin Cities around 2:30 p.m., a state official told the Associated Press on condition of anonymity. Investigators indicated that he was thrown from his vehicle.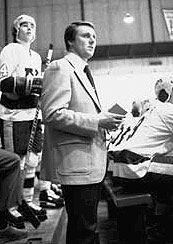 Brooks coached the 1980 U.S. team that won the gold medal in Lake Placid, N.Y. That team defeated the Soviet Union, 4-3, in the opening game of the medal round, a win that stands, according to many polls, as the greatest upset and/or moment in American sports history. The Americans went on to beat Finland two days later to win the gold medal.
A native of St. Paul, Minn., Brooks played hockey at the University of Minnesota and was a two-time Olympian as a player, with the 1964 and 1968 teams. He coached his alma mater from 1972-79, compiling a 167-99-18 record and winning three national titles (1974, 1976, 1979). (NCAA Coaching Record)
Brooks later coached in the National Hockey League with the New York Rangers (1981-85), the Minnesota North Stars (1987-88) and the New Jersey Devils (1992-93).
Brooks also coached at St. Cloud State (1986-87), and led the 1998 French Olympic team as well. He served as interim coach for the Pittsburgh Penguins in 1999-2000, then returned to the Olympic arena one more time, guiding the U.S. to the silver medal in 2002.
He was inducted into the U.S. Hockey Hall of Fame in 1990, and the International Ice Hockey Federation Hall of Fame in 1999.
Tributes to Brooks were offered Monday afternoon.
"I'm personally stunned by the news we heard," said Mark Johnson, who played on the 1980 U.S. Olympic team and now is Wisconsin's women's coach. "It's certainly a sad day for American hockey and the United States, which lost one of its finest coaches. It's certainly shocking to a lot of people from that standpoint. It's a real tough day. On a very sad note, we lose not only a great coach and an innovator of the game, but a real good friend."
Minnesota coach Don Lucia said: "This is a tragic loss for the entire Minnesota hockey family. He was a pioneer for Minnesota's 'Pride on Ice.' When you think of the legends of Golden Gopher hockey, you think of John Mariucci, John Mayasich and Herb Brooks. He was an inspiration to me and my thoughts are with his family."
Minnesota governor Tim Pawlenty said in a news conference on the steps of the state Capitol: "He was Minnesota's head coach. We're really going to miss him. … He brought us to our feet cheering his hockey greatness."