The risk a team runs after a successful season is the misguided notion that the next season's success will be easy to come by. Offseason conditioning and preseason training usually are fueled more by bad memories than good ones.
So Minnesota-Duluth coach Scott Sandelin, fresh off the Bulldogs' first trip to the WCHA Final Five since 1998 and with a team of experienced players, is making it his job to ensure that complacency won't be a problem.
"Quite honestly, I'm not going to allow that to happen," said Sandelin, who got the Bulldogs back above .500 in his third season behind the bench. "I was very pleased last year that our team never looked too far ahead, took it a game at a time, a weekend at a time. Win or lose, you put it behind you and you move on.
"Last year, I think the key was to get points every weekend. There's only one weekend where we didn't. I think if you can do that, you can hang around and have an opportunity to finish in that top five or even higher."
The reason some think it might be higher is the number of players the Bulldogs have returning. Only two players who played more than half the games are gone — forwards Jon Francisco and Drew Otten. The rest of the team has the experience of the fifth-place finish, the first-round playoff victory over St. Cloud State and the third-place finish at the Final Five to draw on.
It's a team that could be better than last year in many areas, and that's why the big concern is for the team's mental state and not, for instance, who's going to stop the puck.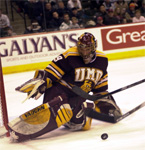 They have that area, and most others, settled — a comforting feeling for Sandelin, who worked on installing his system for the first three years of his regime. But it was a surprise last season when Isaac Reichmuth took over the goaltending position and played so well.
On his way to being named third-team all-WCHA and to the all-league rookie team, Reichmuth put together an 18-11-3 record and 2.68 goals against average. It may have been the backbone of the Bulldogs' transition last season to have a solid goaltender — something they hadn't been able to boast since Brant Nicklin left after the 2000 season.
"He's got the ability to be a very good goaltender in this league," Sandelin said. "Hopefully he can take a page out of the last year and build on it and be even better. Because we're going to need it."
Reichmuth isn't the only Bulldog who could be looking at some awards at the end of the season if he continues along his present path. Beau Geisler is expected to be one of the best defensemen in the WCHA — among the top three, Sandelin claims — in his senior season.
He has played in 68 consecutive games, but the last three made believers of many. His play at last season's Final Five sent him into this season on a high note. UMD had to wait to see if Geisler, who was a partial qualifier his first season, would be eligible this year. Now that he is, there's reason to believe he'll excel.
"If he plays like he did in the Final Five, he doesn't have to prove anything to anybody," said Sandelin, who added that he thinks Geisler has the potential to be an all-American this season.
"I think he was outstanding in the Final Five and had a lot of those moments during the year. … Through the summer, through workouts and some of the captains' [practices], I've seen a little bit more of a leader emerge and I like that. He's got all the tools."
The rest of the defense should look familiar, too. Sandelin said Todd Smith has recovered from a knee injury that slowed him last season and Ryan Swanson, formerly of Iona, will have work to do before he gets in the lineup. Otherwise, the group is the same as last year.
"It's nice where you don't have to really go in there. They know what you expect," Sandelin said. "We've got some pairings that could be very similar. A lot of guys played with each other a long time last year. We'll start it that way and see how it goes."
Up front, the Bulldogs have two legitimate award candidates in senior Junior Lessard and sophomore Tim Stapleton. Lessard was named to the Final Five all-tournament team last season, and Stapleton was the victim of being a freshman in the same year as Thomas Vanek, Zach Parise and Brett Sterling, or he would have been an all-rookie team selection.
Lessard scored a team-high eight goals on a power play that Sandelin called "anemic." He got hot at the end of the season, scoring a goal in each of the team's three games at the Final Five and recording eight points in six playoff games.
Stapleton led the team in scoring as a freshman, using his ability to get lost in the shuffle and then appear in a scoring position to put up 42 points.
"I think he's a tremendous hockey player. Sometimes he doesn't even realize it," Sandelin said. "I think he's very capable of being a big-time offensive guy in our league. … He's gifted. I've been fortunate to be around a lot of good players, and he ranks right up there."
T.J. Caig will get an opportunity to start this season at the beginning — he was ineligible until January last season because of major junior involvement — and that's expected to improve his production. Sandelin said Justin Williams could see more time in his sophomore season and make a bigger contribution.
It'll all get tested right away. The Bulldogs play at North Dakota in the U.S. Hockey Hall of Fame Game on Oct. 4, then go to Michigan State for the Icebreaker tournament. Their opening-round opponent is Boston College. If there's any hangover left from last season, that'll shake them out of it.
"If you think you're this type of team and you play that way, we're going to be in eighth or ninth place," Sandelin said. "That's my job to not let them think that and remedy it quickly. That's why I'm really excited about playing a North Dakota and a Boston College early. That type of thing can be a real positive both ways."
Noteworthy
The Bulldogs don't host Denver or Wisconsin, and don't travel to Minnesota State or St. Cloud State. … 85.6 percent of the scoring returns to the team this season.