Head coach Bob Gaudet continues to build a successful and consistently solid program at his alma mater, capturing 20 wins last season for the first time since 1947-48. With each campaign, Dartmouth gets one step closer to its goal of winning the ECAC championship and advancing to the NCAA Tournament. An impressive collection of talent, the Big Green were ranked third in both ECAC preseason polls, a position that finally fits their potential.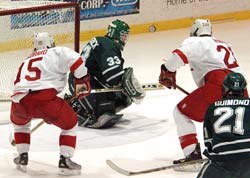 "While it's great to be recognized in the preseason polls," acknowledged Gaudet, "it really doesn't mean much until we get on the ice. We have a tough schedule and we have several key players we will need to replace. We are very focused on winning the ECAC tournament. All expectations about our team are positive and that is definitely a good thing."
Dartmouth's nonconference schedule includes challenges from BC, BU, Maine, Massachusetts and UNH, a collection of opponents that, if the Big Green are successful, would further elevate the program's status on the national stage.
At the forward position, Dartmouth returns one of the best crops of players in the league, including three skaters who can singlehandedly win games for the club. Last season's third-highest scoring team in the ECAC, the Big Green will look to increase their production with even better performances from junior Lee Stempniak and sophomores Hugh Jessiman and Mike Ouellette.
Stempniak, the 2002-03 team most valuable player, led the club in scoring with 28 assists and 49 points. He earned honorable mention All-ECAC selection for his efforts and teamed with Jessiman to give Dartmouth its first pair of 40-point producers in the same season since 1978-79.
Jessiman led the Big Green in goals (23) and ranked second in points (47), setting the school record for points by a rookie. A draft selection of the New York Rangers, he looks poised to have a tremendous campaign, one in which he could easily capture All-American honors and consideration for the Hobey Baker Award.
Ouellette's 14 goals and 35 points in 34 games gave Dartmouth its third point-per-game player. He also notched 22 points in 22 league contests and, although less heralded than Jessiman and Stempniak, he is one of the most dangerous players in the ECAC. Sophomores Eric Przepiorka and Jarrett Sampson will be expected to step up following rookie seasons of 16 and 14 points, respectively.
Dartmouth suffered its biggest personnel losses on defense and in goal with the graduation of Trevor Byrne, P.J. Martin, Pete Summerfelt and Nick Boucher. Mainstays in Gaudet's lineup for four years, he came to rely on them tremendously. The coach now turns to his five returning blueliners and some fresh recruits to help keep pace defensively.
Captain Brian Van Abel will be the leader of the defensive corps and will be joined in workload by a former ECAC All-Rookie teamer, sophomore Sean Offers. All eyes will be on a pair of newcomers, too, as Mike Hartwick and Rob Jarvis come highly regarded.
Between the pipes, Dartmouth will turn to either senior Darren Gastrock or junior Dan Yacey. Rookie Sean Samuel is also in the mix, but after hearing Gaudet rave about Yacey at the end of the 2002-03 season, it is likely that he has the upper hand. Yacey's numbers underscore Gaudet's faith as he posted a team-high .932 save percentage and 2.15 goals against average.