"It's a huge, huge part of our game, probably a bigger part of hockey than any other sport, that chemistry in the locker room. This is a sport that if you have the right mix of people, you can compete at any level."
Notre Dame head coach Dave Poulin knows this as well as any coach in the CCHA. Entering his ninth year as the head coach of a sport whose profile is increasingly higher, at a high-profile academic and athletic institution, Poulin knows that creating good chemistry isn't as easy as recruiting NHL draft picks.
"Now it comes down to being able to recruit the mix of players — not a player, but a mix of players — that is able to take you to the next level," says Poulin.
For years, the Fighting Irish boasted of the number of Notre Dame players drafted by the NHL, as though loading the roster with draft picks were the quick way to CCHA success. For years, Notre Dame fans were led to believe that the team had finally arrived, had finally turned a corner, would finally contend, year in and year out.
Poulin and his staff found out the hard way that the success of a team is more than the sum of its marquee players.
Poulin says now that his program has turned a significant corner, and much of that has to do with his own learning process.
"I think we've done things the right way," says Poulin. "We haven't taken money away from anybody. I think I've gone through an evolution as a coach through eight years, where it took me some time, and then it was probably our third year and fourth year got us to a certain stage in the program."
That stage, when Ben Simon was a household name, hinted of success that was just around the corner. Instead, it brought another lesson for Poulin.
"What that [stage] does is enable you to recruit a different type of player, maybe the type of player that you don't coach as well," says Poulin, "that doesn't react as well in the coaching, and that isn't the type of player that you want to build [your program], but you have to go through that stage. I've talked to a number of coaches and they all went through it.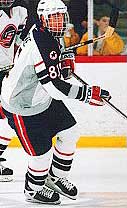 "And now I think I've come full circle in terms of where I want to go. We've been to Joe Louis three out of [the last] four years, and only two other teams have done that — Michigan and Michigan State. We're close. Now it comes down to difference makers on the ice, different players stepping forward."
Poulin isn't just whistling a happy tune. For the past two seasons, the Fighting Irish have exhibited a tenacity not evident in Poulin's first six years as head coach, a move toward the type of chemistry that is necessary to build a winning program.
The Irish have lost a few keys but return some character guys who can help the program continue on its path toward success. That begins with senior captain Aaron Gill, who Poulin calls "a coach's dream" for his leadership skills.
Top scorer senior Rob Globke, big senior defender Neil Komadoski, and impact blueliner Brett Lebda also return. In fact, the senior class — rounded out by forward Tom Galvin, and defenseman T.J. Mathieson — is poised and experienced, and can provide a stabilizing factor in a program that has been unpredictable in the past.
The Hook
Poulin is charming and disarming, a well-spoken gentleman who readily owns up to past mistakes. For the first time in a long time, the Irish aren't beginning the season with a "Look at us! Look at our draftees!" rallying cry, and that's appealing.
Notre Dame hockey has been one of the most enigmatic programs in the CCHA for Poulin's whole tenure. This may be the year in which the Fighting Irish show their true colors.
Then there's returning goaltender Morgan Cey, whose numbers last year (2.87 GAA, .912 SV%) should have earned him more attention.
The Line
Well, it's "lines," technically.
"My pressure is self-imposed," says Poulin. "I want to do well. I've been fortunate for what hockey's given me. I think we have turned a corner. Have we won a national championship? No. I would love to. I think the next step for us is to get to the NCAA tournament, and each of the three years that we've gone to Joe Louis, we've gotten that much closer, that much better."
All right. I'm listening.
The Sinker
The potential for mediocrity is as evident here as is the potential for at least goodness; the team is still a few years away from anything resembling greatness.
Last year, Notre Dame's offense was average, its defense was average, its special teams were average to below average.
The Irish need that chemistry to lift themselves out of the middle of the pack.