New Hampshire lost some big-time players from the squad that advanced to the national championship game last year — All-Americans Lanny Gare and Colin Hemingway are Exhibits A and B — but still returns plenty of talent for another serious run at it.
The motherlode crouches between the pipes. Michael Ayers recorded seven shutouts last season en route to All-Hockey East, All-America, and (with Boston College's Ben Eaves) Hockey East Co-Player of the Year honors.
"No question, our strength starts from our net out with our big returning All-American," coach Dick Umile says. "Michael had a fabulous season. It's great to have someone of his experience and what he accomplished last year."
In front of Ayers is a veteran group of blueliners that emphasizes solid defensive play over offensive flash. Don't look for them atop any scoring statistics; instead, move your eyes over to the plus-minus leaders.
"We're going to bring back four or five guys who played quite a bit for us," Umile says. "So we have quite a bit of experience and we think we'll be a solid defensive corps.
"Offensively, though, Garrett Stafford and Kevin Truelson [who both graduated] were talented offensive defensemen so we'll need younger guys to step up and fill those shoes. There's no question that defensively we'll be solid, but it's always good to have a couple offensive defensemen who can help you on the power play, get you out of the zone and put a little pressure on the attack."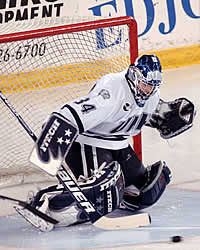 As for the attack, three of the top four Wildcat scorers departed, but five return who totaled over 20 points last year, not to mention Bash Brothers Patrick Foley and Eddie Caron.
"We bring back a good nucleus of forwards," Umile says. "But there's no question we're going to need some help to replace the goal production we lost so other guys are going to need to step up."
All of which adds up to a potential three-peat atop the league standings and perhaps also to the Frozen Four.
"BC is clearly the team to beat in our league," says Umile. "They're the most talented team coming back. After that, it's a league that is going to be up for grabs."