It won't be a shock if the Black Bears finish second in the league. It also won't be a shock if they fall out of home ice. At the same time that there are major strengths there are also significant questions.
The strength begins in goal where Jimmy Howard and Frank Doyle rank as the best one-two tandem in the league. Howard was virtually All-World going into the stretch run, leading the nation in save percentage. He then ran out of gas, however, having played through the Christmas break in the World Junior Tournament. Doyle, who had been overshadowed by Howard, played consistently well from start to finish.
"I think Jimmy is going to have a great season," coach Tim Whitehead says. "He learned a lot last year, perhaps burning himself out. If he gets chosen to that team again, he'll know how to handle that situation better having been through it.
"Frank Doyle is just a tremendous athlete and a very solid goaltender. I think he's one of the best [NHL] free agent prospects coming out of college hockey this year because he's so consistent. He's just going to keep improving."
In front of Howard and Doyle will be several new defensemen, including one more than originally expected because Francis Nault had one fewer year of eligibility than had previously been thought. Since the Black Bears also lost Cliff Loya, Hockey East's Best Defensive Defenseman, from an already thin defensive corps, the Maine blue line could determine the team's fate.
"There's no question that that's our key area," says Whitehead. "Troy Barnes, Prestin Ryan and Travis Wight played regularly last year. Barnes and Prestin are well-rounded guys. They were on our second power-play team so they'll have an opportunity to elevate and get more time. Wight is in Loya's mold as a defensive defenseman."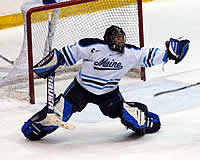 Maine also lost its four top scorers up front. In response to a media member noting that Maine has lost 60 percent of its goals and 60 percent of its assists, Whitehead responds ruefully, "Thanks for rubbing it in."
Colin Shields and Todd Jackson lead the returning scorers. Shields suffered through an injury plagued season last year, scoring only 14 goals after recording 29 the previous season.
"Derek Damon and Greg Moore, both Mainers, had great seasons last year for first-year guys," says Whitehead. "We thought at the end of the season that they were two of our best guys. I think they'll pick up right where they left off. They should be playing in all situations, power play and penalty kill."
Will this Maine team follow its predecessors into the NCAA tournament after at least threatening to win a Hockey East title? There's a little more doubt about that this season with more holes to fill than usual.
"We've been in that group of 'usual suspects' with BC, UNH, and BU," Whitehead says. "The question for us is going to be that we've lost a lot [of talent], but we feel that we can surprise a lot of people. If we stay healthy, I think we can improve as the year goes along.
"We're going to need some of our veterans to emerge. Secondly, we need our freshmen to adjust quickly, much like Jimmy Howard did last year. Finally, if we stay healthy I think we can stay in that top group and get a sixth straight trip to the NCAAs. That would be awesome. But it's going to be a process this year more than it has been the last few years."