In recent years Boston University hasn't possessed the dominating offense of its early- and mid-nineties predecessors. There's been no updated version of a Chris Drury on the fourth line as a freshman nor a trio as imposing as Tony Amonte, Shawn MacEachern and Keith Tkachuk. The Terriers have instead won with stellar defense and goaltending. This year's recipe looks like more of the same.
Their number one strength lies in goal, where Sean Fields has consistently come up big in the biggest of games. He's been BU's "Mr. March."
"No question he is an All-Hockey East, All-American and Hobey Baker candidate," coach Jack Parker says. "He's proven over his career that he's the sparkplug for us. He's the big gun for us. We have a lot of confidence in our game in our own zone knowing he's back there.
"He's our key. He's played great the end of every year here. It's important that he plays up to his capabilities, but there's no question in my mind that he will.
"He's gotten better every year and we expect him to get better this year. There's no question that he will be one of our strengths."
Three large holes on the blue line must be filled following the graduation of All-American Freddy Meyer as well as John Cronin and Mike Bussoli. As the Terriers integrate freshman blueliners into the lineup, it'll be imperative for returnees Bryan Miller, Ryan Whitney, Jekabs Redlihs and Dan Spang to play to their abilities. Whitney, and to a lesser extent Miller, had disappointing seasons last year while Redlihs earned a berth on the All-Rookie team.
"Whitney and Miller are both keys because of the younger defensemen," Parker says. "Everyone else will be either a freshman or a sophomore so it's real important for those two guys to step up their games.
"I think they both played well down the stretch. Whitney was injured early in the year and had a disappointing season trying to live up to his first-round-draft-pick expectations. He had a lot of pressure on him. Automatically, he's going to have a better year just because all that stuff is out of him and he's healthy.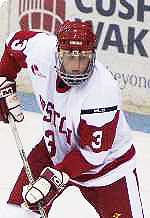 "I think we'll see the real Ryan Whitney this year. We'll have a great year out of Bryan Miller and I think Redlihs and Spang, the two freshmen who played really well last year, will be stalwarts in this league.
"We'll be playing as many as three freshmen a night so it'll be a key how quickly they adjust."
Up front, the Terriers return their top three scorers and four of their top five. Frantisek Skladany emerged last year to score 35 points. Mark Mullen was named the league's Best Defensive Forward while scoring 27 points. Brian McConnell, Ken Magowan and David VanderGulik also broke the 20-point barrier.
As a result, the offense that struggled at times last year should pick it up a notch and become more consistent.
"Scoring was a problem for us last year," Parker says. "We'll look for our sophomores and juniors to make a big jump scoring-wise. Guys like [Brad] Zancanaro and [John] Laliberte stepped it up [down the stretch] as freshmen. We've got to get a little offense out of guys like that.
"I do believe we have enough talent, enough size and enough hockey sense to generate more offense than we did last season."
The Terriers have been picked to finish third in Hockey East, which is just fine with Parker.
"I don't like to be picked number one, but I don't like to be picked 38th either," he says with a laugh. "Usually those two things are the kiss of death. One, everybody thinks you stink and they're probably right and you can't overcome that. The other, everybody thinks you're good and they're going to be gunning for you, and your guys think they're too good, too."