This summer, quite suddenly, my son discovered the concept of "cool."
He's five and I learned about this on consecutive days in June. First, while riding to "Storyland" in Conway, N.H., my sister mentioned she had to go shopping for kids' clothes.
"Cool or cute," said Little Joe.
I wanted to make sure I heard correctly. "What did you say?"
Vulgar chants aren't cool. Cornell fans holding up the "Cornell Daily Sun" while the opponents are introduced is cool.
"Cool or cute," he replied. "Clothes are either 'cool' or they're 'cute'."
The following week, he and his brother were selling lemonade and snacks in front of the house. As Son No. 1 shouted out to passing motorists, Son No. 2 spoke up.
"Don't bother yelling at the guys on motorcycles," offered Little Joe. "Guys on motorcycles are 'cool' and cool guys don't eat this stuff."
Ah, the power of Nickelodeon.
I can't recall when I first grasped the notion of something or someone being "cool." Maybe it was Steve McQueen. Or Sean Connery. It could have been an athlete but as everyone knows, being "great" and being "cool" are two different things.
No one had a better season in my youth than Carl Yastrzemski of the Boston Red Sox in 1967. But Yaz was never cool. The Big Bad Bruins of the 1970s had talent. Orr was great. Espo was pretty good too. But Derek Sanderson was the one people tended to call cool. Him and perhaps Gerry Cheevers' mask.
A diehard Sox fan, I just finished watching a dramatic Red Sox-Yankees playoff series and despite my devotion to the Sox, there was truly just one ballplayer in the series who was the personification of cool: Derek Jeter.
Hockey Cool, like cool itself, is in the eye of the beholder. I mean, believe it or not, the mullet was cool once. Still is in Barry Melrose's house. When Gretzky played, having part of your jersey tucked inside your pants was cool. (When Teddy Green did it 20 years earlier, it was annoying.)
Remember "Cooperalls"? Some people thought they were cool once. I think.
When you were on the freshman team in high school, the varsity was cool. When you practiced and played games all over the place and generally worked out of the trunk of your family car, the guys who had a home rink and a permanent locker room were cool.
I remember watching the Boston University teams of the '60s and '70s and thinking their varsity jackets, red wool with cream color leather sleeves, were cool. On the other hand, their helmets, with that tall white stripe down the middle, were not.
Cornell's Ken Dryden, standing majestically with his gloves atop his stick, was both great and cool. His mask, what there was of it, was cool.
When you sat on the bench, it was definitely not cool to have the blade of your stick up. They tell me that has changed. They also tell me that the word "cool" itself is not cool in many circles. It is now "sweet," with the word pronounced as if there was more than two "e's." Or maybe you would call something "sick." Like when a puck carrier, on a one-on-one, first puts a puck through a defenseman's legs and then dekes a goalie and beats him with a backhand roof shot. An observer might say, "That's sick!" Meaning it as a compliment, of course.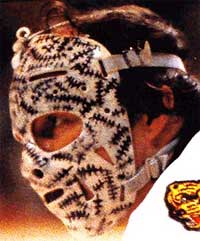 When you went public skating in the old days, it was cool to have your pant leg tucked inside what we called the tendon guard. I'm not sure public skating at all is cool anymore. "Tacks" were cool. "Puckmaster" gloves by Stall and Dean were cool. If you were a goalie, and you had a pair of Kenesky pads, you were really cool.
Game jerseys that have those laces at the neck were cool. They are coming back. And in Canada, they're called "sweaters." That's cool.
It is obviously cool to go out and support your college team and wear your school colors at places like North Dakota and Minnesota and UNH and Cornell and Michigan and so many other campuses. But it just doesn't happen at other places that I'm too politically correct to identify. I will admit, however, that I went to one of those schools.
My kids think the Zamboni is cool. In fact, their favorite rinks to go to are the ones that now use two Zambonis to clean the ice.
Even though I'm a lifelong Bostonian, I have always been a Chicago Blackhawk fan. That's because their uniforms, particularly the red ones, are the coolest in all of sports. Stan Mikita was cool.
Bobby Orr used to have just a single strip of tape on his stick blade. Kids thought that was cool. But kids who copied it, particularly kids who weren't very good players who copied it, weren't cool at all. Kids who used shiny electrical tape on their sticks were definitely not cool.
Throwing things on the ice couldn't be less cool. Vulgar chants aren't cool. Cornell fans holding up the "Cornell Daily Sun" while the opponents are introduced is cool. Leaving a game early because your team is losing is not cool.
In my house, my kids actually think I'm cool. They're very young. Their mother, however, rarely thinks I'm cool.
I'm sure there are some among you who think that some guy writing about cool isn't cool at all. But knowing when to stop? And stopping? That's cool.
And another thing…
At the Hockey East Media Day, I joked that for our 20th anniversary season, we had contemplated coming out with Hockey East Action Figures. There would have been two Jack Parker figures, one as coach and one as athletic director. There would have been a limited edition Mike Milbury figure in a Boston College sweatsuit, commemorating his three weeks as the Eagles' head coach during the summer of 1994. The Talkin' Chris Serino figure might have been subject to censorship. And so on.
But then I started thinking, why not? Why not a set of College Hockey Figures? I am sitting in my office and I am looking at my "figurines" of Pedro Martinez, Nomar Garciaparra, Ted Williams, Derek Lowe, and Carl Yastrzemski. Oh, and my new Drew Bledsoe. And my Mike Richter. Okay. So I'm a geek. So what if I have the Danbury Mint on speed dial.
But can't you imagine a College Hockey Set? Some of the technology out there is producing lifelike reproductions. You could see every detail of Ron Mason's and John Markell's hair cuts. I can envision WCHA Commissioner Bruce McLeod, black turtleneck, silver hair, standing six inches tall on my bookcase. What about the Ben Eaves-Patrick Eaves "Twin Pack"? Maybe there would be a "Father-Son" series. You know, Zach and Jean Paul Parise. Darryl and Ryan Sittler. Hell, Darryl and Ryan and Meaghan Sittler. What about the special "Rivals" series with Clarkson vs. St. Lawrence figures? Or Michigan vs. Michigan State figures? Maybe they would produce a special "Team Figure," showing the Wolverines' bench, complete with their long standing (literally) trainer and equipment manager, or, as one official has called them, "those two bookends"?
What about a "Throwback Set" with players and coaches from yesteryear. John Mariucci and John Mayasich, at Minnesota's old Williams Arena. Guys like Murray Armstrong, and Snooks Kelley and Cooney Weiland wearing fedoras. Can you imagine Snooks' mug in molded plastic? Their hats could be removable. Like Mike Sertich's hairpiece.
But wait. Even the media could be captured in all their splendor. There's the five o'clock stubble on USCHO's Adam Wodon. There's the super sized Larry Mahoney from the Bangor Daily News. There's the Broadcastin' Bernie Corbett figure thumbing for a ride. I don't even want to think about how many batteries the Talkin' Bob Norton figure would require.
As for me, well, if I can be so immodest, there certainly should be a Joe Bertagna figurine. Coat and tie. No. Casual. Sitting at my computer. Responding to e-mails from fans who think I should have better things to do with my time. Looking, sort of, what's the word I'm looking for? I know, cool.
Joe Bertagna is the Executive Director of the American Hockey Coaches Association and Commissioner of Hockey East.