Monday is decision day. That's the day the Division III Presidents and their representatives will vote at the NCAA Convention to either pass or reject Proposal 65 — the proposal that would eliminate the ability of Division III schools to offer athletic grant-in-aid packages (scholarships) in sports in which they "play-up."
After a Sunday business meeting to discuss all the proposals on the reform package, the proposal is due to hit the floor for a roll-call vote at 9 a.m. on Monday morning and should be completed by noon. If not, the afternoon session will see a continuance of the vote with a decision by 3 p.m.
Ever since this bombshell was dropped on the eight affected schools — just one small part of a sweeping Division III reform package aimed to get D-III back in line with its founding principles — the coordination of effort and cooperation among their athletic departments and administrators has been masterful. And as the vote approaches, the effort has been ramped up, intense and hectic.
"It was a good effort, probably because we're all team players to begin with," said Margie Strait, athletic director at St. Lawrence. "To look at this issue as proactively as possible — and mostly when information is shared, accurately, openly and with direct concern for each."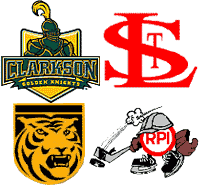 Each of the eight affected schools — Clarkson, Colorado College, Hartwick, Johns Hopkins, Oneonta, Rensselaer, Rutgers-Newark and St. Lawrence — play up in one men's and/or women's sport, and four of them are in college hockey, making it a particularly urgent matter there.
Proposition 65 aims to prohibit D-III institutions from awarding scholarships in D-I sports. The eight schools then entered amendment 65-1, which would grandfather in those schools, something that already occurred in Division I legislation 20 years ago.
"Quite deliberately we went at it … to get people to at least hear us, and to hear why it's important and to show why good legislation already occurred in '81-82," said Strait.
Johns Hopkins has been a leader in this fight. Its men's lacrosse program is renowned the way Duke basketball is.
"The eight schools working together, working the way we have and communicating has been pretty impressive to have all of these schools from all parts of the country from Upstate New York to Maryland and different sports that are affected has been great," said Tom Calder, athletic director at Johns Hopkins. "It's really been well orchestrated by the presidents and the ADs, and because of that, we've gotten to the vast majority of the Division III membership to explain our stories — how if 65 is passed, how it would negatively affect our programs. And I feel good that we communicated with them."
Because of the nature of this year's reform legislation, 98 of the D-III presidents are expected to show up personally.
"We've had the help of our presidents calling other presidents," said Calder, "and we're starting to feel more confident that when people vote that they know how it affects Clarkson hockey or Oneonta soccer.
"My biggest fear was that if we went to the convention and people did not hear our side of the story — and we did a good job of [addressing] that."
Coordination
These proposals have made it through every step of the NCAA legislative process, except this final one. Prop 65 was the only one met with any hesitation, but was ultimately passed by the Management Council and Board of Directors. The vote at the convention consists of the presidents — or their representatives — from all 416 member D-III schools.
So the eight schools pounded the pavement. Hiring a public relations firm, setting up an information web site, handing out impressive brochures, making personal calls and e-mails, from athletic director to athletic director, and president to president.
"What is history and tradition all about? Three years ago, our arena turned 50 years old. We were playing Dartmouth when the arena had its inaugural night. And 50 years later, we played Dartmouth — same team, same night — and that felt really good."
— St. Lawrence AD Margie Strait
"Our intent is to leave no stone unturned," said Julie Soriero, interim athletic director at Colorado College. "Last year, something was defeated by just five votes, so we're going to do due diligence to make sure that everything works."
RPI athletic director Ken Ralph said the ADs divided up the country, and had their own call lists.
"The feedback was positive," said Ralph. "I think they liked the outreach, I think they like the fact that they were contacted before the convention so that we don't wind up with a protracted argument on the convention floor, I think they liked having some of their questions answered. There are those that aren't going to speak up on the convention floor and asked the questions that may have been asked by themselves or their presidents."
"Personally I made 65 or more calls," said Calder. "I feel that the vast majority of the people that I have spoken to are with us or if they're not with us, they will be at the convention because they want to hear more of the discussion. And after they hear the discussion I expect them to vote with us."
The athletic directors have shared their experience, and kept track of a straw vote that has them feeling cautiously optimistic.
"I do think that after speaking with the majority of the folks, there is a lot of apprehension on Proposal 65," said Clarkson athletic director Sean Frazier.
"I feel certain that we've done everything we can to educate the folks about what needs to be done to preserve our tradition. I hope people will support us and I feel certain that 65-1 will be passed. But at this point in time anything can happen on the floor, so I am reticent of being too confident, but I am confident that people will understand what it takes to preserve our tradition."
Some of the hard part is done, but the lobbying does not end, having reached even the highest levels of government. For example, Mew York Senator Charles Schumer came to Rensselaer to address a crowd, lend his support, and chronicle his plans for what he can do to help.
"There is nothing to be gained from eliminating athletic grants-in-aid for their Division I student-athletes," said Schumer. "There is, however, plenty to lose. These programs serve as positive role models in major college sports, and decimating them means hindering student-athletes from earning degrees at some of our State's finest institutions. On top of that, it would deliver a blow to the local economies and collective morale in the Capital Region, North Country, and the Southern Tier.
"The combination of academic and athletic excellence embodied by these programs should be a model of what collegiate sports can and should be. The last thing we should do is endanger them.
"The bottom line is that Proposal 65 makes no sense."
Besides a pep rally, Schumer said he can add to the lobbying effort through his political clout.
"New York has over 10 percent of the colleges in Division III," Schumer said. "Most of those college presidents I know, and many of them I've been able to help their colleges one way or the other. I have a pretty good name and reputation with them. It's no sweat off their backs to vote our way."
'Misguided'
One of the main points of contention by the powers that be in Division III, is that having a Division I sport gives an unfair benefit to your other D-III sports. But that theory seems to have no evidence behind it, and every other member in the eight schools' all-sport conferences have stood behind their colleagues.
The ECAC has drafted a letter in support of the three schools, and ECAC Commissioner Phil Buttafuoco will be in attendance at the convention.
The Upstate Collegiate Athletic Association, of which the three also belong to for Division III sports, is also behind the eight schools.
"Our colleagues at the UCAA support us and want the right thing to happen," said Frazier. "It's the type of situation that has come up and there hasn't been a lot of thought about the ramifications should it pass."
Johns Hopkins is also receiving tremendous support from the lacrosse community, and its own all-sport Centennial Conference.
Of course, the college hockey community has done what it could as well. In the WCHA, where Colorado College is a member, commissioner Bruce McLeod will meet with the president of CC on Sunday at the WCHA meetings.
"We've been in constant contact with CC regarding the whole thing and we've been at their beck and call," he said. "We have a letter of support set to go whenever they want it. It's ready to go and their president is going to meet with us and he'll give us an update and anything he wants, he'll get from us.
"This is a Division III issue and we hadn't wanted to come across as a Division I group that came across and tried to dictate something to them.
"Our letter gives people a sense of what the program means to the institution, but also the community and the economics of the situation. They've got a big building down there now and they've made commitments to that kind of thing. It's not a philosophical approach, but a realistic one."
According to Strait, any suggestion that Division III is unfairly impacted by these eight schools having one play-up sport, is a misread of the reasoning for having scholarships in the first place. People don't understand that awarding scholarships doesn't mean being able to attract star players at the expense of school, it actually raises the level of student-athlete a school can attract.
"We are able to compete for student-athletes that are a better fit for the profile in all St. Lawrence," Strait said. "We have a chance to compete for the top students that are also great hockey players. That's the best and easiest to idea to share with everybody, because every school wants to get student athletes.
"Particular people are sympathetic. They know the schools involved here are involved academically and have high credibility academically. For us, because we're competing in a league with half Ivies, [scholarships are] important."
Strait said it would have been nice had the President's Council, led by Middlebury president John McCardell, had asked the affected schools about the nature of their campuses before sending the legislation forward.
"Having a difference of opinion is OK, but I do think there's a lack of understanding in the motivation of why," Strait said. "For me, as an administrator of 32 programs, I know I don't administer it differently. There's not a subset of hockey players treated differently. They have to do things that other student athletes have to do.
"What is history and tradition all about? Three years ago, our arena turned 50 years old. We were playing Dartmouth when the arena had its inaugural night. And 50 years later, we played Dartmouth — same team, same night — and that felt really good."
As importantly, Strait said it should be remembered why these schools have been playing in Division I to begin with. When the classes split into three in the early '70s, St. Lawrence, a small school, fit perfectly in Division III. But hockey is a different story; situated so close to Canada and with such a rich tradition in the sport, playing D-I hockey made sense. The NCAA agreed.
"Part of this is regionality," said Strait. "We're right on the border of Canada. We're close to hockey players, parents can come see games. That's been a passionate point.
Hitting Nashville
When it comes to this weekend in Nashville, the athletic directors said there is still a lot of work to be done.
"We've had great responses from faculty representatives and there will be [about] 100 presidents in attendance," said Ralph. "We have six of the eight affected presidents in attendance. We have built up some alliances and we have built some friendships and there are people that are bothered by this because they see tradition as a large part of college sports and they don't want to see tradition as rich as the ones that we support go by the wayside."
Said Soriero, "We'll continue to talk to people while we're there. To make sure they see our point and to make sure that people on our side continue to stay on our side and vote in favor of us and do what we need to do face-to-face instead of over the phone or via e-mail or us mail."
For Frazier, he said it's about clearing up any final misconceptions other schools have.
"It's always an opportunity to lobby and educate," Frazier said. "I'm looking forward to matching faces with voices of those that I've talked to on the phone."
Said Calder, "Based on the number of presidents that are going and the interest in this reform package, I think there will be a lot of questions asked concerning each of the reform proposals and people wanting to know more. That's why we feel it's necessary for us to be there and answer questions as to how it affects us.
"We realize now that we can't reach many other people or many other schools and now it's all geared towards the convention. Talking to people there."
To the eight schools, Monday can't come soon enough.
Adam Wodon and Ken Schott contributed to this article