What a weekend we've got coming up. You can't be a college hockey fan and not be looking forward to this. Two major league titles are on the line, NCAA berths are out there to be had — or lost — and the ECAC playoffs begin.
In Hockey East, things are settled for the top spot (Boston College), but there is some intrigue elsewhere. If Boston University loses at home to New Hampshire tonight (certainly possible), and to UNH again on Friday, that would open the door for Northeastern to actually make the playoffs as the 8th-place team. Northeastern has a pair of games with Massachusetts, which has struggled in the second half, and is another interesting story — to see if it can right the ship enough to make a strong playoff run and even its first NCAA berth. But if Northeastern made the playoffs, it would be a seismic happening. For one, it would mean bumping out BU, which has never happened. Second, it might be a last reprieve for coach Bruce Crowder, who seems to be on the chopping block right now.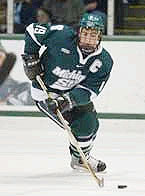 In the CCHA, Notre Dame's sweep of Michigan last weekend has opened the door for Miami and Michigan State to make a run at the title. Miami was in good position until it faltered a bit, starting with its own pair of weekend losses at the hands of Michigan. But now the Red Hawks are back within two points. The Spartans are four back, but have destiny in their hands with a weekend series against the Wolverines (the Saturday game is at Joe Louis Arena). It's a tall order for Michigan State, but it will be exciting. And the Spartans need the games for NCAA purposes on top of it all. Miami, meanwhile, has its own exciting home-and-home with Ohio State, which has its own issues to deal with. Alaska-Fairbanks and Notre Dame are just one point behind the fourth-place Buckeyes, and, again, there are NCAA implications.
North Dakota gave second-place Minnesota-Duluth an unceremonius "not so fast" hand to the face last weekend, sweeping the series in Duluth, and thus taking all five meetings against the teams this year. These were great college hockey games, however, with the normally wide-open teams playing low scoring games. For one, there was a lot on the line, and for two, the goaltenders, North Dakota's Jake Brandt and UMD's Isaac Reichmuth, are on the top of their game. With North Dakota now in the lead by two points and hosting Michigan Tech, odds are the Sioux have first place. Duluth plays two at Wisconsin, which has a lot on the line as well, making the task for the Bulldogs pretty difficult. But they still have plenty to look forward to in the WCHA and NCAA tournament. … This conference is so knock-down drag out, though, that just about every matchup has major standings and NCAA implications. Colorado College is at Denver with home ice and NCAA berths on the line. St. Cloud State is at Minnesota for a pair, with the same issues hanging out there, and both teams in need to get themselves back on the right track. … Of course, it's not really fair to say that a couple of WCHA losses in a row means a team is on the wrong track. The WCHA is so ridiculously difficult right now, that there really is no shame in losing games here. Just ask Minnesota, which loses its captain for a bit and all of a sudden is barely .500 (13-12-1), yet is still ranked seventh in the nation.
And the ECAC is sure to be wild this weekend as well. Other than the matchup between No. 5 seed RPI and No. 12 Princeton, there doesn't figure to be any clear cut favorites. No. 11 Vermont just defeated No. 6 Harvard last Friday, 6-4, so that's no gimme for the Crimson, who are dying to rectify an extremely disappointing season, a la two years ago. And with five teams separated by three points at the top of the standings, there are no gimmes to Albany either.
We love this game.
Holy Smokes
Who knew there were so many Holy Cross hockey fans? And they all seemingly wrote to me last week, telling me how incredibly dumb I was to even suggest that Quinnipiac may be anywhere close to Holy Cross academically. According to one gentleman, I had better be a Quinnipiac alum, because if so, he could respect me sticking up for my school. Otherwise, I just must be an idiot.
OK, uncle. Call me an idiot. Holy Cross is a fine academic institution. I've seen the statistics. My eyes have seen the glory. It is superior to Quinnipiac.
So much for a throwaway line that was just trying to be nice to Quinnipiac — so all their alums wouldn't write to me and tell me how I was disparaging their fine academic institution.
Let's understand something, though. It just doesn't matter. OK, so Holy Cross is a superior institution. It wasn't the point of that whole section. It doesn't matter if Holy Cross is a combination of Harvard and Oxford. It won't be the basis for them getting into the ECAC.
Geography, academics and its Patriot League relationship with Colgate are all in Holy Cross' favor. But if those are the reasons the ECAC uses for bringing them in, they just shouldn't bother with a 12th team.
The point was that Quinnipiac is good enough academically to fit into the ECAC, and is overwhelmingly superior in their commitment to a strong hockey program. If the ECAC decides it wants a 12th team, I would think that should be an overwhelming factor. Although, as I said, the groundswell is to leave it at 11 for now.
But let's throw in that Quinnipiac has a relationship with the New England Sports Network (NESN). That's a heckuva lot more than can be said for the rest of the ECAC right now. (Keep reading.)
TV Guide
CSTV broadcast two ECAC games this season, out of the goodness of its own heart, apparently, since the ECAC never actually announced a relationship with the network. This despite the fact that CSTV is falling over itself to get college hockey games on televison, and every other conference signed and announced a deal years ago.

Meanwhile, all season long, the ECAC tournament Championship Game was on CSTV's schedule, also supposedly part of this phantom deal. All of a sudden, it's March 4th — heck, still 15 days from the tournament, plenty of time, eh? — and the ECAC sends out a press release saying that the games will instead be televised on CN8, a regional cable station owned by Comcast and shown on Comcast systems throughout New England and the Mid-Atlantic.
What in the world happened? If we only knew. But this has all the makings of another Phil Buttafuoco-led ECAC fiasco.
Remember, this is the league that reneged on a handshake agreement with Lake Placid, and never returned its phone calls for months. Buttafuoco has a history of fracturing business relationships through neglect. Did this happen here? God only knows. But if it did, so help us all if it's not the last straw for ECAC teams to bolt from this boondoggle.
Somehow, the games will probably be picked up by some satellite entity or another, allowing the games to be seen by people outside CN8's coverage area.
(By the way, this has nothing to do with CN8, a fine channel which I've actually worked for in the past, and who I'm sure will do a very good job with the broadcasts.)
But in the meantime, what happened with an entity that the ECAC desperately needs to have in its corner? I'm sure the ECAC will say there was financial considerations, but why then was the game on CSTV's schedule all year? And don't you need to see the forest for the trees here?
If there was any conference more in need of the relationship with CSTV, it's the ECAC, which has no other regular TV contract. Here's a place that's actually dying to have you. And not just some nothing place, but a place with the first-ever national college hockey game of the week. The same place that has deals with all the other big boys. And because the big boys already have their local deals, here's an opportunity for you to sign on with this place and become their highlight game on the biggest weekend of the season pre-NCAAs.
And then it doesn't happen. Why? I don't know. Something.
"I know he's working his butt off, but I don't know what's in his mindframe that makes him say, 'I'm going to ignore [these people] again," says one source close to the league. "That's the problem I could never figure out with the guy.
"He doesn't like confrontation, and that's part of why he doesn't return calls that could be a little sticky. … He has great ideas. He absolutely understands what needs to happen. The problem is how he executes them, and the relationships he ends up destroying along the way."
The league deserves better than this.
This is a league filled with great schools, great fans, great coaches, great players. It has character. It has tradition. Because of the nature of athletics, it may never again reach its heights of the '70s and '80s, but ECAC teams can still be competitive every night. And do it within the confines of much higher academic standards than anywhere else.
In no other sport, except lacrosse, can Ivy League teams compete on this kind of level. These programs should be given a medal and saluted by every sports fan in North America.
At the same time, however, it continues to associate itself with this albatross in Centerville.
The ECAC hockey schools need to reinvent themselves so that we can go back to talking about how great they are, and not how much their progress is hampered by inept leadership.
There is more to say, but it can wait, because, frankly, I personally don't want to distract any more from what is set up to be another outstanding ECAC tournament.
Check, Please
And people wonder why coaches sometimes go off on officials. You don't think Mike Schafer's tirade following a game against Rensselaer in January had any effect? Try these numbers on for size.

Cornell's coach was upset with referree Joel Dupree, calling him out for failing to "protect his players" from a number of hits from behind. One led to a shoulder injury to Cornell power forward Shane Hynes. Following the game, Schafer went on a three and a half minute tirade, and was subsequently suspended for the team's next game.
Don't think for a second, however, that Schafer didn't know what he was doing. He didn't know at the time, of course, whether it would have any effect, but we can now see that it did.
In 44 ECAC games up to and including Schafer's comments, there were six hit from behind penalties called. That's one every 7.3 games.
In the 63 ECAC games from that point forward, there were 31 hit from behind penalties called. One every 2.0 games.
Pretty sad that it takes a three-and-a-half-minute profanity-laced tirade to get something accomplished, but sometimes it does.
Close Call
With five points separating three teams at the top of the ECAC standings, and numerous other close bunches throughout the 12-team league, Saturday's regular-season finale was filled with intrigue. Teams were calling each other's press boxes, getting up-to-the-minute updates on where games stood with teams close to them in the standings. Sports Information Directors racing down to the benches to relay scores to coaches. It was happening all over the league.
In one place, however, it appears someone got a little overzealous.
Union's game with Princeton was going unusually long. Meanwhile, Cornell's game with Clarkson was also going long, because it was on local television. It started seven minutes later than all other games, and included TV timeouts. Nevertheless, that game was pretty close to conclusion as Princeton tied Union in the game's closing minute.
It seems that Union's coaches were informed that Clarkson was losing, but didn't get the update that the game was over. Union entered the night a point behind Clarkson for the final home-ice spot, but if the teams finished even, Union won the tiebreaker. There was still a chance Clarkson could tie, though, so Union's coaches had to go for the win. So Union pulled its goalie in overtime. Union scored, won the game, and came in eighth place, the final home-ice spot, one point ahead of Clarkson. Brilliant.
Except that Union didn't need to win the game.
According to information released before the game, if Clarkson and Union finished in a tie for eighth, then Union would win the tiebreaker based on record against the Top 4 in the league. Union coaches never got the new information that Clarkson had officially lost. If Princeton had scored an empty-net overtime goal, Union would be playing at Clarkson this weekend, instead of vice-versa.
This is why it pays sometimes to be a stats geek.
When the Balls Come Tumbling Down
I'm all for tradition. I'm even for dumb tradition, as long as there was a point, at some point. But Dartmouth's "tradition" of throwing tennis balls on the ice when it faces Princeton at home, is right up there in the Hall of Dumbth.
This year, fans were implored not to do it by coach Bob Gaudet and the administration. It happened anyway, and continued to happen later in the game, to the tune of two penalties.
This is not so much the problem. Cornell throws fish on the ice for Harvard. It has gotten a penalty before, thanks to some dumb freshman. That shouldn't be held against the rest of the crowd.
It's the way it got started that makes it silly.
Princeton fans, as they were, used to throw tennis balls onto the ice for the first goal of every game. When that started, I don't know, but it was happening in the early '90s. Princeton coach Don Cahoon, who took over in 1991, hated that. After a few years, he managed to put an end to it.
Somewhere in there, however, Dartmouth fans, as they were, took personal offense to this. Why they thought it was personal, I don't know. But the next time Princeton came to Dartmouth, they were bombarded with tennis balls and oranges (Princeton, orange, get it?) after the Big Green scored their first goal. All this ever seemed to accomplish was to delay the game and take momentum away from Dartmouth. But Princeton was befuddled, wondering what they did to deserve this treatment. You know those crazy Princeton fans, though … enough to stir the passion in anyone.
So the whole genesis is somewhat inane, which is reason enough to kill it. At least Cornell's fish tradition had a point. Harvard fans, mocking Cornell's agriculture school, tied a live chicken to the goalpost during a game. Cornell fans responded with the fish to mock Harvard's proximity to the bay. And on it went. Sometimes things get too out of hand, though, and times change, and now Cornell officials are trying to stop the fish.
It's like with the Detroit Red Wings. The octopus thing was rooted in some logic … needing to win eight games for a Stanley Cup. Unfortunately, just like with a lot of other things, with increased media coverage over the last couple decades, the octopus thing became chic. Soon, hundreds of people were doing it at Wings games, after every goal. It got to be too much. End of tradition.
Day Late, Dollar Short
For years, higher-seeded teams have often been forced to play NCAA games in the home arena of lower-seeded teams. Most recently, this has often happened with Michigan, which has defeated higher-seeded St. Cloud State and Colorado College in recent years, in Ann Arbor. This always leads to an outcry, even though there is nothing shady about the whole thing.
But with the turn to a 16-team, four-region tournament, more teams are getting the chance to host regionals. And turn the tables. And one of the responses to the conspiracy theorists has always been, "Don't worry, such and such a team will be getting a chance to host soon too."
One such team is Colorado College, which put in for and received a bid for this year's West Regional. Turnabout is fair play, right?
Well … the best laid plans. Gearing up for years to finally return the favor, the Tigers look like they won't even make the NCAAs this year.
How's that for a kick in the pants?