Morgan Cey has made a habit of rebounding in the face of adversity all season.
But the Notre Dame junior goaltender's season-high 40 saves against No. 1 seed Minnesota in the first round of the Midwest Regional weren't enough to save the fourth-seeded Fighting Irish's season, as the Gophers scored five unanswered goals to advance to the regional final with a 5-2 victory in Grand Rapids, Mich.
The Wilkie, Sask., native was forced to put forth career efforts in two of his last three appearances this year. Behind the CCHA's No. 3 defense during the regular season that struggled in the postseason, Cey notched 40 saves in Game 1 of the CCHA first-round playoff series against Western Michigan, and tied that mark Saturday.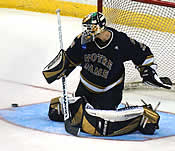 ND, which allowed an average of 31.4 shots per game during the regular season, stayed under its average just once in four postseason games, a 27-save performance by Cey in Game 2 against WMU.
Cey took ND into the first intermission with a surprising 2-0 lead, but the Gophers came out flying in the next 20 minutes, putting 21 shots on Cey en route to a 45-shot night. Despite the offensive onslaught, Cey did his best to prevent the Gophers from blowing the game open with a couple of spectacular, stretching pad saves midway through the contest to keep the game in reach.
Not bad for a goaltender who underwent major reconstructive knee surgery last summer.
Cey said he knew the potential of the Minnesota attack.
"I was definitely aware that they had a very offensive team and I was definitely prepared for what they were going to throw at me," Cey said. "They are an outstanding team and I tip my hat to them."
Cey's recovery from offseason ACL surgery has been remarkable. After aggravating that knee on Nov. 7 at Michigan State, the former No. 1 goaltender for ND was forced to platoon with freshman netminder David Brown for much of the season. And after Cey started the first two games of the first round, Poulin decided to go with Brown for Game 3, and in the CCHA quarterfinal against Ohio State.
But Poulin fell back on his upperclassman for ND's first NCAA tournament appearance in the program's 36-year history.
Poulin said he decided to go with Cey based on his big-game performance.
"He's played in some very big games and he's played pretty well," Poulin said. "I think he played very, very well tonight. We were very pleased with the way he played and we expect that from our goaltenders."
Cey said the luxury of having two solid netminders to go with this season is something that Poulin hasn't had in the past.
"It's definitely been a different year for me," Cey said. "My first two years I would go out and have a bad night and be right back in net the next night. This year was a little different with David going out there and having a tremendous year — Coach had a couple options this year that he didn't have before.
"I think it definitely helped out the team."
For most goaltenders who have been starters, having to settle for sharing the job in net would be difficult. Cey played in 35 games as a freshman and 36 last season before only starting 12 times this season. Cey also only made three appearances in ND's last 10 contests.
But Cey said he is willing to do whatever it takes for the team to win.
"It obviously worked out to get us into the tournament," Cey said. "If having two goalies is what it's going to take to get this team to the next level, then I'm all for it."
Although the Irish lost Saturday, Poulin said the goaltending of Cey and Brown is one reason he's optimistic about next season.
"We're going into next season with arguably the best goaltending combination in college hockey," Poulin said.