Friday at Faneuil Hall in Boston, Northeastern goaltender Chanda Gunn was honored as the 2003-04 recipient of the Humanitarian Award, presented annually to "college hockey's finest citizen."
Diagnosed with epilepsy as a child, Gunn didn't begin playing hockey until age 14, but quickly ascended to play at Wisconsin, before transferring to Northeastern after her freshman year.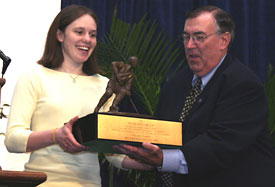 Her involvement in community activities began in high school in her native Huntington Beach, Calif., where she volunteered with local teams, and at skating programs, summer clinics and camps.
She became a head coach for the Cal Selects U12 team in 1999, and continued to coach the Selects while at Northeastern — a continent away — serving as a role model for California girls' hockey players. Later in Boston, she began assisting the U12 South Shore Kings in their initial season.
In 2001-2002, she organized the Huskies to raise money for the Cystic Fibrosis Foundation, and remains active with the CFF and the Great Strides Walk, which also raises money for cystic fibrosis. In addition, she trained to become a hospice volunteer to aid those suffering from terminal illnesses.
Last season, Gunn was a student mentor for freshmen in the athletic training program, and became a Big Sister in the Big Brother/Big Sister of America Program.
Gunn currently serves as president of the Northeastern Student Athlete Advisory Board, founded the Inner City Youth Hockey Program, works with SCOR Boston to provide underprivileged children with hockey instruction, and coaches Massachusetts Spitfires girls' teams.
She was also instrumental in fundraising for Jennifer Goulet, a Niagara hockey player who was diagnosed with throat cancer.
Gunn also works with the Heroes Among Us epilepsy foundation, is a student mentor in the athletic training program, assists the NCAA YES program and adopted a family during Christmas.
She was a finalist for last year's Humanitarian Award.
On the ice, Gunn is among the top netminders in the nation. This season, she compiled a nation-best .938 save percentage to go with a 2.06 goals against average. Gunn was one of three finalists for the Patty Kazmaier Award, honoring the country's top women's collegian.
Gunn, who is majoring in athletic training, is the daughter of Rod and Penny Gunn. She is the ninth recipient of the Humanitarian Award, which was first given in 1996 to J.P. McKersie of Boston University. Last season's winner was Cornell's Sam Paolini.
Past Humanitarian Recipients
2002-03 Sam Paolini, Cornell
2001-02 Rocky Ray Reeves, Buffalo State
2000-01 Jason Cupp, Nebraska-Omaha
1999-2000 James Leger, Maine
1998-99 Kristine Pierce, RIT
1997-98 Erik Raygor, Wisconsin
1996-97 Blake Sloan, Michigan
1995-96 J.P. McKersie, Boston University