After a while, it's not luck.
Maine's success over the last 10 years has been less reliant on the likes of Paul Kariya, Jim Montgomery and Mike Dunham, and much more on the likes of Niko Dimitrakos, Ben Murphy and, now, Dustin Penner.
Time and again these diamonds in the rough come from disparate places on the globe, often heretofore unknown even within the depths of the college hockey recruiting landscape, and contribute to what's become known simply as "Maine Hockey."
The one constant in all that is assistant coach Grant Standbrook, the man whose job it is to find these finds, and who does it like no one else.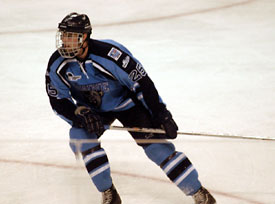 He jets off to faraway places without even telling the head coach. He tucks himself away in arenas, far from other people. He's a mystic who talks in hushed yet profound tones. Waiting for him to speak is like waiting for word from the oracle.
"We call him the ghost, or the fog, because he just rolls in," says Penner, whose game-winning goal in Thursday's national semifinal punctuated yet another Standbrook accomplishment. "Every time he talks, though, you listen. Because when he talks, he says great things. And nothing that has to do with sports, but it transfers over, maybe to your stickhandling, or whatever."
Penner scored nine goals as a role player for Maine this season, his first in Division I. Then came the postseason, when he was united with Jon Jankus and Mike Hamilton, and the three clicked. Penner scored a huge goal against Massachusetts in the Hockey East title game, Hamilton scored a series of big goals, Jankus throws his weight around like no other 5-foot-9 guy can. And it all culminated in Thursday's effort against Boston College, one that lifted the Black Bears to the national championship game. That's when the line contributed both of the team's goals.
And none of it would've happened if Standbrook didn't put himself in the right place at the right time.
Penner's background is mysterious even to the most devoted followers of the hockey world. Minot State University-Bottineau is a power in the junior college ranks, but that's way under the radar of most people. Penner played two seasons there.
It's only fitting, then, that Standbrook, the mysterious recruiting Buddha, popped into a summer camp where Penner just happened to be.
Penner plunked down $200 of his own money to attend this camp with the intention of being spotted by a junior team. "I thought I'd play in Flin-Flon," he says. At 19, he was one of the oldest players there, alongside 14-, 15- and 16-year-olds.
Standbrook went to check out someone else.
"I was looking at another 'D' man I heard about, the one [Penner] was opposing," says Standbrook. "I knew the defenseman I was watching was pretty good. And he handled him."
And even though it was done against younger players, Standbrook was unfazed. "You could see he had the hands and the vision, and those things are constant."
Standbrook got the word to Penner. "Give him my card and tell him I want to see him," said Standbrook to a camp official.
Penner had never heard of Grant Standbrook, knew nothing of the NCAA, and had barely heard of the state of Maine. "Is this a joke?" he thought. "I was not expecting this."
Meanwhile, Standbrook strolled the area, waiting. Poking around. You never know, after all, what you're going to find. As he stared at the walls of the adjoining country club, Standbrook spotted something. "Penner … Handicap: 6."
This — in the mind of Standbrook — means something. Mental note. "Great hands."
When the two met, it was like Ray Kinsella and Moonlight Graham in "Field of Dreams."
Penner then got The Word.
"I've been watching you," said Standbrook. "You're either a poor student or you're in Major 'A.'"
"No," said Penner. "I'm a good student."
Penner explained that he was small and had a growth spurt, and had just grown into his body.
"I'll call you," said Standbrook.
And then Standbrook was off, back into the cornfield, disappearing as mysteriously as he came.
"And then he called me — once a week," says Penner.
In that same time span, junior teams were also calling Penner. But he was intrigued by Maine and this guy, Grant Standbrook. He started asking others from the area who played college hockey, including North Dakota's [nl]Colby Genoway, what their thoughts were. His gut was pulling him to Maine. It got into August when he pulled the trigger.
So off he went, from the small town of Winkler (pop. 10,000), to another relatively small town: Orono. But despite this diamond in the rough Standbrook thought he had, the coaching staff didn't believe Penner was ready for Division I hockey.
"He was big but he never lifted [weights]," says Standbrook. "He was bigger than he was strong. He needed a full year. He had a 5-[foot-]8 mentality. He had the skills, but he was [messing] around with the puck. We toughened him up."
But in sitting out, Penner was hardly alone. Plenty of others in Standbrook's legion of ragtag misfits had to wait. Jeff Mushuluk, after switching from Lake Superior State; Jankus, who had left school midway through his freshman year, and returned midway through last season, but was held out of play; and Michel Leveille, who hadn't yet gained the proficiency in English to pass through the NCAA Clearinghouse.
Because this group was in it together, they formed a bond that enabled them to get through a season of inactivity and still have fun.
And now they're all in the championship game, because of Penner and his goal, early in the third period, a snapshot into the top corner of the net.
"It was a surreal moment," said Penner. "It was like a frozen-in-time scenario. Everything looked right. I wasn't really thinking in that spot, I just felt the high glove side was there."
Intuition. Like the way this wayward soul came to the hockey Buddha to begin with.
As you reflect on this, you wonder whether you're giving one man too much credit — using poetic license and author's hyperbole to create a character. But this string of recruiting successes cannot be a mistake.
The reputation of a master recruiter does not come lightly. It doesn't come from finding Paul Kariya and Keith Carney. It comes from finding these diamonds in the rough, from sneaking through the back shadows and working every angle — every nook and cranny of the brain, tapping into that intuition.
And you look into Standbrook's eyes and you can tell. This is what keeps you going. This is what makes you most proud, right?
He shoots back a coy smile. "It's fun."