Denver was fortunate it got an opportunity at a second chance in Thursday's national semifinal against Minnesota-Duluth. The same courtesy may not be afforded by Maine in Saturday's national championship game.
The Pioneers were down by two goals on two occasions against the Bulldogs, but a stunning third-period turnaround put them one victory away from the program's first NCAA title since 1969.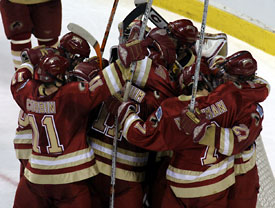 But Denver players realize that, the way Maine goaltender Jimmy Howard is playing, they may not get the chance to rally from a deficit in the title game.
That makes the first impressions in the game vitally important for the Pioneers, who will attempt to become the second straight team to be crowned national champions with fewer than 30 victories for the season.
"We were not pleased with our start [Thursday] night," senior center Max Bull said. "We can't afford to do that. I guess we didn't expect what it was going to be like out there and we got caught up in the emotions and struggled playing our game [Thursday] in the first five minutes. … You're not going to see that from us [Saturday] night."
In the first five minutes on Thursday, the Pioneers took a penalty, gave up a power-play goal and then went down 2-0. It was a start to forget in the team's first Frozen Four appearance since 1986.
"Last night's game was our first run at it, so I think we had a lot of jitters and ironed those out in the first period," senior winger Greg Keith said. "The second period and the third period were what we want to do in the game [Saturday] night against Maine."
The way the Pioneers were able to forget about the bad start Thursday afternoon was by returning to what got them to the Frozen Four. When they found their speed game at the start of the second period, things started to turn in their favor.
And when it got rolling at full blast at in the third period, Minnesota-Duluth didn't have a way to stop things.
"I think we have a group of forwards that's as fast as any group in the country," senior defenseman and captain Ryan Caldwell said. "It's a nightmare for defensemen — I know from playing against them in practice. When these guys get flying, they're tough to stop."
The Pioneers have easily been the loosest team of the final four, at least in outward appearances. The scraggly-bearded players that have appeared in front of the media at the FleetCenter have laughed and cracked jokes in what is for most players a tense situation.
It could be even more nerve-wracking for them, considering their inexperience in the Frozen Four. But they have vowed to enjoy what they can of this moment of their lives while focusing on what has to be done on the ice.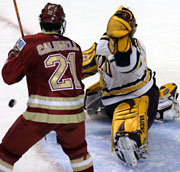 "We don't want to get too uptight because when you get too uptight you start clenching the stick pretty hard," Keith said. "I think our coaching staff has done a great job of keeping us loose. When we advanced to the Frozen Four, coach told us we're going to enjoy this ride.
"When we're on the ice we're going to work hard, but we're also going to enjoy it. … We've got to enjoy it. This is my last shot at it, so I'm going to make sure I do enjoy it."
Gwozdecky doesn't want his players to get swept up in the emotion of the big-time atmosphere. He wants them to think that this is just another game out on the frozen pond.
Clearly, it isn't, but Denver players are buying into that notion.
The relaxation with which the Pioneers are going about things this week in Boston has been capsulized by one event in particular. After the captains' meeting with the game officials Thursday morning, Gwozdecky received word from the NCAA official who escorted Caldwell to the room that he had never seen anyone as loose before such a big game.
But that's Caldwell, Gwozdecky said. And that's these Pioneers.
"I think his attitude has gone a long way in helping us prepare in a way that we're not going to be overcome by the event itself, the magnitude of the event," Gwozdecky said. "But there's no question Maine has a big edge because of their experience in this Frozen Four. I'm sure there'll be a little bit of a feeling-out process for both teams [Saturday] night. Hopefully it won't take too long for us."
If it does, that's how the Pioneers could get in trouble.