Northeastern coach Joy Woog says what impresses her most about Chanda Gunn is her humbleness, which she maintains despite all she's accomplished.
The only hockey player ever to be honored as Humanitarian winner and first-team All-American in the same season, Gunn is always searching for improvement. That showed even in her reflections in her Humanitarian acceptance speech, in which she thanked so many of those in attendance who had touched her life.
"I didn't drop the trophy, I didn't knock the podium over and I didn't jump off the stage — like I did at the Hockey East banquet," Gunn said. "I did better this time."
Seeing as the mission of the Humanitarian Award is to honor those who embody what is right in sport, Gunn makes for the perfect fit. Her outstanding on-ice results were not a consideration for the award, but they complete the total package, made all the more remarkable by the medical and institutional obstacles she faced along the way.
The Illness
Gunn was diagnosed with epilepsy when she was in fourth grade, and she has been taking medication to control it since. That plan worked fine up until the fall of 1999 in her freshman season at Wisconsin, which she attended with longtime friend and Cal Selects teammate Kerry Weiland. Their time as college teammates became short-lived as Gunn's body struggled to adapt to the college lifestyle.
Gunn first stayed in the hospital for a few days in early November, but made sure she got out in time for a big game on Friday against defending national champion Harvard, which featured another longtime friend and Cal Selects teammate, Angela Ruggiero. Both Ruggiero and Weiland were in attendance and honored during Gunn's speech on Thursday at Fanueil Hall.
Gunn nearly shocked the nation against Harvard, stopping all 27 shots she faced to give Wisconsin a 1-0 lead at the second intermission, but Harvard came back with three goals in the third to take its season opener by a 3-1 margin. She started again two days later in a 3-2 loss to Brown. She was back in the hospital the next day, and never played again that season.
Gunn would never play again in a Badgers uniform. By the end of the following summer, she was ready to play again but she was cut from the Wisconsin team. Wisconsin was allowing her to keep her scholarship, but she had to keep playing somewhere.
Former Northeastern goaltender Kelley Dyer, one of the many people Gunn thanked in her Humanitarian acceptance speech, helped to save Gunn's career by recommending her to Huskies coach Heather Linstad. Gunn filled out all the transfer paperwork on her own and started her new life.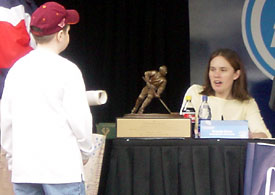 "To see her struggle and be ill was difficult in itself, and then she was let go," Weiland said. "But she was going to excel anywhere she went, in any situation she was put into. I'm so happy to see how well she did given the opportunity to play again."
Gunn thrived at Northeastern both on the ice and in the community, in spite of her continued battles with epilepsy. Bob Norton, who served on the selection committee and interviewed Gunn for the award, thought those struggles made her achievements all the more impressive.
For instance, when she coaches the U-12 Massachusetts Spitfires in Walpole, her condition prevents her from driving, so she has to take public transportation and get picked up from the train station every time.
Gunn needed support to overcome her medical condition, and she recognizes that in giving back to others. Over the past two years, she enlisted the help of her teammates to raise $3,000 for the Cystic Fibrosis Foundation, and this past year she raised $1,000 for Jennifer Goulet, a former Niagara opponent who became stricken with throat cancer.
She volunteered time for the Heroes Among Us program of the Epilepsy Foundation and for a Hospice program to aid those suffering from terminal illnesses. And that's only a small subset of her volunteer work, which she hardly publicizes herself.
"Honestly, I learned a lot about her, listening to all the hours she puts into all these organizations," Ruggiero said of the award ceremony. " I heard of sort of what she's done, but she's very modest. She's doing all of it for the right reasons."
The Turbulence
Nearly as soon as Gunn arrived at Northeastern, she received an additional shock to her system — Linstad was unexpectedly leaving to start the Connecticut program and Woog was hired as her replacement. The sudden change did not make for the most stable environment. Some of Linstad's recruits followed her to UConn, and others' personalities clashed with Woog's. Three years later, Gunn was the only senior left on the team.
The team's turbulence showed in its results. Northeastern matched a school record for wins in Gunn's sophomore year, broke the school record for losses in her junior year and flirted with the .500 mark in her senior year.
Gunn's performance was the greatest constant through it all — she led the nation in save percentage in both her sophomore and senior seasons, and she ranked third during her junior season. She was a Patty Kazmaier Award nominee each year.
The performance in her senior season exceeded most expectations and helped to steer the Northeastern program back on the upswing again. Despite being picked last in Hockey East by the league's coaches, the team placed fourth out of six, and highlights of the season included ties against No. 5 Wisconsin and a win and a tie against now two-time defending Hockey East champion Providence.
It's rare for any athlete to endure all the institutional difficulties that Gunn went through at both Wisconsin and Northeastern. But Gunn persevered through it all.
"Some people take all those roadblocks and don't keep fighting," Ruggiero said. "She always found a way, and it amazes me. She comes back and fights even harder."
Gunn and Woog have been together through thick and thin. In addition to being player and coach, they've also been teammates on the U.S. national inline hockey team.
"She's done everything for me on and off the ice," Gunn said. "We've been through a lot together, and now I have good memories of college hockey."
The Humanitarian Award presentation marked the end of the line in Gunn's honors, and Woog couldn't help being emotional during the awards ceremony. When a video was played during the ceremony honoring the finalists' achievements, Woog's eyes were watering, even though she had seen the video before.
"I was very emotional and I couldn't be more proud of her," Woog said. "Even her speech was just amazing. She's just a wonderful young woman and I can't wait for her to make an impact on this world."
While Gunn has learned her from her college coach, she has given back as a coach as well. In addition to coaching the Massachusetts Spitfires, she has continued to work with the Cal Selects program for which she once played. Every summer, Ruggiero and Weiland come to Gunn's home in Huntington Beach, Calif., to operate a camp for the Selects.
"She loves the kids and gives a lot of energy to them," Ruggiero said. "In a lot of ways they're exactly like her. It's refreshing every summer to see her interacting with them."
Gunn said as much during her speech. She admitted that her motivations for coaching were largely selfish because she receives such gratification from teaching kids and reflecting on the more important moments of her life.
"I hope that I could encourage them to do the same kind of things I do, to give back to hockey," Gunn said. "That's why I coach, to teach the kids good sportsmanship and being on a team and being a good person."
The Teammate
Gunn has had such a wide-ranging impact not just because she volunteers her own time, but because she gets so many others involved, too.
The money she raised for cystic fibrosis and Jenn Goulet was made possible by organizing her teammates, among others. The same holds true for Gunn's work with the Inner City Youth Hockey Program, the athletic training mentoring program and any number of other activities. She made sure to thank her teammates during her speech.
"Every time there's an activity on Northeastern campus, she gets into it, and she not only gets into it, she brings a whole bunch of other athletes with her," Norton said. "She was also instrumental in beginning the mentoring program at Northeastern for their physical therapy students. She really put that together and pulled the whole system off. Now it's an integral part of what they do. That's how she is — she comes up with ideas and follows through on them."
Part of Gunn's success in enlisting others comes through her ability to show her appreciation for them. For instance, at the Patty Kazmaier dinner, she gave Ruggiero a card to congratulate her on her nomination, even though Gunn was also one of the final three nominees. And at the Humanitarian Award presentation, Gunn gave Ruggiero a picture of the two of them together at the World Championships the previous weekend.
"She's always going out of her way to write a nice card to let people know that she cares about them and that they're special in her lives," Ruggiero said. "She definitely makes people feel good without trying. It's part of her nature."
For Weiland, Gunn's gift-giving has been topped only by Weiland's own mom.
"She'll give you gifts just out of generosity and seeing the smile on your face when you receive them, it's not out of anything other than wanting you to be happy and trying to show how much she cares about you," Weiland said. "That doesn't just go for people she's close to. She wants to meet everyone, kids especially."
That desire to give back and make others feel special carried right through to her acceptance speech. In addition to her teammates, coach and school, she also thanked her priest, Father John Unni of St. Anne's Roman Catholic church at Northeastern. She called Father John the best at what he does during her speech.
"My priest is here, my best friends are here, some of the kids I coached are here — that's the nicest part is just to get them all together and you use times like this as a stage to publicly recognize them," Gunn said.
The Everlasting Hockey Humanitarian
Gunn expects to continue as many of her activities as she can past graduation. She will continue to coach the Massachusetts Spitfires and the Cal Selects, and she will continue to teach in Sunday School. And she will continue to further her own playing career.
A week before receiving the Humanitarian Award, Gunn played on her first U.S. national team with Weiland and veteran Ruggiero. Like everything else in her hockey career, nothing came easily. Her first World Championship was canceled because of the SARS outbreak in 2003. When she made the Four Nations Cup roster in the fall of 2003, she tore her medial collateral ligament the night before she was supposed to leave.
In her three games with the U.S. national team, she praised coach Ben Smith for helping her ease into the situation as the backup. She came in midway through the first game against Switzerland, and in her first start against Russia she shined in stopping a breakaway and a power play.
She admittedly struggled in letting in two soft goals against Sweden, but she feels confident now being the veteran of one international tournament.
"It's going to be an adjustment, and I learned a lot, and I have a lot to grow from," Gunn said. "Before, I looked up [at the national team]. Now, I think, 'I can play here. I'm part of the team and I want to win,' not, 'I want to stay here.'"
Throughout her life, Gunn has put constant pressure on herself to improve. She feels winning the Humanitarian Award eases some of that pressure in a good way.
"Nice thing about this award is a lot of times you get so into playing that you start to judge your whole worth on hockey," Gunn said. "This recognizes other stuff that you do — 'Wow, that's important and there's more to me.' Hopefully it will make me a better player too, and add that kind of confidence."
Gunn's ambition is to play for the U.S. Olympic team in 2006. As a proven humanitarian and athlete throughout her life, she is more than capable of living up to the Olympic ideal.
"I knew she was a great person, and she's a good hockey player as well," said Ruggiero, reflecting back on Gunn when they were both teenagers. "Somehow she's perfected both."