The possible story ideas are bouncing around my head as I step onto the FleetCenter elevator.
There's the defensive pairing of Denver's Ryan Caldwell and Matt Carle against Minnesota-Duluth's dynamic line of Junior Lessard, Evan Schwabe and Justin Williams. That could be a good story angle.
Or just Schwabe himself. This kid went from 10 points as a sophomore to 55 this year. That feature could write itself.
Or Denver's Connor James returning from a broken leg to potentially lead his team to the national championship game. A piece of cake.
I haven't seen a single game by either team this year, so I've dutifully done my homework. As it turns out, however, I've been doing all the wrong research.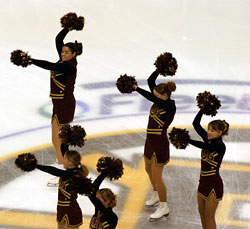 The elevator, destined for the press box on the ninth floor, makes it only from the third to the fourth before coming to a shuddering stop. Good grief, I think, we're going to stop at every single floor. I'll never get to my seat.
However, the elevator door opens and my mood brightens. In file the Minnesota-Duluth skating cheerleaders.
So much for those story ideas that had been bouncing around in my brain.
Caldwell, Carle and James. See ya.
Lessard, Schwabe and Williams. You're outta here.
It's the skating cheerleaders, front and center. A tiny handful of Eastern schools have cheerleaders, but none of them skate. This is the Western angle that, ahem, attracts me the most.
No offense, of course, to Lessard, Caldwell and the rest.
It occurs to me as I stand next to the young ladies that we could experience a power outage or a mere elevator malfunction. Think of the trauma. I would be forced to spend hours or maybe even days in an elevator packed like sardines with wall-to-wall nubile cheerleaders.
The things I endure for USCHO.
Our shared voyage lasts only one uneventful floor, however, and eventually I take my seat in the press box.
I email our photographer that I'll be needing shots of the cheerleaders for this piece. The more the better.
He'll be distraught at this assignment, but he's a trouper. Like myself, he'll grit his teeth and slog through it. All because of our devotion to our USCHO readers.
As the cheerleaders take their positions in the aisles downstairs among the Minnesota-Duluth fans and the Bulldogs take an early 2-0 lead, I wonder if I shouldn't instead go with a story on Tyler Brosz, who assisted on the first goal and scored the second. My guess is that something like that is more of what my editor has in mind. But since when have I ever made life easy on my editor? His mind may be on Tyler Brosz, but mine is fixated elsewhere.
He will, of course, be amazed at my infantile immaturity. As if it's shocking news. Some people never learn.
I begin to write about this most-welcome Western tradition that has come to Boston, but in the second period notice that the cheerleaders have disappeared. The downstairs aisles in the Duluth section are barren.
I say to my colleagues, "On a strictly professional level, has anyone seen the cheerleaders?"
Someone else spots them in the balcony beneath us, behind the band. I'm appalled that I didn't glimpse them first. I'm losing my touch.
A colleague points out that I really should go down and get some quotes. I had been holding out because I am, after all, that most extreme of oxymorons, a happily-married man. Clowning around about cheerleader gawking is one thing. Interviews may be another.
But my colleague insists. He says that my journalistic credibility demands that I go speak to these young ladies. I resist, but he berates me for even hesitating.
God bless him.
And so I speak to Brittni Driver and Alicia Krzmarzick. Who, of course, are not just a couple pretty faces, but also passionate Bulldog fans and eloquent spokespersons for their sport.
"Most of the schools in the WCHA have skating cheerleaders, so it's really common to us," Brittni says. "But we come here and a lot of people are surprised and say, 'You girls have skates?' People are really surprised.
"But it surprises me that they're surprised because it just seems so natural to us. Of course, we're on skates. We're hockey cheerleaders."
And they're among the best at what they do.
"We stunt," Brittni says. "We throw girls up in the air. We cheer on the crowd. We get everyone involved.
"I think it's just us, the [Minnesota] Gophers and St. Cloud that can actually put girls up in lifts."
None of which was on display at the FleetCenter.
"It's a lot more fun [than just cheering from the stands], but here we can't do it because of NCAA rules," Alicia says. "But at least we can be here and cheer. Our fans are happy to see us."
At least they were happy for a while.
"We usually cheer down with our fans," Brittni says. "But here at the FleetCenter they have fire code rules and we can't be down there.
"[Cheering next to our fans], that's us. That's what we're supposed to do. We're supposed to be right down there with the fans.
"Now they've put us up here [in the balcony] and it's not what we're supposed to do. It's really frustrating."
Alicia adds, "It's frustrating because that's the fun part. Up here, we can't really cheer. There are some fans up here, but most of them are downstairs."
The frustration is especially keen considering that the school could not pay for the trip. The cheerleaders got here only through fundraisers.
So after a 26-hour bus ride that didn't reach Boston until this morning, they can't do what they came to do.
Boo to the fire codes and the NCAA on that one.
The band strikes up a song and I can barely hear Brittni and Alicia. Even so, I smile and nod. A tuba blares away inches from my ear. At least I think it's a tuba, but I don't bother to turn around and make sure. I soldier on.
Yet another sacrifice for USCHO and my readers.
Brittni and Alicia haven't been in Boston for more than a few hours, but already the city has made a favorable impression.
"What I was most excited about was hearing people talk," Brittni says. "I really love the Boston accent. Even the [public address] announcer. I can totally tell. It's so cool."
I consider this to be my exit line. I don't want Brittni to fall head over heels for me because of my charming Boston accent. I might be a heckuva catch — fortyish, out-of-shape and with graying hair — but I am spoken for. It might be wickid haaad for her to accept it, but my haaht is paahked with someone else.
And so I return to the press box and write this piece.
Hey, it's a tough job, but someone's got to do it.