What constitutes a terrific college hockey game? The answer is in the eye of the beholder. While the partisan fan may revel in the home team shellacking an opponent 11-1, the purist prefers a more competitive battle. Even then, though, what is "better"? A 1-0 goaltender's duel? An 8-7 shootout? A tightly played 3-2 game, tied late in regulation and won — or lost — in overtime?
We also have to consider the stakes. A see-saw game between national powers might be preferable to a squeaker between cellar-dwellers. While we have still taken that into some consideration in selecting the top regular-season games of the year, we also plan to do a follow-up article featuring the best tournament games (i.e., Icebreaker, Beanpot) and post-season games of 2003-04. This seems to be the only reasonably fair way to avoid impossible comparisons. As it was, selecting this group was exceedingly difficult.
How did we come up with this ranking? We asked USCHO editors and reporters to nominate their top picks. Subsequently, I went through the whole schedule and looked over hundreds of box scores and dozens of recaps. Regardless, there undoubtedly will be games that we've overlooked, but debating the inclusions and omissions is part of the fun of this exercise.
In case you're wondering just good this year was for college hockey fans, consider some of the games that did not manage to crack this first-ever list.
In this "Honorable Mention" category, we find several gems: In ECAC action on November 14, Princeton's four-goal rally to beat Harvard qualifies. On February 27, Clarkson clinched the last home playoff spot with an inspiring 1-0 victory at Colgate, denying the Raiders the top seed for the time being, as Dustin Traylen made 35 saves for the Golden Knights.
In Hockey East, Northeastern finished last but did manage to shut out then-No. 2 Boston College 3-0 on January 24. In the CCHA on February 13, Alaska-Fairbanks surrendered a gut-wrenching tie when Michigan State's A.J. Thelen tied the game 4-4 with just 15 seconds to play … but the Nanooks went home happy when Aaron Voros got the game-winner in OT.
In WCHA action on February 21, Minnesota-Duluth spotted Colorado College three goals, and then scored five straight to win it. The game-tying and game-winning goals came in a 74-second span in the third period. However, Minnesota State claims the title as the Cardiac Kids this season: Five of their games were nominated for consideration. Two that didn't quite make the cut were their 3-2 loss at Vermont and their 7-6 barnburner in which they defeated St. Cloud.
Another team that maximized antacid consumption for its coaches and fans was Sacred Heart in Atlantic Hockey. The Pioneers had four games total under consideration. In the weekend of February 20 and 21 alone, they had two nailbiters. On Friday night, Sacred Heart tied their game with Mercyhurst 2-2 in the last four minutes, then won it in the first minute of overtime: on a shorthanded goal, no less. On the next night against Canisius, they tied the game on an extra-attacker goal with 53 seconds left, only to lose it in overtime.
There also were some games that didn't quite make the "best of" cut, but they sure would have been fun to see in terms of unusual outcomes. In the 3-3 game between Bowling Green and Nebraska-Omaha on February 6, five of the six goals were scored in a span of just two minutes, 39 seconds in the third period. In the 2-2 tie between Dartmouth and Boston University, the game was a microcosm of the Terriers' star-crossed season. BU played one of their best games of the year — outshooting their ECAC opponents 46-27 — only to have the Big Green tie it on an extra-attacker goal in a wild scramble with just 14.7 seconds left as Dartmouth goalie Dan Yacey prayed on the bench with his head between his legs.
Another curious matchup was the Union-Brown game on February 13. With Brown holding a 2-0 lead with 2:30 left and Hobey Hat Trick finalist Yann Danis between the pipes, it looked like a definite win. But Union Coach Nate Leaman pulled his goalie early, and the Dutchmen got two extra-attacker goals while there was still over a minute to play! That tie was another close-but-not-quite nominee.
With no further delay, then, here are the top regular-season games of 2003-2004:
26. Findlay 0, Ferris State 0 (OT) January 24, 2004
What? A scoreless game makes the list ahead of some of the aforementioned classics? I never said that the choices were easy. I just know that a 0-0 game with a whopping 88 saves is one that I wish I saw. Playing for Findlay in that program's last year of existence, Jon Horrell came away with 49 saves, while Mike Brown stopped 39 for the Bulldogs. The Oilers managed to kill off nine Ferris State power plays.
25. Sacred Heart 4, Connecticut 4 (OT) February 24, 2004
This one featured four lead changes. It was Sacred Heart 1-0, then UConn 2-1, then a tie at two. UConn took a 3-2 lead, but the Pioneers tied it again. Then Sacred Heart took the lead early in the third, and the Huskies pounded away all period, outshooting their Atlantic Hockey adversaries 16-4, before UConn star Tim Olsen got the equalizer on an extra-attacker goal with all of six ticks left.
24. Holy Cross 6, Mercyhurst 5 (OT) November 22, 2003
This was another gem for those who like their hockey to be of the see-saw variety. Holy Cross went up 2-0, but Mercyhurst tied it. The Crusaders went up 3-2; the Lakers tied it. Holy Cross took the lead again, and this time the plucky skaters from Erie, Pennsylvania not only tied it — they took a 5-4 lead. Not to be outdone, the Crusaders got their first game-tying goal with an extra skater on the ice, as Tyler McGregor equalized it with just 47 seconds left. Then — despite being outshot 35-18 in the game — Holy Cross pulled in the road victory with Andrew Weber's OT goal.
23. Yale 4, Clarkson 3 (OT) January 31, 2004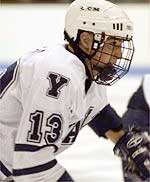 Thanks in part to surrendering two shorthanded goals in the first two periods, Clarkson trailed the Bulldogs 3-1 with less than ten minutes to play. After making it 3-2 at 13:15, Clarkson tied it with the goalie pulled; Matt Nickerson got his second goal of the game with just 40 seconds left. Playing at home, Clarkson enjoyed a 16-2 shot advantage in the third period. Outshot in the game 44-17, Yale had the last laugh when Joe Zappala — who had been frustrated all weekend — broke through with the game-winning goal with just three seconds left in overtime. But the real hero was Yale goalie Josh Gartner, who made 44 saves.
22. Northern Michigan 6, Michigan State 5 (OT) January 3, 2004
Trailing 5-3 with under ten minutes to play, Northern Michigan ended up tying the game when Kevin Gardner scored an extra-attacker goal after several chances and a wild scramble with just 2.1 seconds left. Playing on the road, the Wildcats got the game-winner with only 35 seconds left in overtime, when Spartan goalie Matt Migliaccio got caught out of position when he went behind the net.
21. Ohio State 1, Quinnipiac 0 January 6, 2004
This one featured a Herculean effort by Bobcat goaltender Justin Eddy. Eddy had made 49 saves, and the game appeared destined for overtime until Andrew Schembri scored on a one-timer that went off the post and in with all of 0.2 seconds left on the clock.
20. Colorado College 4, Alaska-Anchorage 3 February 7, 2004
Finally overcoming a 41-save effort on the road by Alaska-Anchorage goalie Kevin Reiter, the Tigers scored three goals in the last 7:35 to pull out the win. The comeback was capped Joey Crabb's goal with four seconds left — perhaps inevitably, as the Tigers outshot the Seawolves by a whopping 23-4 margin in the third period.
19. Denver 4, Minnesota State 4 (OT) December 19, 2003
Although a more amazing game between the two teams was just a day away (see below), this one was a gem in its own right. Playing at home, the Mavericks outshot the eventual national champs 47-33, but Adam Berkhoel showed why he was one of the top netminders in the country, making 43 saves. Despite struggling to get shots, Denver went up 2-0, but then surrendered the next three goals. The Pioneers scored two goals to take the lead in the third, but Maverick freshman David Backes — bouncing back from a crosscheck to the head earlier in the period — scored in a scrum in front of the net with 1.2 seconds left to tie it.
18. Minnesota-Duluth 4, Minnesota 3 (OT) October 24, 2003
This game was the first indication that the balance of power might be shifting in the WCHA — undoubtedly the top league in the country this year in terms of national contenders. These heavyweights traded goals and leads, and it looked to be going the Gophers' way once again when Troy Riddle notched a power-play goal at 4:48 of third, giving the two-time defending national champs a 3-2 lead. But Brett Hammond tied it with just under five minutes to play, and T.J. Caig stunned the Mariucci Arena crowd with a blistering slapshot to win it in overtime. It was the first loss for Minnesota in 13 games at home, and it was the Bulldogs first win at Mariucci in 12 games. It was the first step toward a Bulldog regular-season sweep over their in-state rival.
17. North Dakota 6, Boston College 4 October 17, 2003
Two of the top-ranked powerhouses in the nation squared off for a pair of games at Grand Forks, coming away with a split. Both were good games, but this one was a real gem, as the Sioux rallied from deficits of 3-0 and 4-2, scoring four unanswered goals in the first 6:37 of the third period. Between the venue, the caliber of the teams, and the comeback, this one was an early-season classic.
16. Mercyhurst 3, Ohio State 2 October 24, 2003
A variation of David knocking off Goliath? Well, yes and no. After a scoreless first period, Mercyhurst Assistant Coach — and former Buckeye — Dave Smith was far from pleased with the Lakers. After the game, Laker Coach Rick Gotkin talked about Smith's between-periods speech: ""He's very, very firm with our guys, and I think he went in and was disappointed that we really kind of watched that first period," said Gotkin. "He basically said the way only Dave can say it, 'We really have to — A — start to skate, and — B — really finish our checks.'
"Then he really summed it up best by saying that we looked like a team in the first period who was thinking that if we could win, it would have to be a fluke, and why would that have to be the case? Why would we have to have a 75-save effort from Andy Franck to beat Ohio State? Why can't we just go out and play?"
Why indeed? After being outshot in the first, the Lakers went toe-to-toe with the Buckeyes in the second, taking the lead 1-0 and nearly matching their host in shots. When the then No. 12 Buckeyes tied it at 5:05 of the third, Mercyhurst showed resilience, putting two more goals by Mike Betz before hanging on for an inspiring 3-2 victory, showing that Atlantic Hockey teams could compete with nationally ranked squads.
14. (tie) Alaska-Anchorage 6, Minnesota 4 December 6, 2003
Coming off a one-win season, few expected the Seawolves to be able to match up with the reigning NCAA champs. Yet they went up 2-0 in this game, only to give up four straight goals to the Golden Gophers. It appeared that order in the universe had been restored. However, Alaska-Anchorage rallied with four straight goals — including a startling 23-second stretch when they got the equalizer and the game-winner in the last six minutes — to produce this stirring victory.
14. (tie) Alaska-Anchorage 5, Denver 3 January 24, 2004
What could the Seawolves do for an encore after knocking off the defending champs? How about a win over this year's eventual D-1 kings? Playing on the road at Denver, Alaska-Anchorage looked down and out after two periods. They were trailing 3-1 and had been outshot by a 22-10 margin in the second stanza. Once again, the Seawolves piled up four straight goals, and Kevin Reiter stopped 47 of the 50 shots he faced.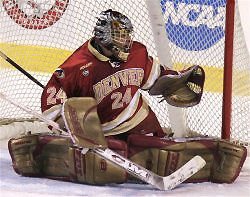 13. Denver 9, Minnesota State 7 February 14, 2004
Remember that wild, high-scoring affair between the Pioneers and Mavericks? Well, this is not that game. While this one wasn't even the most exciting of the series between these two teams this year — and what a year they had — it was an entertaining one. Denver took a 4-1 lead after one and led 6-2 after two. Then the teams exploded for eight third-period goals. Incredibly, Minnesota State even tied it with 3:36 left, only to have Denver get the GWG at 18:50. Just to cap off the night, future NCAA Championship Game hero Ryan Caldwell sealed the deal with an empty-netter in the last four seconds, giving him a hat trick. Perhaps most surprisingly, neither coach yanked his goalie during this Valentine's Day massacre of goals against averages.
12. Boston University 4, New Hampshire 3 (OT) March 6, 2004
Not many expected that the Terriers would need to win their last regular-season game just to make the Hockey East playoffs. In fact, that scenario looked unlikely even when this game began. With Northeastern playing on the road at emerging power Massachusetts, it seemed unlikely that the Huskies could get a road win. Through two periods, the Terriers were up 1-0 and playing well. But the Huskies were surprisingly up 2-0. A John Laliberte goal gave the Terriers a two-goal cushion early in the third, but UNH tied it with a pair of goals in a four-minute span. Snakebitten Terrier Frantisek Skladany came through with just his third goal of the season at 7:08, and all appeared well again … until Brian Yandle tied it halfway through the period.
By the end of regulation, word got down to the BU bench: Northeastern had won, and a tie would not suffice if the Terriers' season were to continue. Halfway through OT, Terrier David Van der Gulik made an incredible individual effort, beating a man at the point before shooting and burying his own rebound to win it, setting the stage for the Terriers' Hockey East Quarterfinal upset of Boston College a week later.
11. Mass.-Lowell 4, Merrimack 3 (OT) January 16, 2004
This game featured the wackiest overtime of the season. Up until that point, it had been a hard-fought game generally dominated by Merrimack in their home building. When a Jordan Black goal at 17:02 made it 3-2 Warriors, it looked like justice would prevail. However, Ben Walter tied the game up with 1:57 left for the River Hawks. Then it got really interesting. Just over three minutes into overtime with the Warriors pressing for the win, a penalty shot was called when River Hawk defender Matt Collar intentionally knocked the net off its moorings. But Steve Crusco missed the net on the penalty shot.
Twenty-one seconds later, Lowell appeared to win it, but referee Frank Keough disallowed Danny O'Brien's goal because his teammate Paul Falco had knocked the net off its moorings just before the puck went in. Twenty-three seconds after that, O'Brien scored again, and this one counted. But the River Hawks endured an excessive celebration penalty of sorts: Third-period hero Walter was injured during the jubilant rejoicing over the game-winner: He missed the next four games. After all of this, the River Hawks ended up having to forfeit the game anyway because Falco had been playing while ineligible.
10. Alaska-Fairbanks 6, Alaska-Anchorage 4 March 6, 2004
The Governor's Cup is awarded to the victor in the four-game series each year. The Nanooks needed a win to force a shootout for the Cup, and they got one … in unusual fashion. Trailing 4-2, the Seawolves got an extra-attacker goal at 18:06, only to give up an empty-netter 52 seconds later. Undaunted, Alaska-Anchorage got a second extra-attacker goal at 19:35, then gave up another empty-netter with three seconds left. All of this back-and-forth action merely set the stage for the decisive shootout, and, naturally, that was tied 2-2. Nanook goalie Keith Bartusch gave up goals on the first two shots, then shut down the Seawolves. Ryan Lang made his shot to put the Nanooks up 3-2, and they held on as the last shot went high, clinching the Cup for the Nanooks.
9. North Dakota 2, Minnesota-Duluth 1 February 28, 2004
Minnesota-Duluth really put itself on the national map this season, but the Sioux were the one nut in the WCHA that the Bulldogs never managed to crack. Playing at home, the Bulldogs had a chance to get the inside track on the league championship. Given their torrid play, how many Sioux fans believed that they could sweep? They won the first game 4-1 but really had to work for the second one. After a scoreless first period, the Sioux went up 2-0 in the second, thanks in part to a 17-6 shot margin. Yet the Bulldogs tenaciously rebounded, outshooting the Sioux 14-2 in the third period. When T.J. Caig scored at 8:54, a comeback win looked imminent. But Jake Brandt held the fort, making 27 saves, including several in a five-on-three advantage in the third. Playing in front of him, the Sioux defense aided the cause substantially, blocking 25 shots. Bruised but not defeated, North Dakota basically clinched the league title that night.
8. Boston College 2, New Hampshire 2 (OT) November 12, 2003
At this point in the season, this Hockey East matchup featured the No. 2 and No. 3 teams nationally in Manchester, NH. They didn't disappoint the Verizon Wireless Center crowd. BC has struggled in recent years against UNH, and it looked like that they might finally eke out a road win against their northern neighbors as they led 2-0 going into the third. UNH made it 2-1, but Patrick Eaves almost put away the game with five minutes left. Set up by his brother Ben, Patrick was alone in front of Michael Ayers. Ayers leaped to stop the wrist shot for an incredible save, setting the stage for an extra-attacker goal by Nathan Martz just before the one-minute mark.
In overtime, BC goalie Matti Kaltiainen made a huge save to stop scoring whiz Steve Saviano, while Ayers made another terrific save, stopping dangerous Tony Voce with a pad.
7. Minnesota-Duluth 5, Minnesota State 4 (OT) November 29, 2003
Minnesota-Duluth had a 4-0 lead early in the second, but Minnesota State got two back. Still, with one minute to play, the Mavericks trailed 4-2. That's when Jeff Marler went into overdrive. He had already scored the first goal for Minnesota State. Now he added an extra-attacker goal with 55 seconds left, then he proceeded to shock the Bulldog crowd by tying it with 29 seconds, completing a hat trick with two goals in 26 seconds. However, the euphoria was short-lived for the Mavericks, as Minnesota-Duluth's Justin Williams scored on the first and only shot of the extra session, winning it just 31 seconds into OT.
6. Wisconsin 4, North Dakota 3 (OT) February 6, 2004
North Dakota arrived in Madison as the No. 1 team in the nation on February 6. If anyone doubted why, those skeptics were temporarily silenced in the first period, as Matt Jones, Chris Porter, and Hobey Baker contender Zach Parise gave the Sioux a 3-0 lead. Robbie Earl got one back for the Badgers in period two, but the real turning point came on a Sioux power play midway through the third period. Shorthanded, freshman Andrew Joudrey skated into the North Dakota zone, and Sioux goalie Jake Brandt came well out of his net and was beaten, making it 3-2. With Wisconsin Coach Mike Eaves still mulling an extra attacker, Earl got his second goal of the game on a rebound with just 61 seconds left. What could top that for the Badger faithful? On the only shot of overtime, Earl scored a highlight-reel goal, beating Brandt with a high shot, releasing it as he fell. That gave the Badgers the win on the first-ever hat trick at the Kohl Center, plus a cameo appearance for Earl on SportsCenter that night. The Badgers swept the Sioux with a win the next night.
5. Harvard 7, Yale 5 February 6, 2004
No game epitomized the Crimson's Jekyll-and-Hyde season more than this memorable ECAC contest. Playing at home, the Elis went up 4-0, as the Crimson looked ugly in surrendering three goals in the last four minutes of the period. Harvard stopped most of the bleeding in the second but still trailed 5-1 after Yale's Nathan Murphy scored at 13:39. Yet in the last 23 minutes of the game, Harvard exploded with six unanswered goals, including three goals in a 61-second span of the third period. That outburst flipped the score from 5-3 Yale to 6-5 Harvard. Strangely, there were 11 different goal scorers at that point, but Brendan Bernakevitch got his second of the game on an empty-netter with 1:08 to play. After Yale outshot Harvard 14-11 in the first, Harvard outshot Yale 19-5 in the second and by an astonishing margin of 28-10 in the third. Josh Gartner stopped 51 shots for Yale.
4. Niagara 6, Mass.-Lowell 5 December 14, 2003
Playing against former coach Blaise MacDonald, Niagara had been embarrassed by the River Hawks earlier in the season, losing 6-1 at the Punch Imlach College Hockey Showcase. At the halfway point of this follow-up game, the Purple Eagles appeared destined for a fate as bad or worse: In the second period, on the road, they had called a timeout to make a goaltending change after it became 4-0, and Niagara Coach Dave Burkholder told his club at that point, "Whatever you bring to the table, we need it now."
Ten seconds later after that pep talk, the River Hawks made it 5-0. Maybe it took five minutes of play for the words to have an impact, but the Purple Eagles took flight. Starting at 14:10, Chris Welch scored two goals in less than two minutes. In just over five minutes, the game went from 5-0 to 5-4 with a whole period to play. Backup goaltender Allen Barton stopped every shot he faced after that quick goal, and Niagara tied it early in the third and got the game-winner with less than five minutes to play. They never looked back and ended up in the NCAA Tournament, giving Boston College a good battle in the Northeast Regional.
3. Michigan Tech 7, Northern Michigan 6 October 18, 2003
This early season non-conference matchup had a little of everything. Michigan Tech led 3-2 going into the third, when all hell broke loose. Northern Michigan scored four straight goals for a seemingly insurmountable 6-3 lead with under five minutes left. After the Huskies made it 6-4 on a Nick Anderson power-play goal with just 2:05 left, junior Colin Murphy got his second goal of the game to make it 6-5 with 1:26 remaining. First-year Coach Jamie Russell pulled the goalie, and Murphy got his hat-trick goal to tie it up with just 28 seconds left. Owning all the momentum, Michigan Tech had all six shots in overtime. Fittingly, Murphy won it on his fourth goal of the game, giving Russell his first coaching win.
2. Alaska-Fairbanks 5, Alaska-Anchorage 3 October 11, 2003
What a series these two teams had this year! Despite outshooting Alaska-Anchorage by a two-to-one margin for the game, Alaska-Fairbanks was frustrated by the excellent goaltending of Seawolves star Kevin Reiter. With one minute to play, they trailed 3-2. Nanook Coach Guy Gadowsky pulled goalie Keith Bartusch with 50 seconds left, then called a timeout with 34.5 seconds left. Felipe Larranaga wins the ensuing faceoff, and Ryan Campbell shoots and ties the game. But the real shocker came ten seconds later, when Nanook forward Cory Rask put in the game-winner with just 18 seconds remaining. The Seawolves pulled Reiter, and Ryan Lang got an empty-netter with one second left. The Nanooks ended up winning with three goals in the last 28 seconds of play.
1. Minnesota State 8, Denver 7 December 20, 2003
The top choice was an easy one, as this was the one regular-season game that almost everyone mentioned in nominations. At 7:53 of the second period, Denver had a 7-1 lead. This in and of itself was a startling development, given that Denver was playing shorthanded on the blue line due to injuries and a game DQ, plus Coach George Gwozdecky was not present because he was attending the funeral of Pioneer great Keith Magnuson.
Maverick Coach Troy Jutting pulled Jon Volp when it became 4-1, then yanked second-string netminder Kyle Nixon when it became 7-1. Third-string goalie Chris Clark made his collegiate debut between the pipes. Then a game misconduct and major penalty to Denver's Matt Laatsch changed everything. The Mavericks scored three power-play goals in just 39 seconds! The first two were just eight seconds apart. That made it 7-5 going into the third. Things settled down, and a Denver power play could have basically ended the game about eight minutes into the third. Instead, Adam Gerlach's shorthanded goal made it 7-6.
Brad Thompson tied it for the Mavericks at 14:49, then playing four-on-four, irrepressible Shane Joseph scored his hat-trick goal 62 seconds later for the 8-7 victory. Among the subplots, Chris Clark's parents just happened to be at the game to see their son stop 13 of 13 shots to get the win in his debut. He got only one win the rest of the season and finished with a .828 save percentage and 5.90 goals against average. Meanwhile, the only reason that many Maverick fans stuck around was because of a promotional giveaway during the second intermission. In contrast, Denver goalie Adam Berkhoel gave up eight goals on 39 shots … and then went on to become the Most Outstanding Player in the national tournament, shutting out Maine to win the title.
We'll see how many years go by before a regular season can top all of that.
---
Most of the facts in this article were derived from USCHO recaps, box scores, and personal accounts from USCHO staffers. Additionally, the accounts of the Alaska-Fairbanks games with Alaska-Anchorage were drawn from the always excellent articles of Richard Larson of the Fairbanks News-Miner.