Anyone can win.
A statement most readily associated with the suddenly pop-culture World Series of Poker, why can't it apply to the WCHA, too?
Why couldn't anyone win the MacNaughton Cup this season? Minnesota-Duluth looks strong, but since when does the team that looks the best at the start of the regular season lift the cup at the end?
Why couldn't anyone win the Broadmoor Trophy? Minnesota won the playoff title last season, which isn't so surprising unless you consider that the Gophers were tied for fourth place in the league at the end of the regular season.
And why couldn't anyone win the national championship? The 16-team NCAA tournament now means that any good — not necessarily even great — team can be the last one standing.
Do we need to remind you of Denver on that one? Fourth-place Denver? The Pioneers, maybe not written off at midseason but certainly a second or third thought when it came to national title contenders from the WCHA, were the prototypical hot team at the right time.
They also were the prototype for the notion that it's possible for anyone in the top half of the WCHA to win it all.
"Each year, there's any one of five or six teams that's capable of winning at the national level within the WCHA, and that's just a credit," said Dave Hakstol, who's in his first year as head coach at North Dakota but is no stranger to the league, having been a UND player and assistant coach.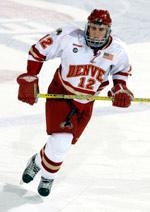 "You take a look at the commitment the programs have made — look at the buildings we play in in the WCHA and the commitment the universities and the programs have made. It's not luck, it's not a coincidence. The schools within our league have made the commitment to being the best college hockey league in the country, and that's what we're seeing."
The edge-of-your-seat, jaw-dropping, six-on-three finish to its 1-0 national championship victory over Maine in Boston last April put Denver back in the top level of the national picture, but what it gets the Pioneers this season is a pack of pursuers. They can ask Minnesota if they need help dealing with that.
Even without that, Denver will have a tough time getting back to that national championship form if history plays any role. George Gwozdecky has coached the Pioneers to the NCAA tournament five times, and in the first four, they didn't make the tournament the next season.
They have the same issues everyone else does — a perceived flight of all of the top players.
Across the WCHA, many of the big names left after last season, either by using up their eligibility or by choosing to jump at the pre-lockout dollars being thrown around by the NHL. Through either course, only eight of the 18 players on the three all-WCHA teams last season are back, and only all-American Wisconsin goaltender Bernd Brückler returns off the first team.
Minnesota's Thomas Vanek and Wisconsin's Ryan Suter were the last two to leave before the NHL shut down, so they'll play in the AHL this season instead of the WCHA. Earlier, North Dakota's super duo of Zach Parise and Brandon Bochenski, the Gophers' Keith Ballard and Alaska-Anchorage's Curtis Glencross inked deals at the top level.
That's right, the Seawolves had a player bolt for the pros. Without a hand on his back. That indicates UAA had some good things going on last season, evidenced by the program's first victory in a WCHA playoff series game, first playoff series victory and first win at the Final Five.
Even without Glencross and Chris Fournier, who left after becoming academically ineligible, the Seawolves could have had a decent season this season. But that prospect took a severe hit, pardon the pun, when captain Lee Green was arrested for punching teammate Brett Arcand-Kootenay in the team's locker room. Green was relieved of his captaincy, and the team's chemistry will be closely monitored by many.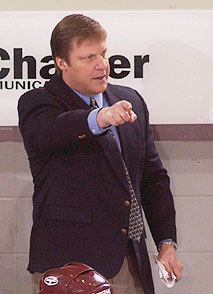 Noticeably absent from that list of early departures was Minnesota-Duluth's Evan Schwabe, likely the league's best returning center, and his Bulldogs as a whole. Besides graduated senior and Hobey Baker Award winner Junior Lessard, defenseman Beau Geisler and a few role players, UMD has everyone back from a Frozen Four team that easily could be in Denver's place with a few twists of fate last April.
"I've read where people think our league might be down because we've lost some key players, but I think our league is going to be very strong again," said UMD coach Scott Sandelin, the national coach of the year last season. "I think there's going to be some teams that make some jumps and I think there's going to be some surprises, just like there is every year. I think it's going to be real competitive this year."
The Bulldogs appear to be the regular-season favorite — a statement that should prompt a gulp from their fans, considering the recent track record of those in that situation. But it would be foolish to rule out Minnesota, Wisconsin, Denver, Colorado College or North Dakota.
Just when it appeared the WCHA would start the season without any head coaching changes for the first time since 1998, UND's Dean Blais bolted to the pros, joining the Columbus Blue Jackets as an associate head coach. Hakstol took over with big shoes to fill.
Colorado College returns most of its scoring from last season, but as usual needs to avoid the dreaded injuries to stay in the race. St. Cloud State and Minnesota State face what could be critical seasons to the future course of their programs. Michigan Tech starts year two under Jamie Russell with some talent up front, but can it keep its head above water in the league?
"I knew that the WCHA was the best league in the country, but last year it was amazing," Russell said of his first impressions as a league coach. "The league won everything there was to win, from the national championship to coach of the year, to two teams in the Frozen Four, to Hobey Baker. The six all-Americans in the west were all from the WCHA.
"There's still some great teams and great players in the WCHA, but a lot of players signed early as well. It's going to be a little bit different league this year."
So go all in on the Bulldogs or raise on the Gophers, Sioux, Badgers or even Pioneers. Just remember what many of us have learned over the years:
Even the best bet can get beat in the WCHA.
Here's a quick look at the league's 10 teams, in an order of predicted finish that's bound not to come true. Click on any team's name for its individual preview.
Coach: Scott Sandelin, fifth season overall and at Minnesota-Duluth (70-80-16)
2003-04 overall record: 28-13-4
2003-04 WCHA record: 19-7-2, 40 points
2003-04 WCHA finish: Second
2004-05 predicted finish: First
The short story: Schwabe won't have Lessard around to pour in the goals, but he still should be able to direct a potent offense with Luke Stauffacher and Tim Stapleton. Goaltender Isaac Reichmuth improved from freshman to sophomore season, and if he can do it again, the Bulldogs' experienced defense should have no problems.
Coach: Dave Hakstol, first season overall and at North Dakota
2003-04 overall record: 30-8-3
2003-04 WCHA record: 20-5-3, 43 points
2003-04 WCHA finish: First
2004-05 predicted finish: Second
The short story: Without Bochenski and Parise, Brady Murray and Drew Stafford will get their chance to shine as sophomores, but they're not the only likely sources of offense. The Sioux return their entire defensive corps and the goaltending tandem of Jake Brandt and Jordan Parise, which has become a strength instead of a liability.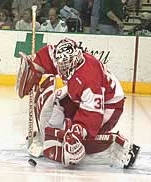 Coach: Mike Eaves, third season overall and at Wisconsin (35-36-12)
2003-04 overall record: 22-13-8
2003-04 WCHA record: 14-7-7, 35 points
2003-04 WCHA finish: Third
2004-05 predicted finish: Third
The short story: Brückler carried the Badgers all last season, and he'll be expected to do so again with five of the team's defensemen freshmen and none of them named Suter. If the newcomers can mature quickly and if the team can find some consistent offense, Wisconsin has a legitimate shot at making the next step and going to the Frozen Four.
Coach: Don Lucia, 18th season overall (413-217-49), sixth at Minnesota (134-62-20)
2003-04 overall record: 27-14-3
2003-04 WCHA record: 15-12-1, 31 points
2003-04 WCHA finish: Tied-fourth
2004-05 predicted finish: Fourth
The short story: The Gophers still have a chance to be a championship-caliber team, but they'll need either a significant contribution from a talented freshman class or a marked improvement from their returning forwards. Chris Harrington showed the potential to be a top-flight WCHA defenseman, but Minnesota will need a more consistent effort from goaltenders Kellen Briggs and Justin Johnson.
Coach: Scott Owens, sixth season overall and at Colorado College (122-67-15)
2003-04 overall record: 20-16-3
2003-04 WCHA record: 11-15-2, 24 points
2003-04 WCHA finish: Seventh
2004-05 predicted finish: Fifth
The short story: Will just missing out on the NCAA tournament spark the Tigers this season? The defense appears strong; now CC needs a goaltender to take charge and grab the No. 1 spot. The Tigers have 82.5 percent of their goalscoring back from last season, including talented junior Brett Sterling, but need to increase the scoring as a whole.
Coach: George Gwozdecky, 19th season overall (372-275-52), 11th at Denver (223-152-31)
2003-04 overall record: 27-12-5
2003-04 WCHA record: 13-10-5, 31 points
2003-04 WCHA finish: Tied-fourth
2004-05 predicted finish: Sixth
The short story: The Pioneers didn't lose much more than the average WCHA team in terms of scoring, but the losses of goaltender Adam Berkhoel, forward Connor James and defenseman Ryan Caldwell take bites out everywhere. Denver has plenty of experience, but it'll need breakouts from players like Adrian Veideman and J.D. Corbin to defend its title.
Coach: Craig Dahl, 24th season overall (393-378-54), 18th at St. Cloud State (324-286-49)
2003-04 overall record: 18-16-4
2003-04 WCHA record: 12-12-4, 28 points
2003-04 WCHA finish: Sixth
2004-05 predicted finish: Seventh
The short story: The Huskies have been barely over .500 for two straight seasons, which pales in comparison to the 29- and 31-win seasons that preceded them. Which one will it be this time around? St. Cloud State will need a big boost of offense to make a jump in the league. The goaltending position appears up in the air again with Adam Coole gone.
Coach: Troy Jutting, fifth season overall and at Minnesota State (65-73-18)
2003-04 overall record: 10-24-5
2003-04 WCHA record: 6-18-4, 16 points
2003-04 WCHA finish: Ninth
2004-05 predicted finish: Eighth
The short story: A lot of things went wrong last season for the Mavericks, who allowed the most goals per game in Division I hockey and had the second-worst penalty kill in the nation. Out of that emerged David Backes with a 16-goal freshman season which, if he can duplicate, will help Mankato make a stride out of the bottom pack. But the defensive and goaltending woes may be too much to overcome.
Coach: John Hill, fourth season overall and at Alaska-Anchorage (27-70-15)
2003-04 overall record: 14-23-3
2003-04 WCHA record: 7-18-3, 17 points
2003-04 WCHA finish: Eighth
2004-05 predicted finish: Ninth
The short story: The Seawolves may have trouble getting past their off-ice issue of the offseason, which will make an already difficult task that much harder. UAA lost both of its goalies to graduation but gets back all of its defensemen. Moderate-level scorers will have to significantly up their production to make up for significant losses up front.
Coach: Jamie Russell, second season overall and at Michigan Tech (8-25-5)
2003-04 overall record: 8-25-5
2003-04 WCHA record: 6-19-3, 15 points
2003-04 WCHA finish: 10th
2004-05 predicted finish: 10th
The short story: The Huskies had one potent scoring line last season — Chris Conner, Taggart Desmet and Colin Murphy, each with 12 goals or more — and still finished 10th in the league in offense. Conner emerged as a true scorer but didn't have enough support. To improve this season, the Huskies will need a more consistent goaltending effort bolstered by a stronger defense and big contributions from scorers other than the top line.