Bug or Bacteria?
RIT enjoyed a successful holiday on the ice last weekend, dropping both New England College and Williams in non-conference games on successive nights. But off the ice, the holiday trip was quite a bit less enjoyable.
It all started Saturday night, following a team meal. Several players, who all sat at the same table for dinner, became violently ill. The symptoms were classic food poisoning with severe vomiting and diarrhea. One player became so dehydrated that he was taken to the hospital and received an IV. The trainer accompanying the team on the trip also became ill, which compounded the problem.
The Tigers played with a shortened bench on Sunday against Williams, and several players continued to be sick on the bus ride back to RIT.
However, other players have continued to come down with similar symptoms as this week has progressed, after the team returned home and resumed attending classes. This has pointed the team doctors away from the food poisoning diagnosis and towards a potential viral infection that is moving through the team.
Sometimes team unity isn't such a fun thing.
A Step Up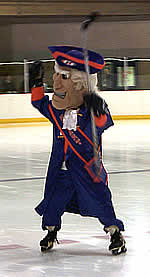 One of the areas that add color to sports is team nicknames. Fans root for animals (Tigers, Soaring Eagles), historical figures (Knights, Valiants), or groups of people (Pioneers, Flying Dutchmen, Statesmen). These nicknames help to define the personality of a school, its teams, and its fans.
Some fans even make prediction of victory based on a team's mascot. How many have ever heard the following: "A Tiger can eat a Statesman, so RIT will beat Hobart. But a Valiant can stab the Tiger with his lance, so Manhattanville will most certainly take down RIT."
An extension of the team nickname is the school mascot. RIT's Ritchie the Tiger has been seen around Ritter Arena for at least the last twenty years. Ritchie leads cheers, entertains young children, and sometimes even rides the zamboni during intermissions. But few other teams in the ECAC West have had mascots, until now.
This year, Hobart has joined in with the fun with the introduction of its own mascot. The Statesman started his career this fall at football games and other athletic events. With the start of the hockey season, he has donned a pair of skates, grabbed a hockey stick, and jumped on the ice to help out the Hobart hockey team.
Mascots are a great addition to the collegiate atmosphere at games and help to make them an event. I hope that other schools will join the fun, and introduce mascots of their own at their rinks.
Almost There
After three years of getting blown out of games, Neumann appears to be on the verge of turning the corner. While they are still winless this season, six of their nine games have been decided by a goal (or two with an empty netter).
"I think we are doing a heck of a job right now," said coach Dennis Williams. "The wins and the losses aren't in the right column where we want them to be. But, our special teams are playing well, and our penalty counts have dropped. We have had a lot of one goal games and have been in them. We just have to find the knack of not falling asleep for a couple of minutes each game that are costing us the loss."
"The boys aren't quitting, that is for sure. We have been battling back in the third periods to get the games close. But close doesn't cut it. We need to get those wins."
However, just when it seems you take two giant steps forward, life throws a curve ball that knocks you back a little bit. Neumann was forced to play its last game against Lebanon Valley with only thirteen skaters, due to some disciplinary problems.
"We had some kids who violated our institutional code of conduct," said Williams. "That is being dealt with right now. The length of the suspension is uncertain at this point."
When I talked to coach Williams on Wednesday of this week, it was unclear the length of the suspensions, and whether any of the players would be able to return to the ice for this weekend's league matchups.
The Knights' game against Lebanon Valley on Tuesday was a barn burner, even with a short Neumann bench, and highlights a growing rivalry between the only two Division III Pennsylvania teams.
Neumann and the Flying Dutchmen have played non-conference games against each other since the Knights were started. However, with Lebanon Valley hanging on to a 4-2 lead last Tuesday, tempers started to boil over midway through the third period.
The referee handed out a series of 10-minute misconduct penalties in an effort to control the game. It partially worked, but a scuffle at the final buzzer was enough to garner three players with fighting major penalties.
"We played a sound system in the game," said Williams. "There were a couple of instances at the end of the game that happen in any game, that were nothing to get too big about. It was two teams that feed on the rivalry and working hard to get their first conference win of the year. The ref did a good job to get the guys out, to save any other problems."
"Our guys pick up the rivalry with Lebanon Valley. Our guys have had some heated battles with them in the past out of conference, and now we are in the same conference."
Round Two in December?
It is only December 3rd, but Hobart and RIT are already squaring off for their second and final regular season league game. Hobart is slowly building up the kind of momentum it rode at the end of last season. And RIT is approaching this game with a new found respect for the Statesmen.
"Hobart went through some stretches last year where they were up and down, mostly down against non-conference teams," said RIT coach Wayne Wilson. "But they got hot at the end, and ended up going to the NCAA's because of it."
"That demonstrates the importance that the bottom line is that you have to win your league to reach where we want to be. I'm back focused on that we have to win our league."
"I don't think that we ever really respected Hobart until last year. That was driven home a little more so the second time they beat us. When a team has been down, like they have, for so long, they beat you once and you think that is a fluke. But then they beat you twice, and they have earned the respect that they should receive. They have earned our respect in the league, and are an opponent that if you don't play well against, you aren't going to win."
RIT defeated Hobart 6-1 at Ritter Arena in November, an identical result to last years first game at RIT. Now Hobart will be looking to repeat its 5-4 defeat of RIT at the Ice Cube from the '03-'04 regular season as well.
Going through the Process
The Division I Atlantic Hockey League is continuing with its evaluation of several teams for a potential expansion. A small part of that process occurs this week, when a delegation will visit the RIT campus. While no RIT officials would comment about the visit, Atlantic Hockey commissioner Bob DeGregorio did confirm to USCHO.com Atlantic Hockey writer Jim Connelly that league officials will be visiting the RIT campus this weekend.
Atlantic Hockey also plans a visit to Air Force in January.
Potential areas of interest for them to review include facilities, team management, athletic program administration and support, event management, and fan/alumni support.
There is no indication when a formal decision or announcement might be made.
ECAC West vs. the World
A favorite feature of my ECAC West column through the years has been the chart in the sidebar that tracked how the ECAC West teams faired versus other Division III leagues. This record has always been a source of pride for fans and players, and has even been used by coaches in recruiting discussions.
I have always manually tracked these records each week of the season, and updated the table in the sidebar in the column. Now, due to some nifty programming by Ed Trefzger, the non-conference record of all leagues is automatically tallied and available for perusal.
The new tables can be found at http://www.uscho.com/stats/inter-confd3.php.