Two Shorties?
Elmira and Utica met for their much anticipated rematch last Saturday, and it was a close game as expected. Well, at least it was a close game until midway through the second period. Utica was clinging to a 2-1 lead, when the Pioneers suddenly broke the game open with two shorthanded goals within a 26 second span.
If you are like most people, you had to reread that last phrase twice to believe it. Getting one shorthanded goal in a tight game can make a difference, but scoring two on the same penalty kill is a game-winning strategy.
"Believe it or not, the shorthanded goals were part of our game plan," said Utica coach Gary Heenan. "We watch tapes on every team. If they have defensemen on their power play who we feel are not comfortable bringing it up the ice, then we are all over them. We are specifically telling our skill players to go right after them. We have had three breakaways while killing penalties in the last two games and have scored on them all."
The two quick goals took the scrap out of the Elmira team. What had been an emotional, hard fought contest turned timid. Twelve of the game's fourteen penalties were called prior to the mid-period barrage, ranging from hooking to interference. After the pair of shorties, Elmira was whistled only twice, once a bench minor for too many men on the ice, and Utica stayed out of the sin bin completely.
"Both teams played pretty well, and we coughed up the game by giving up the two shorthanded goals," said Elmira coach Tim Ceglarski. "I thought that we actually controlled most of the second period. But the two shorthanded goals were definitely the difference in the game. I thought it was a pretty good game, all around. I don't think our power play played great. Obviously going 0-6, and giving up two shorthanded goals isn't great at all."
In an act of desperation, Elmira pulled goaltender Greg Fargo with 2:12 remaining in the game. But Utica rose to the challenge and chipped in two empty net goals to seal the important victory.
"The score in the Utica game is quite deceiving," said Ceglarski. "We gave up two shorthanded goals in 26 seconds, and then two empty netters in the end. We tried to pull the goalie at the end to get some opportunities, but they did an excellent job of blocking shots."
Being Pioneers
Utica checked another first off its list this week, when it defeated nearby neighbor Hamilton 4-3. Gary Heenan played defense for Hamilton, and was an assistant coach there for one season, so the game has a little extra importance for him. Hamilton had won all four previous meetings against Utica.
"We have played really well against them in the past," said Heenan. "The guys know that this is a huge emotional win for me, and have always played hard for me against Hamilton. But we tried hard to give this one away. To be up 3-0, then take stupid penalties. … [Senior Jimmy] Sokol and I have a special relationship, and he had a huge game for us with two big goals."
For a while, it looked like Utica would run away with the game in Hamilton. The Pioneers had built a 3-0 lead, including another shorthanded goal, and the shots on goal were heavily in Utica's favor.
But then a few "stupid penalties" let Hamilton eventually tie the game 3-3 by early in the third period. In the past, this situation is where you would normally see the Utica team panic. They would start scrambling, pressing, and move away from the game plan. Unfortunately, this usually compounded the problem and sealed the loss.
But not this year, where maturity and focus have replaced panic on the Pioneers bench.
"What's different about this team is that if we get down a goal, we just don't give up," said Heenan. "When it was 3-3, there was actually a calming on the bench. No one got excited, no one panicked, and we just kept working. That is a huge difference for us this year, so far."
The other big difference is goaltending, where freshman phenom Adam Dekker has entrenched himself firmly in the role of starter.
"[Adam Dekker] started playing the way he is capable of [in the game] at RIT, and he has just kept that up," said Heenan. "As a team, I think we finally turned the corner against Neumann. We played a solid game, and our goaltender was awesome. And at Elmira, we had a really sound game plan that we executed. We're showing a lot of character now, which is big."
"But honestly, you can look at goaltending more than anything. We used to just know that we were going to give up a soft goal a game last year. And those kill you. We would have one a game, no question. And this year, we haven't had one yet, knock on wood."
Solid goaltending, a sound game plan, and maturity have placed Utica in a tie for the league lead as we near the midway point of the season.
Missed the Moose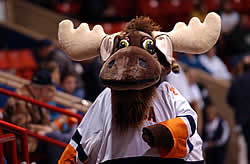 After my column was published last week, I received several emails from frantic fans of Utica College. It seems that somehow I have missed meeting Trax the Pioneer Moose during my visits to the Aud over the years.
Trax debuted on September 21, 2002 at the Utica football home opener. He makes appearances at several Utica hockey games each season, and is in high demand for community events.
We are now up to three teams in the ECAC West with mascots. What about the rest of them?