Just Win, Baby
After several weeks of number crunching and discussions about possibilities, it has come down to just winning the games. For four teams, that is all they need to do in the final weekend of the regular season to secure their spots for the playoffs.
At the top of the league, Utica plays at Manhattanville on Saturday night. Both teams have games on Friday that they shouldn't look past, but the game for all the marbles is the one on Saturday. The winner of that game, assuming no major upsets on Friday, will be the regular season champion and host the ECAC West playoffs.
"We have set some goals throughout the year to do things we have never done," said Utica coach Gary Heenan. "We never beat Hobart in Hobart, we went and did that. We never swept RIT and Hobart in the same weekend, and we did that. We never beat Manhattanville, and we did that. Those are the kinds of things that we have talked about as a team. We actually put it on paper and posted it in our [locker] room. Right now, we think when we set those kinds of goals we can achieve them."
Before last weekend, Utica was 0-5-1 lifetime against the Valiants.
If Utica loses at Neumann on Friday, and Manhattanville ties or wins against Lebanon Valley, then a possible tie in Saturday's game would give the title to Utica since it would own the head to head tiebreaker by virtue of the win over the Valiants last Friday.
"Sweeping this weekend is a goal that we have set," said Heenan. "We don't want to get in to a number crunching tie breaker scenario. We aren't even saying that a tie is good enough. We just want to win out."
RIT has secured a third place finish, no matter what happens in the other games this weekend.
Elmira and Hobart continue to battle it out for the fourth, and final, playoff spot. This is another "just win" game, as a victory by either team would be enough to clinch the spot. A tie game would benefit Hobart, and put the Statesmen into the playoffs.
Hobart has won the last five contests against Elmira, and a win would mean a sweep of the Soaring Eagles for the third straight year.
The right of hosting the ECAC West playoffs is now down to between Manhattanville and Utica. Both facilities have conflicting events currently scheduled. A full review of the facilities issues for the ECAC West playoffs, as well as other leagues, can be found in Chris Lerch's column this week.
Individual Awards
To conclude my three part series of end-of-season awards, this week we turn to the individual awards. Remember, these awards are evaluated on the performance for the entire season, not just within league play.
Player of the Year: Jimmy Sokol (Utica)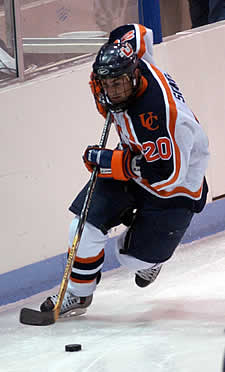 Jimmy Sokol is both the leader and the soul of the Utica Pioneers. Since the team's inception three seasons ago, Sokol has been one of the major forces behind building the team into the title contender that it is going into this weekend's games.
"He is a guy who says 'Watch me. I am going to go and do this, and follow me.' Literally, that is what he has said," said Heenan. "He is a guy who kills penalties for us, a guy who is at the [point] of our power play, a guy who back checks."
As a three-year captain, Sokol has developed as a player and a student.
"Perhaps the most important thing that he does is set the bar so high, and is so disciplined and works hard," said Heenan. "He is everything that you look for in a true leader. He is a 3.1 GPA student. Here is a kid who couldn't clear the [Division I] Clearinghouse, but as he has matured has realized what academics is all about."
As a player, opponents and spectators always notice when he is on the ice. Whether he is scooting around defensemen with the puck, or outworking opponents away from it, a team that loses track of Sokol on the ice usually comes to regret it on the scoreboard.
"I truly believe that I have never found a player that can play with him," said Heenan. "He is so far above every one else speed-wise, hand-wise, head-wise."
Rookie of the Year: Simon Lambert (RIT)
While the crop of outstanding freshmen goaltenders this season has stolen most of the headlines, RIT's Simon Lambert rode along just under the radar. Lambert was the only freshman in the league who played a full season to tally at least a point per game.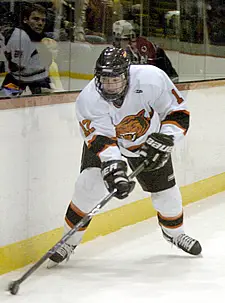 But more importantly, Lambert has brought a factor to the Tigers that the team was sorely lacking this season.
"Simon has brought a lot of energy to our team, and more importantly has brought a lot of accountability," said RIT coach Wayne Wilson. "He has been able to play in a lot of different situations and can be counted on in situations that you normally don't put freshmen in and expect them to excel at."
"He is able to go on the power play, the penalty killing, 5-on-5, dependable in our own end, create opportunities in the other end. The word that most describes Simon is dependable."
Lambert tallied two shorthanded goals and two game-winning goals this season as well as contributing at key times in other contests for RIT. Usually, a player's freshman year is one of adjusting to the speed of the game, and to college life in general. But Lambert progressed a lot faster than most other freshmen this season.
"I thought this might be something that he would grow into, instead of doing it this year," said Wilson. "It is a difficult transition for freshmen coming in, and you never know how they are going to react when they get here. You have visions of what they are capable of doing, and you hope that that all comes out in them. But there are no guarantees. It is something that we saw in him, but it is also a pleasant surprise to see it happening right now."
Coach of the Year: Gary Heenan (Utica)

Four years ago, before Utica had even played its first game of collegiate hockey, I remember talking to the Pioneers new coach, Gary Heenan. He told me "We're going to make the playoffs this season."
I just smirked with that 'yeah, right' look and thought he was setting his team up with unreasonable expectations.
Well, Utica didn't make the playoffs that year, nor did they in their second year, but both seasons came down to the last couple of games in the regular season. A buzz started around the league about how fast the Utica team was progressing.
Heenan kept building his team, first by adding mature players and then by working in higher skills and more complex systems. Heenan is a very good teacher of the game, and can identify the level that his players are at and what they need to learn.
Prior to last season, Heenan told the Utica Observer-Dispatch that he wouldn't deserve to be Utica's coach if he didn't get them into the playoffs. His team earned the fourth playoff spot last season, and this year is contending for the regular season title.
In just four short seasons, Heenan has taken the Pioneers team from non-existence to a contender, and built a solid and rabid fan following for the team in Utica.
This season, the Pioneers have set a string of firsts for the program: the first time they have been nationally ranked, longest undefeated streak (twelve games), first time beating Manhattanville or winning at Hobart. And the list goes on.
With thirteen seniors on the team, this season is the height of everything that the Utica Pioneers have been building towards from the first day of the program. And Heenan is ensuring that the team fulfills its potential, and makes good on the promises made four years ago.