Photo Finish
Fans, what you're seeing this weekend is unprecedented. For the first time in Hockey East history and for as far back as people can remember, all four of the top teams can finish first and all of them can finish fourth.
"There's never been anything this close or anything that's so smartly set up," BU coach Jack Parker says. "We're all playing each other two miles away from each other this weekend.
"If you told me at the beginning of the season that we'd have home ice locked up in the playoffs, that we'd have the Beanpot locked up and going into the last weekend of the season we had a chance to win the league, I'd be very, very happy. I'm sure it would be the same if you were Maine or BC or UNH.
"Every one of us has had a dip where all of a sudden we didn't look like we were on top of our game and it cost us points in the league. And then all of a sudden, just when you'd think that one of us was floundering, a winning streak would get started. We're all in a situation now where it's put up or shut up."
Put up or shut up indeed.
Adds UNH coach Dick Umile, "It typifies Hockey East and what it's like to play in this league. It's never over until you get through the last game. It's just crazy. It's making it interesting, that's for darn sure. It tells you what the playoffs are going to be like."
And while the emphasis is on the top four teams, and justifiably so, Massachusetts-Lowell and Northeastern are playing for fifth place while Providence and Massachusetts are jousting for seventh.
"It's remarkable," Maine coach Tim Whitehead says. "It's great for the league, fans, players and coaches, media and friends to have everyone excited about the last weekend of the regular season.
"It's a lot better than the scenario you sometimes have where certain teams know their place before the final weekend and you go to Senior Nights that have no meaning. I know our Senior Night [last Saturday] was exciting knowing that it was a game that had a lot of importance. You can say that around the league this weekend, not just in the top four teams, but in the other matchups there's significance there, too."
Since Hockey East Commissioner Joe Bertagna takes more than his share of grief, it's only fair to give props to him now for hitting the scheduling jackpot.
UNH-BU: Can New Hampshire Finish Off The Title?
The Wildcats hold their destiny in their hands. A sweep of BU will give them the title no matter what anyone else does. Three of four points, however, leaves the matter in doubt since BC is only a point behind and wins the tiebreaker. And on top of the bragging rights of winning the regular season title, there's even more at stake in terms of postseason implications.
"Not being critical about any other teams," Umile says, "but if you just base it on how the teams have been playing up to this point, you'd want to finish one or two. Not that it's going to be any easier in the playoffs because we know that Providence always plays well at the end of the season and [PC coach] Paul [Pooley] has his team playing great right now. We played them in the tournament last year and it was right to the wire in the quarterfinal round. So they're difficult.
"But there's no question that Lowell is a team that is right there for an NCAA [berth] and [Northeastern coach] Bruce [Crowder] has his team playing great, too. So playing 1 against 8 or 2 against 7 is supposed to easier."
Umile then laughs. "Supposed to be easier. But we know that's not necessarily the case in Hockey East. But you know what, you've got to be playing well down the stretch.
"The prize here is to get to the FleetCenter. We know how difficult that's been. Every coach that gets up there at the banquet [before the semifinals] says that it's not an easy banquet to get to. Sure as heck, it's going to be difficult to get there this year."
As if, of course, UNH needed a reason to get up for a home-and-home series with Boston University.
"I know there's the BC-BU rivalry that's huge because of Comm. Ave and Boston and all that, but UNH and BU has been a great rivalry over a long period of time," Umile says. "We've had some great matchups with them and this should prove to be another great matchup with everything coming down to the wire.
"The great thing for us is that if we play well and win we control our destiny. But we're going to play a very good team in Boston University. It's exciting. When they put the schedule together, I think everyone thought that it would be a great finish and here it is. It's great to be in this position. It's better than the alternative, I'll tell you that."
The Terriers, squarely in UNH's way, made life a lot more difficult for themselves by taking only one of four points from Northeastern last week. The defense has been there for BU, but of late the goals have been tough to come by.
"There's no question that we're not finishing our opportunities, but we're getting good chances," Parker says. "It's not as if we're not generating offense; we've been getting good looks at goaltenders. Sometimes we're hitting them in the chest, but other times the goalies have just played well or gotten puck lucky."
Which just puts BU in the same position most teams have been through this year.
"There was a stretch where BC wasn't scoring goals at all either and when you look at their lineup you figure those guys should be scoring," Parker says. "It's just something that has come by hockey in the last few years. It's come about because the goalies are too big — too much equipment — and too good.
"Nobody has made a jump in any sport at any position as much as the goaltender has in the last 10 or 15 years in terms of how to play the position, not only technically, but also how much easier it is to play the position because of the equipment. That's got to be addressed sooner or later.
"In the meantime, all of us have gone through [scoring droughts] with the exception of UNH. I don't know if they've had any stretch where the puck wasn't going in the net for them. It doesn't look it when you look at all their stats. They have so many guys with 40 points and 30 points, it appears as though they haven't run into that problem, but certainly BC has, Northeastern has, BU has and Maine has tremendously. And yet they got five against Lowell the other night.
"It's a matter of what frame of mind you're in. Are you in the mode where you think the puck is going into the net when you shoot it or are you thinking that it's hard? We all have enough scorers — some of us have more than others — but we have enough so that we should be able to generate enough offense."
That offense needs to emerge this weekend. Despite the third toughest schedule in the country, BU is dangerously near the PairWise bubble, tied for ninth with UNH and Dartmouth.
As a result, this weekend doesn't just mean a chance to win the regular season title or to improve positioning in the playoffs or to enter the postseason on a high note.
"The most important factor is that these games are going to have a lot to say about the NCAA tournament," Parker says. "We've got to get some points out of this matchup. We have to make sure we don't have a couple losses because not all of us are going to make the NCAA tournament.
"In my mind, that's the biggest problem of all. There's a lot of pressure to make sure that we're playing after the Hockey East tournament.
"[Beyond that factor], you could make the argument that Lowell and Northeastern are tougher to play than Providence, but you can't make that argument to BU and BC. Maybe you could make that argument to Maine or UNH, but certainly not BU or BC. I know that we won three games, but in reality they were all one-goal games and BC tied them three times. We looked better against Lowell than we did against Providence.
"So there is no easy team in this league. If you come in fourth, do you get Lowell or Northeastern? You don't know that yet. If you come in second, is it easier to play Providence than Lowell or Northeastern? Flip a coin.
"If you come in first, the argument might be made that of all the teams the one that's in a tailspin is UMass. There's a little more to be said for that argument.
"So that's a double reason to win. I'd love to come in first place and the draw with UMass is maybe easier. Although maybe not for BU because we had one-goal games with them as well. But for everyone else, that's the matchup you'd like."
For this weekend, however, the matchup is UNH. And a tough one it is.
"I do believe that of all the teams in the league they have the best lineup for producing offense," Parker says. "They have some gifted players who when they get opportunities will bury it top to bottom, especially the top three lines. If you give them shots, they're going to get goals. So we've got to be very, very careful with that.
"They get a lot of opportunities off of turnovers and a lot in transition and they get fabulous opportunities off great looks on their power play. That creates big problems for us.
"BC did a great job [against UNH] in some of those areas this past weekend; BC is arguably the best team in the league on defense and defense won out over offense this past weekend, but they couldn't stop UNH's power play. And that's the best penalty killing unit in the nation or one of the best anyways. So you've got to pay special attention to staying out of the box. ANd when they do get a power play, you've got to be at the top of your game."
BC – Maine: Still In The Hunt
Boston College is the lone Hockey East team without concerns over making the NCAA tournament, sitting at third in the PairWise. Perhaps befitting that luxury, the Eagles aren't emphasizing any of the implications of this weekend's games other than the opportunity to win the regular season title.
"You try to stay focused on the first available part of the whole process," BC coach Jerry York says. "We certainly know what March and April bring, but right now the league championship is clearly the most important.
"You start in October and you go six months and your goal is to finish in the top four to be sure, to get home ice, and then as it progresses to win that championship. I don't think we'll have any problems not staying focused on this goal.
"Starting Monday, you shift gears and look for something different, but right now it's [this championship]. They're difficult to win."
BC put itself in position to still win the title by rebounding from a disappointing tie with UNH on Friday to win at the Whittemore Center for the first time since 1997.
"That was the hard way to take three out of four points," York says. "You would have thought that we'd win our [home] game and try to get a tie up there. It puts us right in the pennant race.
"Just looking at it, it's a remarkable race. We can all finish first; we can all finish fourth. I don't think I've ever been involved in a championship in which so many teams going into the last weekend are involved and they play each other. It's going to be very, very interesting."
Considering some of the titanic battles these two teams have fought in recent years — last year's Frozen Four semifinal game instantly comes to mind — that only increases the excitement.
"It's a scenario that we've had the last couple of years, Maine and ourselves with very important games late in the year," York says. "We've been involved with Maine late in the year in some key, key matchups whether it was for the league, our postseason or the NCAAs. So I think we've built up a terrific rivalry. When you have these type of events so late in the season, there's a lot of [mutual] respect."
As for the matchup itself, one roadblock in particular stands out.
"They pose a lot of problems," York says. "First and foremost, Jimmy Howard is having a banner year. He seems to be coming on very strong in the second half.
"But they also have a lot more weapons than just Jimmy. We're conscious of that. We're watching films this week trying to pick up some matchups that we can have. It should be a real good weekend."
Maine, put on NCAA tournament life support last week by yours truly, had the best weekend of all the top teams, sweeping Lowell to climb to within striking distance of first place as well as to 15th in the PairWise.
"It was good, but it was still just one weekend in the season," Whitehead says. "We have to keep it in perspective and keep moving forward, but it certainly showed some good progress. We're going to try to keep building on it.
"[The difficulty of making the NCAA tournament] is a great challenge, but that's why we play the games."
Entering the lion's den of Conte Forum, the Black Bears have their work cut out for them.
"Both games are at their rink so that'll be tough," Whitehead says, "but at the same time it's a great opportunity to steal some points for us and keep working towards a strong finish. We're excited about the opportunity, but respectful of the challenge. We're going to go at it."
Not A Playoff Afterthought
Northeastern's three of four points against BU last week came in part because the Huskies put their Beanpot disappointment behind them.
"I actually brought in a video of 'The Lion King' to show the guys," Crowder says. "There's a spot in 'The Lion King' where the lion's trying to decide whether he's going to go back or not and the monkey hits him over the head with a stick.
"The Lion says, 'What did you do that for?' and the monkey says, 'It doesn't matter because it's in the past.' That's what we said. 'The Beanpot's over; it's in the past.'
"Great movie, by the way."
Goaltender Keni Gibson not only earned Hockey East honors, but also high praise from the opposing bench.
"I think he's the all-league goalie," Parker said after Gibson's 27 saves sealed a 2-1 win. "There may be some other goalies in Hockey East that are better than him in some ways, but they didn't play as many games; they aren't the stalwart that he is for his team.
"So in general, I think if you're picking All-Hockey East goalie right now, it would be Keni Gibson. He'd be the first team of Hockey East and a good shot of making All-American. He's had a terrific year and a half for them; he played great down the stretch last year. He's given them really solid goaltending….
"This guy has done more at his position for his team than any other goalie in the league."
The points taken from the Terriers, who were highly motivated to pick up points themselves, underscore how difficult of a playoff foe the Huskies will be.
"We're probably about six goals away from having an unbelievable season," Crowder says. "The kids have been fantastic; they've worked hard.
"All season long, I've really liked this team. They come to play and keep things in perspective in what they need to do. Even going back to the Beanpot game, there are an awful lot of ways in which we played extremely well.
"We've been schooled very well this year. The latest numbers show we've had the toughest schedule in the country. I've said all along that because of that it was going to help us at stretch time and in a lot of ways it has. We've just got to continue to do that."
You think that "toughest schedule" talk is overrated? Try this on for size. The Huskies may be a game under .500, but since Oct. 19 they've lost only one game to a team that isn't currently in the Top 15. And that lone exception was a loss to Vermont, then ranked 11th.
"Through it all we've been very consistent," Crowder says. "Our guys have been that since December first of a year ago. They've kept playing hard.
"Last year they didn't make the playoffs when there were only four points separating last place and fifth place. It wasn't like this year when it's 20 points.
"The kids have stayed focused and together. Our better players are playing well and our supporting cast is playing well. Those are all things that we need to have."
Gimme A Break
One unhappy reader responded to last week's column with the following critique.
Please stop the lies. Change the name of "This week in Hockey East" to "This Week at UMass Lowell."
It's a ridiculous complaint, if you'll pardon my bluntness. I'm responding here only because I get emails wondering why I'm not mentioning a particular team in a given column.
It works like this. I try to make every column about what seems most important that week. I also make sure no team gets neglected for too long and that no team gets absurd overcoverage compared to the others. I even keep a log of this to be sure that I'm as fair to all the teams as possible.
The fact is that prior to last week's column — which talked about the races in general, but covered Maine and Lowell in depth — there hadn't been a single Blaise MacDonald quote nor a single non-trivial bit of River Hawk coverage in the previous three columns.
Which meant the River Hawks were overdue for attention even before sweeping Boston College.
Good grief!
Hilarious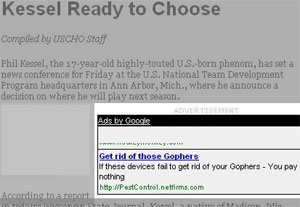 At the other end of the spectrum is loyal reader Scott Sewade, who provided a hilarious look at USCHO ads. Reading our article on Phil Kessel, which noted that Minnesota was a prime possibility for the top recruit, Scott saw that the Google ad next to the article had the predictable Minnesota Gopher items along with one for a pest control website which read, "Get rid of those Gophers."
Too funny!
A UNH fan, Scott added, "Now, if only a story about the BU Terriers brought up a vet's ad for getting your pooch fixed, or a U-Maine story brought up an ad for hunting black bears…"
Crimson Linguistics
Generalissimo Francisco Franco is still dead.
Trivia Contest
Last week's question referred back to the scoreless tie earlier this season between Lowell and Brown and asked what the date and opponent was of the only other such double-goose-egg in Brown's history. Roger Norton was first to correctly respond that it came against Yale on Feb 18, 1898. No, that's not a typo. And no, I didn't cover the game.
Roger, a Brown fan, declined his cheer, so I'll opt for this one:
"Kudos to Joe Bertagna, Noah Smith, Brendan Sheehy and Kathy Wynters. It's another great year for Hockey East."
This week's question reprises the 0-0 theme and asks when was the last time that two Hockey East teams played to a scoreless tie, but neither goaltender received the game's number one star? Hint: I was in a cranky mood at the time, but it resulted in an artistic success. (A pox on those who would say that my cranky mood doesn't narrow it down at all and I've never had an artistic success.)
With Scott Weighart filling in next week, Email him with the two teams, their goaltenders and the top star. The winner will be notified by Tuesday; if you haven't heard by then you either had the wrong answer or someone else beat you to it.
And Finally, Not That It Has Anything To Do With Anything, But…
"We're not rich. All my equity is in my house."
That was a phrase that my subconscious overheard while I was working in my humble little cubicle at the day job. I have no idea what else was said in that conversation — presumably that the person in question had quite the mansion to be proud of — but my subconscious latched onto those words.
Less than a nanosecond later came my unspoken reaction.
All my equity is in my kids.
Our house is a very modest one. The car I drive has close to 200,000 miles on it. My 401(k) needs some serious bulking up before I retire.
But I still feel like a rich man. Nicole and Ryan are the reasons why.
I'm not saying that poverty is a virtue or that, in my case, financial mediocrity warrants praise. The fewer the financial headaches, the better. So perhaps I should have made many different choices over the years.
But if I had to choose between having equity in my house and having equity in my kids, that decision would be an easy one.
Even if I spend my retirement eating Alpo three days a week, I have equity that makes Bill Gates look like a pauper.