So it has come down to this — one weekend, four titles and NCAA tournament berths that will be cherished come Sunday night for at least three New England teams that claim conference titles. This weekend is for the whole enchilada!
"It's really what you hope for at the beginning of the season," commented Colby head coach Jim Tortorella. "You want to be playing at your best in early March. If you can get to the final four in your league, anything can happen and when your best players are playing their best hockey you definitely feel like you have a shot in a two game weekend."
Including the D-II championship match-up this weekend, there are probably twelve coaches who are hoping their guys are primed for a run at the league crown. Let's breakdown the final match-ups and then take a look at a couple of other interesting side notes to the end of the season for a couple of D-III programs.
ECAC East
Once again the road to the title goes through Northfield, [nl]Vermont — the home of the Norwich Cadets. Hosting the final four and winning the league title is nothing new for coach Mike McShane's Cadets. This year the top four seeds made it through the quarterfinal round unscathed (a theme that will repeat itself in other leagues) and the projected match-ups are in place for Saturday's semis.
No. 4 New England College takes on the host Cadets on Saturday afternoon. Captain Kurtis McLean, who last weekend surpassed Keith Aucoin as the school's all-time goal-scoring leader, will keep his team focused on a fourth title in as many seasons. Scott Gray and Mike Carmody have been nice stories for NEC this season but experience and home-ice win out here.
In the other match-up later on Saturday afternoon, #3 Southern Maine meets #2 seed Babson. Babson has the nation's second longest unbeaten streak and too much firepower for USM to be upset in the semis. This game will be hard fought as USM captain; Jon Lounsbury will have his team leaving it all out on the ice.
If as projected, the finals pit Norwich and Babson together, get ready for a great title game. Last year Norwich beat the Beavers in overtime for the title, and earlier this season Babson and Norwich skated to a 3-3 tie at Kreitzburg Arena. Clearly, Babson has no issues playing tough on the road and both teams are pretty evenly matched. It would be hard to pick against the defending champs at home but Babson appears to be a team on a mission and is looking to avenge last year's heartbreaking loss. Look for another overtime thriller to decide the title.
ECAC Northeast
We are down to the final two following Wednesday night's semifinal games which saw the top two seeds advance to Saturday's championship game. In fact, the whole playoff format held to form with the top four seeds winning their quarterfinal games followed by the higher seeds winning at home in the semifinals. Curry and UMass-Dartmouth are the two teams left standing with a shot at winning the championship and NCAA auto bid this season.
The game is to be played on Saturday afternoon at Curry's Max Ulin Arena where the Colonels are looking to extend their league unbeaten streak this season to eighteen games including the playoffs. For UMass-Dartmouth, the motivation is simply found in avenging their only league loss this season which came against Curry way back on December 4, 2004 by a score of 8-1.
Here's hoping that this game is much more focused on good quality hockey and doesn't include the 204 minutes in penalties that marred the first get-together. Both teams will showcase explosive offensive talents including Curry's captain and leading scorer Brian Doherty and UMD's leading scorer, Eric Frank. The guys likely to be the difference makers in the final are the goaltenders. Curry's Lenny Mosca and UMass-Dartmouth's Kevin McGowan will need to be very sharp early if their teams are to win. No doubt this will be a battle, as both teams have no problems getting up for the other squad.
Home ice and an elusive league championship are the motivations that will take Curry to the title.
NESCAC
Alright, if you are not too busy this weekend, jump in the car and head down to Hartford, Connecticut where the most intriguing of the final four match-ups is taking place. Trinity College will host the NESCAC championship weekend for the first time — in fact the first time the finals have been held outside of Kenyon Arena on the campus of Middlebury College.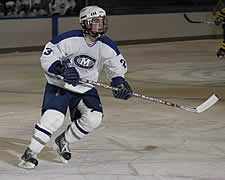 Saturday's match-ups are great as again the top four seeds held serve on their home-ice in the quarterfinals and now the fun really begins. No. 4 Bowdoin will take on the host Bantams in the first game Saturday afternoon. This match-up showcases two of the best goaltenders in the country and the top two as named in the All-NESCAC listings this week. Trinity's Doug Kiselius is facing Bowdoin's George Papchristopoulos in a re-match of a game that ended in a thrilling 4-4 tie at Bowdoin earlier this season. There will be no ties this time around, and I give a slight advantage to the home team to win a tight game by a goal.
The late game matches #3 Colby against #2 Middlebury. This game is another one that is probably to close to call. Colby took the regular season match-up on home ice and would love to repeat the performance. Great performances from seniors Cory Ernst, Patrick Walsh and Nick Bayley will certainly help to pull the momentum towards the Mules. The Panthers come in healthy and playing some of their best hockey as evidenced by a convincing 7-3 win at Norwich to end the regular season and a convincing 3-0 shutout over Hamilton in the quarterfinals. Would not be surprised, in fact expect to see overtime in this one setting up the last of the #1 vs. #2 championship games of the weekend.
Should Trinity and Middlebury meet for the title, expect a terrific hockey game. The teams played to a 4-4 tie at Middlebury late in the season, and while I expect the game will be low scoring, experience in goal will be the difference for the Bantams, who are looking for their second title in three years.
Northeast-10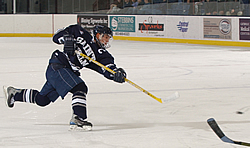 The only No. 1 vs. 2 match-up is set for Saturday between two emerging New Hampshire rivals. The D-II crown is up for grabs between St. Anselm and Southern New Hampshire University. St. Anselm, the top seed, ended Assumption's season on Wednesday night with a 4-1 win while SNHU traveled to Vermont to upset second seed St. Michael's and a match-up with their cross-state rival.
Both of these teams have some explosive offensive players including Josh Hechter and Bostjan Kolaric of St. A's and Pat Doherty and Bandon Hammermeister for SNHU. But like most playoff games, this one is coming down to goaltending. While Martin Stehl has played well for SNHU, Jim Merola has been "the" goaltender for St. A's for four years and he is still hungry to win a title. Look for Ed Seney's Hawks to win the championship on front of a packed house.
Who Wants to Play Goalie
Now that Amherst has been eliminated from the NESCAC title chase, this story can be told without compromising the team's positional status. Back in January, during their regular season game with Trinity, goalie Josh Fillman was injured early in the game with his team trailing 1-0. Under normal circumstances and in consideration of a significant injury, some teams would have opted for a back-up goaltender to relieve the injured player. Not for Amherst and not for Fillman. He refused to come out of the game with his injured shoulder not only because he wanted to stay in and help his team but also because Amherst had no real back-up goaltender!
A second goal immediately after the injury had Coach Jack Arena questioning whether or not he should let Fillman continue to play but as the game went on he got stronger and eventually Amherst rallied to win the game. But what about the back-up goalie?
Earlier in the season the Lord Jeffs lost one rostered goalie to a personal break from school and their other goalie left campus for personal reasons at the end of the semester. "We were praying that nobody got hurt," said Arena. "Every night we would dress one of the players who was a little nicked up as the back-up and prayed Josh could stay healthy. We actually have a defenseman we would use if we had to who has some past experience and practices as a goalie, so we have two, but it's not the way you want to fill out your roster on game night."
So do frontline players now have a bit more respect for the guy standing between the pipes? "Absolutely," exclaimed Arena. "Nobody wants to draw the short straw and I remember looking down at our back-up the night Josh went down at Trinity and he was white as a ghost at the thought of having to play in the goal."
Amherst enjoyed a successful season, which ended in the quarterfinal round at Bowdoin by a 6-4 score. Kudos to Josh Fillman for hanging tough and carrying a load that was truly only his to bear for his team to have a shot each and every night. And to the guys who dressed as the back up on the bench — thank Josh for hanging in there every night and encourage the coach to find at least one other "real" goalie for next season. Otherwise, if you are a bit nicked up you may be watching Josh to learn how the equipment goes on some night.
A Season is Measured in More than Wins
Lastly this week, I bring you the story of the winless Castleton State College Spartans who ended their season last week losing to Norwich by a score of 16-0. For the season, the Spartans finished 0-25-0 overall and 0-19-0 in the conference. They scored a total of 42 goals while surrendering 236 on the season. So how do I find the bright spot in this one?
"The kids never quit," head coach Greg Stone said proudly. "We got pasted by some teams by a couple of touchdowns but they didn't stop playing or working hard in practice. In fact, we got better as the season went on and as our skills develop we should be much more competitive with an influx of better talent down the road. These kids all want to get better and be able to compete with the teams in this league and NESCAC. It's a pretty tough place to start out as a new program, but we have come a long way in just one full season in the league."
Here's to a great recruiting class for Coach Stone, continued resiliency and hard work for the CSC players and finding a couple of wins early in the Fall of 2005.