Both New England College and Manhattanville earned their way into the NCAA tournament in dramatic fashion, knocking off league regular-season leaders on the road on the way to their league championships.
For the New England College Pilgrims, the task required defeating host Norwich in overtime in the semifinals and then downing Babson to win the ECAC East title.
"That was pretty exciting for our guys and our school," said New England College coach Tom Carroll. "To get to play up at Norwich in that environment is a huge task to have to take on. We got more confident as the games went on. We seemed to respond when the other teams scored and that was a good sign for us. Our guys pulled together real well."
"Anyone who goes to Norwich and wins two games there in the playoffs is a dangerous team," said Manhattanville coach Keith Levinthal. "We have all we can do to concentrate on New England College right now, and try to win this game."
Manhattanville had a little easier path to the promised land, but still had to work to earn its first league championship. The Valiants trounced a lackluster RIT squad in the ECAC West semifinals, and then defeated a pesky Utica team in the finals.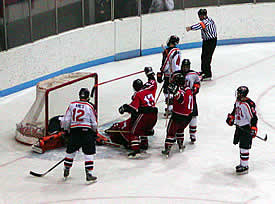 For the Valiants, team defense has been a key contributor this year, and is what has put them into the NCAA playoffs for the first time in team history.
"Our defense this year has been outstanding," said Levinthal. "We have played a lot of games where the other team only scored two goals or less, and that shows how good our defense has been all season."
Manhattanville has limited its opponents to fewer than three goals in 18 games this season. Only three times has an opponent scored five goals, and those are the only three losses during the season for the Valiants.
The Pilgrims started out the season with an unspectacular 2-6 record, but then turned the season around over the holidays. The hardship at the beginning of the season brought the team closer together, and has proven crucial to the end-of-year success.
"We started out slow, for sure, but the guys have been real resilient," said Carroll. "The biggest thing for us is that the guys stuck with it, and kept working hard in practice every day. Lots of guys have contributed. Once we started winning a couple of games and had some success, the guys believed in each other. We had a couple of nice comeback wins in January, and got on a roll, and started to climb out of the hole that we created in the beginning."
New England College only has five seniors on its team, and three of those five are goaltenders, but leadership has not been a problem and instead has turned into a strength for the Pilgrims.
"We have tremendous leadership," said Carroll. "We only have a small group of seniors, but our captains have done a great job of keeping the ship going in the right direction. I think that is a huge part of our success."
Three games can be cited that hinted at this year being special for Manhattanville, and all were road games. First was the 5-4 come-from-behind overtime win at Curry in late November. Manhattanville trailed 4-2 early in the third period before starting the comeback.
Next was defeating Norwich, 3-2, to take the championship of the Times-Argus Invitational over the holidays. The Valiants had to stave off a late surge by the Cadets to seal the victory.
And lastly was Manhattanville's first victory at RIT in team history, 2-1 in overtime in the middle of February, again coming from behind late in the game.
"The overtime win at Curry gave us an indication of how good our team was early in the season," said Levinthal. "Then the wins at Norwich, and at RIT, gave us a lot of confidence. In some ways, we are a better team on the road this year than at home."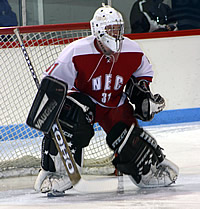 Right before the December break, NEC switched starting goaltenders, deciding to give sophomore Scott Gray a go in net. Since then, Gray has amassed a 14-4 record and seen the vast majority of ice time.
"Second semester, Scott [Gray] really took advantage of his opportunity," said Carroll. "We have three very good goaltenders on our team. He has been kind of a rallying point."
"New England has a very good team, and an even better goalie," said Levinthal. "It appeared that their season really turned around when they switched goaltenders and went with the freshman on a regular basis."
Manhattanville and New England College are each looking for their first NCAA playoff victory this weekend. No player on either team has been in the quarterfinal round before, so it is a new experience for everyone.
"We are excited to be playing," said Carroll. "We haven't played [Manhattanville] since two years ago in the Plattsburgh tournament. But we are unknown to them as well. If we can focus on what we can do well, we should be ok. We are going down there with the idea that we want to keep playing."