Except for newcomer Yale, the faces at the ECACHL semifinals at Union are familiar, but the stakes are unique.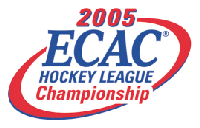 The triumvirate of Harvard, Dartmouth and St. Lawrence are all together in the league semifinals for the fourth time in five years. The league's top three teams appear to be locks for selection to the eight-team NCAA tournament, but each can earn a more favorable matchup in the first round with an outstanding performance this weekend. While Dartmouth appears to be a sure NCAA quarterfinal round host, Harvard or St. Lawrence might put themselves in the same position by wining the ECACHL crown. As for the Bulldogs, they need to win the tournament just to make NCAAs at all.
ECACHL Tournament Schedule
Semifinal #1: No. 4 Yale vs. No. 1 Harvard, Sat. 1 p.m.
Semifinal #2: No. 3 St. Lawrence vs. No. 2 Dartmouth, Sat. 4 p.m.
Final: Sunday, 2 p.m.
The following stations will be providing audio webcasts:
For Harvard games: WHRB
For Yale games: WYBC
The final will be broadcast on the following outlets: Time Warner Albany, Time Warner Syracuse, Cox Cable (Rhode Island), CN8/Comcast (New England, Mid-Atlantic) and Adelphia Cable (Burlington, Vt., and Hanover, N.H.). An audio/video feed of CN8 is available here.
Yale (16-14-1 overall, 12-7-1 ECAC)
Top Scorers: Jenna Spring, So., F (12-15-27), Erin Duggan, Sr., D (11-15-26), Deena Caplette, Jr., F (10-16-26)
Top Goaltender: Sarah Love, Jr. (14-12-1, 2.70, .905)
Scoring Offense: 2.58 (17th)
Scoring Defense: 2.71 (17th)
Penalty Minutes: 13.2 (13th)
Power Play: 19 of 153, 12.4% (21st)
Penalty Kill: 157 of 183, 85.8% (13th)
This is Yale's first-ever ECACHL semifinal appearance… Yale's 3-2 win over Harvard on Nov. 12 snapped a 39-game, 20-year series losing streak… With Julie Chu and Sarah Vaillancourt back in its lineup on Jan. 29, Harvard blew away Yale 11-2, but the Bulldogs outscored the Crimson 2-1 over the game's first 30 minutes… Yale had never won an ECACHL playoff game prior to last weekend… Yale captain Erin Duggan trails only All-WCHA defensemen Molly Engstrom and Lyndsay Wall nationally in goals scored among blueliners… Yale freshman Helen Resor was second among defensemen in goals scored in ECACHL play.
No. 5 Harvard (22-6-3 overall, 17-1-2 ECAC)
Top Scorers: Nicole Corriero, Sr., F (52-28-80), Julie Chu, Jr., F (12-45-57), Sarah Vaillancourt, Fr., F (19-38-57)
Top Goaltender: Ali Boe, Jr. (18-5-2, 1.87, .907)
Scoring Offense: 4.55 (3rd)
Scoring Defense: 1.84 (6th)
Penalty Minutes: 13.6 (12th)
Power Play: 48 of 199, 24.1% (3rd)
Penalty Kill: 163 of 183, 89.1% (6th)

The Crimson has the nation's longest unbeaten streak (15-0-2)… Harvard has reached the ECACHL final in four of the last six years and won two titles, including last season… The Crimson lost to Dartmouth in the tournament for four straight years from 2000-2003, and the teams did not meet in the postseason in 2004… Tri-captain Nicole Corriero set a new women's collegiate record for goals in a single season with her 52nd last Saturday against Clarkson… Corriero passed Angela Ruggiero for fourth on the Harvard all-time scoring charts last weekend, and she is three points away from tying U.S. Olympian A.J. Mleczko for third… Corriero is also the sport's all-time leading scorer since women's hockey became an NCAA sport in fall of 2000… Senior Ashley Banfield leads all defensemen nationally in scoring per game, and she is No. 1 in goals among defensemen in ECAC play.
Yale-Harvard Series History
All-time: 48-7-1 Harvard
2004-05: 1-1-0
1/29/05: Harvard 11, Yale 2
11/12/04: Yale 3, Harvard 2
No. 4 Dartmouth (25-5-0, 16-4-0 ECAC)
Top Scorers: Cherie Piper, Jr., F (20-35-55), Katie Weatherston, Jr., F (36-13-49), Tiffany Hagge, Jr., F (26-18-44)
Top Goaltenders: Kate Lane, Jr. (14-4-0, 2.22, .908), Christine Capuano, So. (11-1-0, 1.75, .911)
Scoring Offense: 4.77 (2nd)
Scoring Defense: 2.07 (9th)
Penalty Minutes: 14.3 (8th)
Power Play: 51 of 196, 26.0% (2nd)
Penalty Kill: 157 of 181, 86.7% (12th)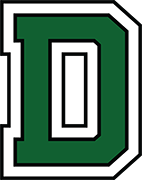 Dartmouth is just 3-8-1 in its last 12 games against St. Lawrence, including four straight losses during the 2003-04 season and a defeat in the 2004 ECACHL semifinals… Dartmouth is winless against the Saints in three postseason tries… Dartmouth won the ECACHL title in 2001 and 2003 and lost in the final in 2000 and 2002… Dartmouth is 5-4 in its last nine games after a 20-1 start… Junior Tiffany Hagge has been Dartmouth's top scorer in the team's last 16 games with 21 goals and 27 points.
No. 6 St. Lawrence (26-6-5 overall, 14-3-3 ECAC)
Top Scorers: Rebecca Russell, Sr., F (28-35-63), Emilie Berlinguette, Jr., F (19-22-41), Chelsea Grills, So., F (19-23-42)
Top Goaltenders: Meaghan Guckian, Fr. (13-5-2, 2.28, .922), Jess Moffat, Jr. (10-1-3, 1.80, .929)
Scoring Offense: 3.30 (8th)
Scoring Defense: 2.00 (T-7th)
Penalty Minutes: 14.5 (7th)
Power Play: 38 of 254, 15.4% (16th)
Penalty Kill: 196 of 231, 84.8% (16th)
St. Lawrence is 3-2-2 in its last seven games after a 23-4-3 start… freshman Meaghan Guckian earned the bulk of starts against ranked teams during the regular season, but Jess Moffat relieved Guckian after a Game One ECAC quarterfinal defeat against Brown and earned USCHO.com Defensive Player of the Week honors for her victories in Games Two and Three… Junior Emilie Berlinguette is one point away from the 100th of her career.
Dartmouth-St. Lawrence Series History
All-time: 22-12-2 Dartmouth
2004-05: 1-1-0
2/11/05: SLU 3, Dartmouth 0
1/15/05: Dartmouth 5, SLU 1