The following article is a special reprint from the current issue of USCHO Magazine.
Twenty years ago a group of young men engineered one of the finest seasons in all of college hockey.
A 35-2-1 record, a 30-game winning streak and a 33-game unbeaten streak — all culminating in an NCAA championship.
Fittingly, that team was the Rensselaer Polytechnic Institute Engineers.
The year before, RPI won the ECAC championship and was upset by North Dakota in the NCAA tournament as the number-one seed. But that planted the seeds for the coming year.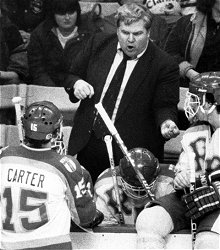 "In '84, in the old ECAC, we won the league. We were seeded one going into the tournament and we lost to North Dakota," recalled team captain Mike Sadeghpour. "We were pretty good and I thought we had a chance to compete then. Going into the next season we knew we had a chance of doing something special."
"We outplayed them and it was all [North Dakota goalie] Jon Casey," said Jeff Prendergast, a junior defenseman in 1984-85. "We hit posts and pads, sticks and everything else but the twine, but it showed us what we could do. We came back with the confidence that we knew what we could do."
"We had a great team and we ran into Jon Casey," concurred George Servinis, then a junior forward. "That team was as good as the championship team, but we had all the pieces coming back and we knew we were going to have a good year."
"We learned a lot from that weekend because we learned that sometimes you have to lose before you can win," said Adam Oates, a junior forward in the championship season and perhaps the best-known member of the squad. "We were ranked number one and we were upset."
The 1984-85 season didn't start out as the Engineers had hoped. After two wins over Canadian schools, they dropped the opening game of the season against St. Lawrence, 5-3, as Scott Yearwood made 46 saves, but bounced back to defeat Clarkson, 5-3, with three third-period goals in a two-minute span. The Engineers then went to North Dakota, where they came back to tie the game at 6-6 with four third-period goals, but lost in overtime.
"The alarms were out," said Sadeghpour. "At that point we were playing on our reputation and people were gunning for us and it was ugly for a couple of weeks. We got our act together, though."
"I remember being in that locker room after that North Dakota loss and we were not happy," said then-junior defenseman Mike Dark. "We were upset, we were prepared and we thought that we would come back and move on from last year. Nothing less than a championship was going to satisfy us after that."
"It was a wakeup call," said Neil Hernberg, an '84-'85 sophomore. "But from there it was a mission and a focus. We wanted to win the ECAC's and the NCAA's."
"We knew we were good, but someone had to put us in our place," said Servinis. "We had to get back to the basics and start working towards our goals. We lost focus at the beginning because it came so easy for us and we really needed those losses to get us back on track."
The Engineers regrouped from that loss and came back to down North Dakota the next night, 8-2, on the strength of junior John Carter's hat trick.
And that was just the beginning.
Carter scored three more hat tricks in the next three games, wins over Yale, Brown and Army. Then Servinis got a hat trick against Princeton in the next game, followed by an Engineers title in their own Christmas Tournament over Miami and Toronto.
January rolled around and the winning continued. Oates scored late to break a tie against Harvard in a 4-3 win and Bob DiPronio scored twice to beat Dartmouth. Division II Union put a scare into the Engineers, but they prevailed 3-2, when sophomore goaltender Daren Puppa kept the Engineers in the game and Carter scored late in the third to tie it and then won it in overtime.
Cornell and Colgate fell victim next, and then Michigan was swept at the Houston Field House with the help of hat tricks from Carter and Servinis. The streak was at 14 games, a school record.
"Somewhere in late January we got to the point where practice was 45 minutes and it was such a well-oiled machine," said Sadeghpour. "We knew what we had to do and when we hit the ice, we did what we were supposed to do. The door opened and we played. We played with a high level and we executed.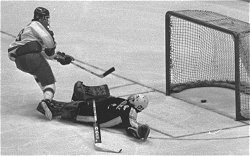 "We had a lot of talent and we had made up our minds that this was what we were going to do. We had different guys step up at different times whenever we needed something done."
"We lost our first games and then we went on a tear, and we really did take it one game at a time," said Carter. "We took every game and as a team we were a machine. Every night we went out and played the same."
"To a degree we were all on a mission," said Hernberg. "We knew we had a great team and you just knew it. It was just an uncanny feeling in the locker room. We just knew we weren't going to lose. From North Dakota on, we just rolled from there."
"When we started that season a bunch of us had come up through the ranks and everything started to work," said Prendergast. "We were winning the close ones, the blowouts — we knew we had something there."
"Losing a game early woke us up and told us that we weren't invincible," said Oates. "We then turned it up a gear and went on a different level. It was almost like the guys could do anything they wanted at any time. Every night we felt like we could win 10-0."
It did seem that way, as the Engineers continued to pound the opposition. They swept travel partner Vermont, 7-3 and 8-2. Then Clarkson went down, 7-4, and they avenged the earlier loss to St. Lawrence, 7-4, sweeping the North Country trip for the second time ever.
A series of impressive wins paced the Engineers through the rest of the season. Brown, 7-2. Yale, 8-2. Princeton, 6-3. Dartmouth, 11-1. Harvard, 4-1. Colgate, 8-2. Cornell, 5-4. Those wins all followed, bringing the Engineers to a regular-season finish of 28-2 and 20-1 in the ECAC.
The Engineers had won 25 games in a row and were headed into the ECAC tournament, looking for their second consecutive playoff title, with momentum, strength and a number-one ranking behind them. But through it all, their focus remained.
"You're never thinking about how many games we won in a row, we were only thinking about our goals — winning the league, winning the ECACs and winning the NCAAs," said Sadeghpour.
"At the time you want to go through the season and you want to win," said then-junior forward Mark Jooris. "As the season went on, we just steamrolled and it never stopped."
"We lost our first game of the year and then it was just a clinic," said Oates. "That team was a fantastic hockey team."
"We had a coach who never let us lose focus," said Dark. "We worked harder during that championship year than when I was a freshman and we were just starting this process. He was harder on us when we were winning than when we were losing. Everybody was out to get us because we were the big boys on the block."
The man behind the bench, Mike Addesa, worked magic with the team. He had taken his bunch to the brink of the postseason and was ready to bring them to the next level.
"You're only as good as your leader," said Servinis. "You can get a lot of guys that are individuals and you needed someone to put them together."
"We were focused as a group and coach would never let us get distracted," said Oates. "He was fanatical about not letting us get ahead of ourselves."
"He really kept a tight watch on us," said Carter. "We needed that and he had a lot to do with our success. We had some characters on our team and he knew what was good with our team."
"He kept a tight rein and made sure we were focused at the task at hand and made sure that we weren't too big for our britches," added Prendergast. "He knew what he wanted to do and what he wanted for us, and he was true."
"For the group of guys that we had, I couldn't think of anybody that could coach and have the success that we had," said Dark. "We had such a diverse group of guys and we had some guys that had an attitude and turned that around. He turned a bunch of boys into men."
Addesa's Engineers turned their attention to the ECAC tournament, where Princeton was no match. Oates had a hat trick in a 7-2 win in Game 1. Then John Tiano notched a hat trick and Carter and DiPronio added two goals apiece to cruise to an 11-4 win in Game 2 and advance to the Boston Garden.
In the semifinals the Engineers drew Cornell. The Big Red had RPI tied, 1-1, at one point, but the Engineers scored the last four goals to win 5-1 to move on to play Harvard in the championship.
RPI and Harvard played a close one as the game remained tied, 1-1, with 4:12 remaining in the third period. But then Oates scored and 28 seconds later Dark made it 3-1 as the Engineers claimed their second straight ECAC title.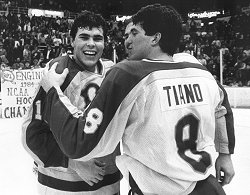 The winning streak was 29, matching Cornell's record from 1970.
But the Engineers weren't happy.
"We didn't play tight hockey in the ECAC tournament, and we knew we had to step it up a notch," said Sadeghpour.
The Engineers remembered what had happened a year ago against North Dakota — how the Sioux came into the Field House and left with the series, leaving the Engineers shaking their heads. They remembered and they didn't let down in Game 1 against Lake Superior State to open the NCAA tournament.
Servinis scored twice in the third period to put the game out of reach as the Engineers downed the Lakers, 7-3, to set the NCAA record for consecutive wins at 30 games.
The next night the streak would end as the Lakers tied the Engineers, 3-3, but RPI won the total-goals series, 10-6, to move on to the Frozen Four in Detroit.
"We got off to a slow start and then we started to click," said then-sophomore defenseman Mike Robinson. "We didn't expect to go 30 games without a loss. But we did, and we weren't done."
"We had a couple of quick losses and then we didn't lose again," said Dark. "We were ready to get to our goal."
It started in Detroit, in the NCAA semifinal against Minnesota-Duluth. Providence was awaiting the winner of this game and the excitement was in the Joe Louis Arena air.
"That was the game," said Jooris. "We all knew that Duluth was the team to beat."
"When you look at the rosters of those two teams, it was an All-Star game," said Sadeghpour. "Oates, Carter, [Kraig] Nienhuis, Puppa, Bill Watson, Tom Kurvers, Brett Hull."
The two teams engaged in a battle of wills, and at the end of 60 minutes it was 5-5. Into overtime they went. And then into another overtime.
And then a third.
"The overtimes and the emotion and adrenaline are just something you never forget," said Jooris.
And then it happened.
"I remember Johnny shooting the puck and then there was a roar," said Jooris. "I was standing in front of the net and then it went nuts."
John Carter had fired a slapper from inside the blueline, on the power play, into the net at 5:45 of the third overtime to give the Engineers the 6-5 victory and a berth in the NCAA title game.
"When it happened, I knew at that moment that it was the biggest goal of my life," said Carter. "It's one of the biggest highlights of my life."
"That game against Duluth was the best college game I have ever played in," said Sadeghpour.
"We knew were in a battle and both teams were special," said Servinis. "We pulled it out. Every time that we were down, we knew that this team would find a way to win."
With the championship against Providence the next day, there was no time to rest. There were certainly worries.
"We were the late game that day and we didn't get back until late and we had to play the next night, so there was a concern," said Prendergast.
"The overtime took so much out of everybody and it took so much to get right back out onto the ice to play when Providence had the night off," said Hernberg. "It was a real test of everybody's will."
Hernberg scored the first goal of the championship game, on the power play, from DiPronio and senior defenseman Ken Hammond. The championship-winning goal would come from Servinis, shorthanded, 3:49 into the second.
"Georgie had jumped off the faceoff and went right through the guy," said Jooris.
"I got a good jump and I made some moves and put it past him," added Servinis.
Servinis' deke beat the Tournament MOP that year, Chris Terreri. The Engineers had taken a 2-0 lead.
Halfway through the third, Providence scored to make it 2-1, but the Engineers hung on and the feat was complete. After 33 straight unbeaten games, the Engineers were the NCAA champions for the second time in school history.
"I grabbed John Tiano, hugged him and sticks were everywhere, and it was so special," said Servinis.
"It took a while to sink in because it was amazing to be in Detroit," said Hernberg. "It was such an incredible experience."
"We had so much talent in all positions and we won it," said Oates. "That team was the best one in the country, by far."
"There was a lot to prove and we did it," said Prendergast. "We showed everyone that we were the number-one team in the country."
"I cried like a baby," said Sadeghpour. "I came off the ice with 10 seconds to go. I was standing next to Mike Dark and we were counting down the clock and I was crying like a four-year old who didn't get his toys.
"It was a sense of total relief and a great memory. It's still so vivid in my mind."
Twenty years later that great season echoes through the minds of those same men. Twenty years later they are a little wiser, a little grayer, and the better for the experience.
"It's something we will cherish for the rest of our lives," said Carter. "There's no other way to describe it."
"My first day at RPI, I knew that the guys that they brought in, everyone was a certain type of hockey player and we were such a team," said Servinis. "We knew it was special right off the bat."
"We knew we had a special team with the mix of guys on and off the ice," agreed Jooris. "It was just a fantastic team. It was one of the best college teams that ever played."
"We were at a different level. Winning put a swagger into our team," said Oates. "As a group we did everything so well. The special teams, the depth, everything. We were a real team."
"We never realized how special this whole group of guys were," said Hammond. "These guys knew where each other was going to be — it was something special on the ice and even better off the ice."
"A lot of guys go through their college careers without a lot of excitement, I won't be able to say that," said Dark. "What a life-changing experience it was. I came here as a young adult and left a man. I learned discipline, the game of hockey and things for all aspects of my life."
Perhaps Sadeghpour put it best.
"I grew up at RPI," said Sadeghpour. "The guys that we played with, I was at the right place at the right time — and I am so appreciative of it."