For the third straight year, an ECAC goalie was in the Hobey Hat Trick, and for the third straight year, that goalie lost to a high-scoring WCHA forward. In two of those years, 2003 and 2005, it was a Cornell goalie, coming in with record-breaking statistics, losing to a Colorado College forward — David LeNeveu to Peter Sejna in 2003, and David McKee to Marty Sertich in 2005.
With a 1.24 goals against average and .947 save percentage, you may wonder if it's even possible for an ECAC goaltender to ever win the award. After all, how much can those numbers really improve?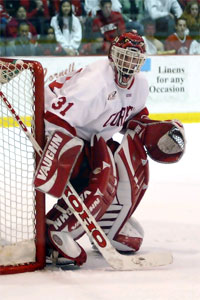 But McKee doesn't look at it that way, choosing instead to be more philosophical.
"There's a reason he won," said McKee. "He's a good person and he does good things off the ice too, and he's a good student. I think it's more the entire package. I feel like the right guy won. He's a good player and he proved himself. Goalies will have their chance, they're due.
"Being top three is an honor and winning would just be icing on the cake, so I'm very happy with the way it worked out."
For posterity's sake, the question is still worth asking — what does an ECAC goalie have to do to win?
The knock is always that the numbers for Cornell goaltenders are a product of the defensive-oriented system. McKee is good, but is he really that good? And clearly, his numbers are helped by an overall less difficult level of competition on a nightly basis, and his team's great defense in front of him.
But how do you gauge the level at which his numbers are so good, it's enough to compensate for those factors? Is having a 1.24 goals against average in the ECAC and behind a great defensive system, the equivalent of merely the second or third best goalie in the WCHA? Or is a 1.24 goals against average low enough that, even if playing better competition every night, it would still make him the best goalie in the country? Still make him worthy of winning a Hobey Baker? What would his goals against average be in the WCHA? Would be it be 1.65, 1.85, 2.15? How do we know?
That's why it's so tough to gauge.
"I joked with him, 'Obviously you're going to have to get it under a 1.0 to win this thing,'" said Cornell coach Mike Schafer. "But it's no different than anything else. Keep knocking on the door, keep putting up those kind of numbers, keep showing the consistency and you never know, maybe next year is his time to win the award. But I think it's like that for a goaltender; it's very difficult. That's why there's only been two before to win it."
By the same token, though, Marty Sertich and Brett Sterling have an open ice sheet and an offensive system in their favor. Plus, they play with each other, further boosting their point totals. How do you gauge that? Would Marty Sertich have over 60 points if he played in the ECAC? Better yet, what would Cornell First-Team All-American forward Matt Moulson's numbers be if he played in the WCHA, with a linemate like Brett Sterling, and playing more than the Ivy League limit of games? Would his 21 goals be more like 35? We don't know.
No one is questioning the selection of Sertich, a great player and a great person. But the question of how to gauge is one which remains perplexing.
"They're a great transition team, and they're great transition players, but people never question that," said Schafer of CC's tandem. "David's a great goaltender and all three players are very deserving of the award. But they're very much a product of playing in an open, up-tempo, high-octane offensive system. And that's what always grabs the attention. It's like a linebacker or a defensive lineman trying to win the Heisman."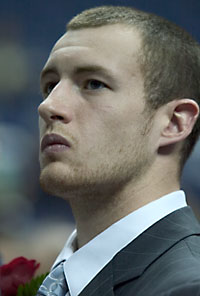 So, again, how do you gauge it? It's an age-old chicken vs. egg dilemma with no good solution.
What you do know is, McKee put up incredible numbers, and he had great games against Michigan State and Minnesota. And that's all you have to go on. That and your instinct.
Thing is, next season McKee could put up worse numbers and yet be a better goaltender. He, like anyone else, can always make improvements, yet the margin of error is so slim. Yes, even a Cornell goaltender will have trouble duplicating a 1.24 GAA kind of season, no matter how good you are.
"Everyone's got their weaknesses and I've got mine — I'm not going to disclose that information," said McKee, chuckling. "But there's always stuff you can work on. I'm just going to work on improving my game. My numbers might go up, but as long as I feel I'm improving myself that's fine with me."
Said Schafer, "He needs to be more active with his stick, and he can do other things to improve his game and refine. So he's got other things to accomplish. Stastically, it's very difficult to duplicate, yet he can end up being a better goaltender than last year. He gets the opportunity — he's only a sophomore."
The beauty for Cornell is, unlike with LeNeveu in 2003, it appears very much as though McKee will return next season. So he has another crack at it.
"I'm definitely coming back," McKee said. And even though "definitely" has a way of changing, Cornell fans can be pretty confident this time around.
"Getting his degree is important to him," Schafer said. "I think he still has some things that he wants — he wants to get to the Frozen Four and win it. And the way the NHL is right now, it's uncertain from their standpoint. … But he's coming back and it's great news for our hockey team."
And for Cornell fans. And McKee is just as excited.
"We've got a lot of good freshman coming back," McKee said. "We've got a lot of good talent we've been able to recruit, and I'm very excited for next year. Especially with the freshmen this year, Topher [Scott] and Ray Sawada and Sasha Pokulok and Doug Krantz — they're all incredible players. What they did this year, I can't even imagine what they'll do next year."
Or what McKee will do. For the first time in the four-year history of the Hobey Hat Trick, all three players are likely returning to school next season. Only Ryan Miller (2001), Robb Stauber (1988) and Paul Kariya (1993) won the award then played at least some college hockey thereafter.
So it looks like McKee will have some more fierce competition if he wants to win it next year. Somehow, though, it seems like the least of his concerns.
"It was bittersweet [this season]," McKee said of a team that lost in overtime to Minnesota in the West Regional final. "We wanted to get to the Frozen Four. That was our goal going into the season. We had great leaders this year and we actually made a poster that we framed and put on our wall, and it had a picture of Columbus and everything. We didn't achieve our ultimate goal, but we made a lot of good strides in that direction."