Before committing to attend the University of North Dakota, T.J. Oshie knew almost nothing about the 30-plus year controversy surrounding the school's use of the Fighting Sioux nickname and logo.
But as a result of the NCAA policy issued in August that penalized UND and 14 other schools for using American Indian nicknames, mascots and imagery that it considers "hostile and abusive," Oshie and his father, Tim, find themselves unexpectedly embroiled in the issue.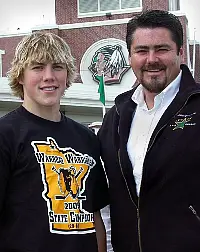 Tim Oshie is five-eighths Ojibwe (Chippewa) and T.J., a freshman forward for UND, is just over a quarter Ojibwe. As with many current and former UND athletes, T.J. would like to see UND continue the tradition of using its current nickname. And that's about all he'll say on the subject.
However, the situation is different for his father, whose family roots run deep with the Ojibwe tribe in the Warroad, Minn., area. The Oshies and their relatives also have a long tradition of playing hockey for the local high school team, the Warroad Warriors.
"I've thought about this issue a lot because I work for the Indian Education Department of the Warroad School District," Tim Oshie said. "I'm proud of the fact that my son is a member of the Fighting Sioux family and, academically, part of the University of North Dakota."
Because Warroad High School uses an Indian-related nickname and a logo that depicts an Native American warrior, it's no stranger to the controversy surrounding the practice of athletic teams using these names and images. But to Oshie, the issue serves to trivialize and hide the real problems of American Indians.
"I'm Native American, and I work in the trenches with Native American kids," he said. "There's a lack of dedication to the education process for the kids that live on the reservations. Another problem is alcoholism, which leads to the demise of the family. Those are the issues that are very pertinent to me that I would rather help pursue than worrying about a mascot's name."
In 2001, the Minnesota Indian Education Association passed a resolution against UND's use of the Fighting Sioux nickname and logo.
"It's kind of hard for me because that's who I work for," Oshie said. "I'm pretty torn on the whole issue. But I think the bottom line in my heart is that the University of North Dakota is helping Native American students by getting them into the medical field and getting more Native Americans involved in college."
As one of the first members of his family to attend college, Oshie is a strong believer in the power of education for American Indian children.
"We need to focus more of our time and our efforts on these kids to keep them in school and get them on the path to success," he said. "Our kids need to be educated. When I ask many students about their aspirations in life, they say, 'I want to work in the casino and have four or five kids by the time I'm 20.' It's unbelievable. There's no vision of going away to school to better yourself. We need to stop these generational deficiencies.
"Those are the issues that should be looked at rather than taking away something that T.J.'s so proud of, that his teammates are proud of and a guy like Ginny (Gordon) Christian, who played back at UND with Ralph Engelstad, are proud of."
Oshie thinks the NCAA's policy goes too far and unfairly labels UND. "In my mind, I feel the words 'hostile and abusive' are very serious accusations," he said.
Perhaps what bothers him most about the American Indian name and mascot issue is that it creates divisiveness between races.
"My father taught me as a little boy and as a man that you have to have compassion in your heart and you have to forgive," Oshie said. "You've got to get along with each other. You have to coexist. We're all God's children.
"I wish more people had the vision that he had. That's not saying that you can't be passionate about what you believe in, but you have to have forgiveness, you have to belong."