Alabama-Huntsville senior captain Jeremy Schreiber said it best.
"Every year since I've been here we've been saying, 'This is the year, this is the year we go all the way.'"
So far, postseason tournament heartbreak has been the common season-ending theme for the Chargers. They've been to the finals of the CHA Tournament as recently as last spring, but couldn't get over the hump against Bemidji State.
Perhaps this year, as Schreiber said, is the year.
"We just want to go out there night in and night out and do as much as we can," said Schreiber. "We lost a lot of goals from last year, so we're going to have to dig deep for goals and get guys who used to be third- and fourth-line players to step it up and get some goals for us."
Jared Ross, Craig Bushey and Bruce Mulherin combined for 58 of UAH's 106 goals (52%) last year, but Ross and Bushey have moved on to the pro game, leaving the senior Mulherin as the Chargers' top returning goal-scorer and point-getter.
"Last year's juniors are going to have to step up and play key roles for us this year," UAH head coach Doug Ross said. "We're going to lean on them heavily this year. We'll have good depth all around and I also think our junior class is ready to play this year. Guys like Grant Sellinger, Brett McConnachie, Shaun Arvai, David Nimmo and Dominik Rozman are ready to take the next step. Even guys like Todd Bentley and Chris Martini, both seniors, look like they're ready to make more of a contribution. Our team will have a lot of balance and that's something I think the other coaches in the league will say about their teams as well.
"But one player I'm excited about is sophomore Tyler Hilbert. Tyler is a pretty good player and will probably be our No. 2 centerman [behind Mulherin] and should see more ice than last year."
Alabama-Huntsville looks steady on the back end as only Ryan Brown and Doug Watkins graduated. Brown stayed in the area and signed a minor pro contract with the Huntsville Havoc of the Southern Professional Hockey League. Back are Schreiber, Jeff Winchester, Arvai, Mike Salekin and sparingly-used blueliners A.J. Larivee and Matt Montes. New on the back end are Christian Beaudry and Scott Kalinchuk.
Behind the defense is arguably the toughest goalie in the CHA in senior Scott Munroe. A year ago, Munroe played in 31 of the team's 32 games and went 16-10-4 with a sparkling 2.29 goals-against average and an even better .930 save percentage. Obviously, he's the No. 1 netminder for the Chargers.
"We know we always have Scotty back there and we know what we can expect from him," Schreiber said. "He's solid and can steal one for us if we decide to have an off night. He'll stop the pucks, but with losing Jared and Bushey, we're going to have to get going at the other end and pop in a few more ourselves."
Ross also has high praise for Munroe.
"Munroe is our starter, but we also have Marc Narduzzi and a freshman, Jordan Erickson, who have shown they can play," said Ross. "Last year, Munroe played 95 percent of the time, so Narduzzi and Erickson will try and push him for some time this year."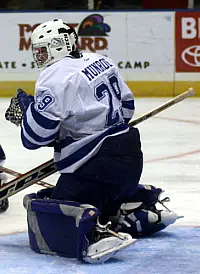 Along with Hilbert, Ross is also anxiously awaiting the arrival of Kalinchuk to game action to see what he is capable of outside of practice.
"Scott's a kid who's going to come in and probably make the lineup right away," Ross observed. "Next year, we'll be in a rebuilding situation and these young kids need to get ice time now to be ready for next year. Guys like Matt Sweazey, Josh Murray and Kalinchuk are freshmen who will see a good deal of ice and we'll need them to fill in throughout the season. But the freshmen are going to have to come in and prove themselves as well. Nothing will be handed to them. Freshmen always take time to adjust to the speed and nature of the college game, too."
Last March, UAH reached the CHA finals, but bowed out to Bemidji State, 3-0. The year before, Wayne State took a 5-3 win in the first round and in 2003 the Chargers lost in overtime to BSU in the tournament semifinals. Even so, Schreiber doesn't see why this year can't be a championship year for Alabama-Huntsville.
"They say defense wins championships and we certainly have the defense, so pencil us in there," noted Schreiber. "Like I had said, every year I've been here we've said that this is our year. We just need to keep pace with teams like Bemidji, Wayne State and Niagara or even get ahead of them in the standings and we should be fine."
Overall, it appears with the added depth and the hope that the upperclassmen can compensate for a loss of goal-scoring, that the Chargers have the potential to get out to a quick start in conference play. But a few stretches of their nonconference schedule could make or break their momentum. Alabama-Huntsville travels to Maine to open the season Oct. 21-22 and then to Ohio State Dec. 2-3. They also end the regular season on the road at Bemidji State.
"We have voids to fill, but so does every other team," explained Ross. "I can't say it enough, but guys have to step and fill those voids. We're in good shape regardless and I think have more balance than in other years."