And then there were eight.
In a year of transition, Atlantic Hockey still has hopes for growth. After losing Quinnipiac at the end of last season to the ECACHL, the fledgling league will play with eight member clubs for the first time since most of the remaining members established themselves as a Division I conference (then under the MAAC name) back in 1998.
But never fear, as all accounts indicate that this year's edition of Atlantic Hockey could be one of the best ever.
Sure, there are only eight clubs, but the product will be eight clubs that, for the most part, will have the depth to call themselves legitimate Division I hockey programs. That's something that couldn't always be said for a conference that for years has been thought of by some as Division I wannabes.

If some on a national level in D-I have viewed Atlantic Hockey as college hockey's forgotten stepchild, don't tell that to a team like Boston College, which, as the number-one seed in its regional, came within a goalpost of being bounced from the NCAA tournament by league champion Mercyhurst. It seems that the credibility of Atlantic Hockey, along with fellow start-up league College Hockey America, is growing throughout the hockey nation.
All that said, the season that lies ahead should have some interesting twists and turns. First off, dropping to eight teams for this go-round (and this season only, as RIT and Air Force will join the league next year) creates a bit of a scheduling conundrum. If every team played every other three times, the results would be only 21 league games and a massive hole to fill with nonconference contests which, for some, can be difficult to get.
Thus the athletic directors voted to play each opponent four times, giving each team 28 league games. The schedule, then, will force two-game weekend sets. Ask any coach in the WCHA, and you'll hear that it's extremely difficult to sweep a weekend series, meaning the parity in this league might just go through the roof.
Also changed is the league's tournament format. Unlike last year, the postseason tournament will have a predetermined site for the final four, meaning that though the regular season is important, all the standings will settle is deciding the matchups and home ice in the first round.
On the ice, look for continued improvement among league recruits as teams have become more competitive in national recruiting. The top clubs are no longer fighting for recruits just amongst themselves, but instead battling schools like Massachusetts-Lowell, Rensselaer, and Michigan Tech for blue-chip players.
All of that said, what follows is my take on how these eight teams' seasons might unfold. As usual, no prop betting — and certainly, don't take these picks to Vegas unless you want to donate your money.
Click on any team name at the top of a section below to view its individual season preview.
Mercyhurst
2004-05 overall record: 18-16-4
2004-05 Atlantic Hockey record: 14-7-3
2004-05 Atlantic Hockey finish: Second (tie)
2004-05 predicted finish: First
The short story: Mercyhurst lost a lot of scoring power but still returns one of the deepest teams in the league. What will be interesting will be watching how the team handles having four game-worthy goaltenders, led by late-season phenom Mike Ella.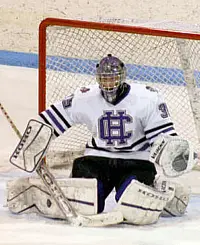 Holy Cross
2004-05 overall record: 16-14-6
2004-05 Atlantic Hockey record: 12-7-5
2004-05 Atlantic Hockey finish: Fourth
2004-05 predicted finish: Second
The short story: Holy Cross was a better defensive team last year than a year prior when they won the league championship. What needs to improve is goal-scoring, or else the Crusaders will continue to be the victims in one-goal losses. Look for the senior goaltending duo of Tony Quesada and Ben Conway to be among the league's best.
Canisius
2004-05 overall record: 16-15-4
2004-05 Atlantic Hockey record: 14-7-3
2004-05 Atlantic Hockey finish: Second (tie)
2004-05 predicted finish: Third
The short story: Canisius will have a new look with head coach Dave Smith behind the bench. The Griffs hope his experience as an assistant at Mercyhurst, Bowling Green and Miami can help turn around a team that last year was solid on the ice but a major headache for the school off the ice. Canisius could even be the darkhorse to finish in first.
Sacred Heart
2004-05 overall record: 13-21-1
2004-05 Atlantic Hockey record: 13-10-1
2004-05 Atlantic Hockey finish: Fifth
2004-05 predicted finish: Fourth
The short story: The Pioneers are possibly the league's deepest team with one question mark — that being how goaltender Jason Smith will react to being the day-to-day go-to guy. This might be the most potent offense in the league, but without knowing how this team will perform between the pipes, it's impossible to pick them higher than fourth. Mentally, the Pioneers have to be ready to play from October through April and not allow for the late-season hiccups that cost them a year ago.
Connecticut
2004-05 overall record: 11-23-3
2004-05 Atlantic Hockey record: 10-12-2
2004-05 Atlantic Hockey finish: Sixth
2004-05 predicted finish: Fifth
The short story: UConn will need to replace an enormous offensive hole in graduated forward Tim Olsen. Head coach Bruce Marshall will likely look to a committee rather than an individual to do that job, which may be tricky. Goaltender Scott Tomes needs to stay healthy and prove that he belongs in the league night in and night out. If he's the backbone this club needs, UConn could challenge for home ice.
Army
2004-05 overall record: 7-21-3
2004-05 Atlantic Hockey record: 5-16-3
2004-05 Atlantic Hockey finish: Eighth
2004-05 predicted finish: Sixth
The short story: Army was a tough team down the stretch last season and because of that could be a threat to a lot of opponents this year. As always, the Black Knights will play an aggressive, in-your-face style of hockey that's the program's staple. The biggest question mark will be in goal as Brad Roberts hopes to return to the form he showed as a freshman.
Bentley
2004-05 overall record: 8-20-6
2004-05 Atlantic Hockey record: 6-13-5
2004-05 Atlantic Hockey finish: Seventh
2004-05 predicted finish: Seventh
The short story: Bentley will be defined by one element this season: goaltending. The loss of Simon St. Pierre in net is a critical one for the Falcons, who will look to Ray Jean, a transfer from Maine, and rookie Jason Kearney to fill the gap. Head coach Ryan Soderquist is moving high-scoring forward Brendan McCartin back to defense hoping to add some firepower from the point, particularly on the power play. The question mark in goal, though, makes it hard to pick the Falcons any higher than seventh.
American International
2004-05 overall record: 4-23-4
2004-05 Atlantic Hockey record: 4-16-4
2004-05 Atlantic Hockey finish: Ninth
2004-05 predicted finish: Eighth
The short story: When the league's last-place team loses its best player and that player happens to be a goaltender, you can expect them to be picked last the following season. Such is the case with AIC, which graduated Frank Novello, one of the top goaltenders in the league last year. With that in mind, Gary Wright's squad will need to severely reduce the number of quality scoring chances it allows if there's any hope of the Yellow Jackets ascending from the league's cellar.