Not a single regular-season game has been played in College Hockey America, but already teams are being hyped, promoted and readied for the opening of conference play.
Bemidji State won the regular-season title and tournament championship last year and nearly advanced in the NCAA tournament only to go down in overtime to eventual champion Denver.
But for all six teams in the CHA, it's about new beginnings, rebuilding and reloading. Each team lost a key cog in its lineup and each team brought in freshman classes they feel will fill the voids.
Seven of the top ten scoring leaders from a year ago graduated (one transferred), yet all goalies are back as none of the six starters last year was a senior. Leading scorer Barret Ehgoetz and Ryan Gale from Niagara have moved on along with Alabama-Huntsville's Jared Ross and Craig Bushey, Bemidji State's Brendan Cook and CHA player of the year Andrew Murray and Air Force's Brandon Merkosky, who left the military to transfer to Clarkson.
"This could be the best year ever in the CHA," Niagara head coach Dave Burkholder said. "Any one of four teams could win it."
Bemidji State bench boss Tom Serratore echoed those observations.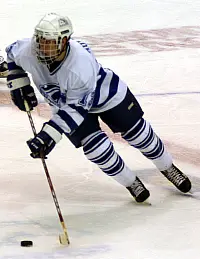 "You look at a team like Huntsville, who has four all-league players back and they're just scary," Serratore said. "Then you have Wayne State that has all their scoring back and you can see there's a lot of quality depth in the league this year. There's going to be a lot on the line every night."
Of the league's six projected starting goalies, Bemidji State's Matt Climie posted the best numbers last season with a goals against average of 1.80 and a winning percentage of .694 (12-5-1). Scott Munroe from Alabama-Huntsville had a .930 save percentage to pace all backstops and Wayne State's Matt Kelly was near the top in all categories with a 10-10-1 record, 2.54 goals against average and a .922 save percentage, second only to Munroe. NU's Jeff Van Nynatten battled through a serious hand injury and is looking to rebound in his senior campaign while Air Force junior Pete Foster was among the nation's best with five shutouts last year.
"Looking at the league, I think all the teams are even right now," UAH head coach Doug Ross said. "Niagara has pressure to step up, Wayne State is always tough and until someone knocks off Bemidji State, they've got to be the favorite. You can never count out Robert Morris or let your guard down against Air Force. It's hard to say what's going to happen this year."
WSU head coach Bill Wilkinson has an idea.
"The CHA will be another dogfight this year," said Wilkinson. "Bemidji State returns a great nucleus, Niagara has had an influx of good players, Alabama-Huntsville should be just as talented despite losing Jared Ross, Air Force was a much improved team last year while Robert Morris had a good second half and they have a talented netminder."
Notable freshmen entering the conference this year look to be Niagara forward Les Reaney, who led the British Columbia Hockey League with 100 points last year, NU defenseman Dan Sullivan, UAH forward Josh Murray, Bemidji State forward Brandon Marino, Wayne State forward Jon Grabarek, who won a United States Hockey League title with Cedar Rapids last season, Robert Morris forward Jason Towsley and Air Force defenseman Greg Flynn.
"In past years, teams that have won the CHA have won 16 or 17 games," observed RMU head coach Derek Schooley. "This year, I think maybe 12 or 13 wins will get you the title. This will probably be the tightest and closest CHA season to date."
"Last year, everyone knew who was in the upstairs of the league and who was in the downstairs," Air Force head coach Frank Serratore said. "This year, I have no idea. All I know is that anybody can beat anybody on any given night."
The first CHA game of the year pits brother against brother as Bemidji State starts defense of its CHA crown on Oct. 28 at Air Force. The CHA tournament this year will be held in Detroit at the [nl]Michigan State Fairgrounds Coliseum, Wayne State's home in 1999-2000 and home once more for the next three years, on March 10-12.
Click on any team name at the top of a section below to view its individual season preview.
Bemidji State
Coach: Tom Serratore, fifth season at Bemidji State (69-58-17), fifth season overall (69-58-17)
2004-05 overall record: 23-13-1
2004-05 CHA record: 16-4-0
2004-05 CHA finish: First
2005-06 predicted finish: First
The short story: Sure, the Beavers graduated league player of the year Andrew Murray and 20-goal scorer Brendan Cook, but the old adage says the champion stays on top until it's taken down. With a wide-open CHA this year, BSU may not go 16-4-0, but will rack up enough wins to get a first-round bye in the tournament in March.
Alabama-Huntsville
Coach: Doug Ross, 21st season at Alabama-Huntsville (346-222-37), 21st season overall (346-222-37)
2004-05 overall record: 18-10-4
2004-05 CHA record: 14-5-1
2004-05 CHA finish: Second
2005-06 predicted finish: Second
The short story: Jared Ross is gone, but don't count the Chargers out as Bruce Mulherin, the CHA's top goal-scorer, returns, as do senior defenders Jeremy Schreiber and Jeff Winchester, who can both add offense from the blue line. Goaltender Scott Munroe will again be counted on every night.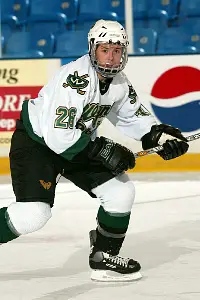 Wayne State
Coach: Bill Wilkinson, seventh season at Wayne State (95-99-18), 24th season overall (408-400-71)
2004-05 overall record: 14-17-4
2004-05 CHA record: 7-9-4
2004-05 CHA finish: Fourth
2005-06 predicted finish: Third
The short story: Wayne State lost just its injured captain and a freshman defenseman. Everyone else returns to Motown, including the top line of 20-goal scorer Jason Bloomingburg, Tylor Michel and Adam Krug. Last season's CHA rookie of the year, Stavros Paskaris, should keep improving. In net, Matt Kelly looks to handle the duties, but Will Hooper showed in stretches last year that he is capable of winning games. Defensemen Greg Poupard and Steve Kovalchik are quietly one of the CHA's top duos.
Niagara
Coach: Dave Burkholder, fifth season at Niagara (68-68-11), fifth season overall (68-68-11)
2004-05 overall record: 15-19-2
2004-05 CHA record: 9-9-2
2004-05 CHA finish: Third
2005-06 predicted finish: Fourth
The short story: How do you replace Barret Ehgoetz's 46 points and Ryan Gale's 24 goals? The answer: with a committee of forwards. Jeff Van Nynatten had an off season last year in net, but steady defenseman Andrew Lackner has logged oodles of ice in his first three years and should be out again in all situations this year. Captain Jason Williamson is well-respected in the locker room.
Air Force
Coach: Frank Serratore, ninth season at Air Force (119-153-18), 13th season overall (168-245-27)
2004-05 overall record: 14-19-3
2004-05 CHA record: 5-14-1
2004-05 CHA finish: Fifth
2005-06 predicted finish: Fifth
The short story: Serratore said one of Air Force's goals every year is "to be the most difficult team to play in the country." The Falcons play a rough, grinding game and shouldn't be taken lightly. Junior goalie Pete Foster pitched five shutouts last year overall and Andrew Ramsey should improve on his 11 goals and 25 points in the absence of Brandon Merkosky, who transferred to Clarkson.
Robert Morris
Coach: Derek Schooley, second season at Robert Morris (8-21-4), second season overall (8-21-4)
2004-05 overall record: 8-21-4
2004-05 CHA record: 4-14-2
2004-05 CHA finish: Sixth
2005-06 predicted finish: Sixth
The short story: The only place to go for the Colonials is up. Returning goaltender Christian Boucher can be a one-man gang at times and two Niagara transfers (Aaron Clarke and Bryan Mills) could spark the team. Senior captain Kurt Wright has the leadership and scoring prowess and has the potential to singlehandedly carry RMU on his back if need be. Look for a couple of RMU upsets this year in league play.