When Tim Olsen arrived on the UConn campus four years ago, no one knew the impact he could have. Having transferred from Division III Augsburg, head coach Bruce Marshall knew he had a talented player but didn't know he'd watch Olsen net 100 points in his three seasons in Storrs.
Now for the first time in four years, the Huskies are living life without Olsen.
As much as you'd think that was a major negative, Marshall is actually seeing it as somewhat of a positive.
"I find it as a positive in some ways because the [players] won't be looking to say, 'Well, we've got Tim' or 'Once Tim gets one goal, we'll be okay,'" said Marshall of Olsen, who last year scored 36 points in 37 games. "Now guys can't be looking around waiting for that to happen, so they'll have to create things. In a way it's turning a negative into a positive."
The challenge that comes along with replacing one of the league's top scorers is one that Marshall says his team will embrace, but the most important thing to help get things done has to do with the club's start.
"I think getting off to a good start is crucial," said Marshall, whose club last year won just three games total before the Christmas break. To change that, though, UConn will need to play well on the road, as the Huskies will begin with five straight road games and be away for eight out of the first nine and 10 of the first 13.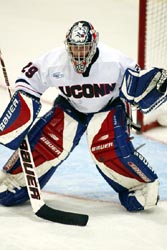 "It doesn't look like it will be easy this year eight," said Marshall. "The first six league games for us [five of which are road games] will be a challenge."
Part of meeting that challenge and showing that UConn is an improved team will be the play of junior goaltender Scott Tomes. Last year, Tomes battled injury much of the season, but down the stretch was thought of to have the ability to steal games. When injured, Tomes was replaced by rookie Brad Smith and the tandem will give Marshall a decision to make if there's going to be a clear number-one.
"Brad [Smith] needs to show that the experience he got from [Tomes'] injury makes him want more," said Marshall. "Tomes needs to see that he's won over 20 games in the last two years and he needs to decide which way he's going to go."
If anything is to be said for this year's UConn team it's that the Huskies have promise. Promise doesn't always earn you much in sports, but if these UConn players can take promise and convert it to results, look for the Huskies to be challenging for one of the home-ice spots come season's end.