Four years ago, Dave Shyiak and John Hill were the finalists for the open head coaching position at Alaska-Anchorage. Hill got the job then, with his tight connections to the city and the school — his alma mater — the big reasons why.
The Hill era was tumultuous, with off-ice issues and a one-win season countering a sense of rebirth and the program's first appearance at the WCHA Final Five. But it was rarely suggested that the Seawolves erred in choosing Hill to guide the team in colors he once wore.
This offseason, however, Hill resigned and returned to an assistant coaching position at Minnesota when he couldn't secure an extended contract for himself and higher salaries for his UAA assistants, according to the Anchorage Daily News. Upon leaving, he suggested the future of the program was cloudy.
Shyiak doesn't agree. The former Northern Michigan assistant enters this season as the new face of Seawolves hockey and is more than willing to take on what still appears to be a tall task of getting Anchorage to the top half of the league.
"I think the program is stable. I certainly wouldn't put my name in a situation where I didn't think I would have a chance to succeed," Shyiak said. "I believe in the program. I believe in the potential for success here. And both [assistant coaches] Jack Kowal and Keith Morris did a great job of upgrading the talent level from three to four years ago, and I certainly think it's in the right direction. I think it's solid. It's just we're going to continue to build on our recruiting efforts until we can get those type of kids that can take us to the upper portion of the league."
How long that will take — or whether it can happen — is anybody's guess. The Seawolves have had 10 or more victories in consecutive seasons only once since the end of the Brush Christiansen era in 1996, missing out on a second by one win last year.
The string of losing seasons is at 12, the same number of seasons the Seawolves have played in the WCHA. Those are cold, hard facts that are tough to avoid, but they don't have to define a team as it moves into its next stage.
"It's a team that's basically in transition right now," said Shyiak, who was an assistant at Northern Michigan for 10 seasons. "With all the changes over the course of the summer, with me being named head coach and we also made some other changes in regards to our support staff, we really don't have an identity yet as a team as a whole. I can tell you what I like so far is I think we have tremendous leadership."
Those leaders will be central to UAA forming its identity under Shyiak. Senior Ales Parez and juniors Charlie Kronschnabel, Justin Bourne and Chad Anderson figure to play key roles in that effort, Shyiak said, and have already started to smooth the transition.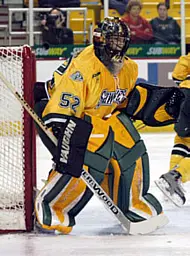 Bourne is the top returner in goals (12) and points (23), while the Seawolves need a bigger year from Parez in his return from a broken leg.
That injury limited Parez last season, just as other injuries held back the team as a whole. In that capacity, a fresh start is one of the most welcome signs around given the number of injuries that have plagued the Seawolves of late.
The scoring-by-committee ways of past UAA teams have made it difficult for Shyiak to get a precise gauge on what he's working with offensively.
On the other side, Shyiak concedes he's going to have to have patience with a defense that lost three regulars from last season. Anderson figures to be the blueline mainstay this season after playing in all but one game last season. Sophomore Luke Beaverson was the only Seawolves defenseman to appear in all 37 games a year ago.
Anchorage allowed 1,432 shots on goal last season, the most in the WCHA. So while goaltenders Nathan Lawson and John DeCaro had save percentages of .914 and .906, respectively, the Seawolves' defense was the second-worst statistically in the league.
Improving that area and the special teams — the power play and penalty kill ranked ninth and 10th, respectively, in the league — are high on Shyiak's list of things to do. But he's counting on more good play out of Lawson, who earned a spot on the WCHA all-rookie team, edging out Denver's Peter Mannino.
The ideal situation would be for Lawson to come out right away and grab the starting spot with a great start to the season. "I'd like to see that, for sure," Shyiak said. "He's going to be given that opportunity to prove that he's an all-league player."
Shyiak said he's still working on long-range goals for the program and said he wants his team to be known right off the bat for its work ethic and for being strong in its end of the ice.
As for the rest of the story, the Seawolves will take it as it comes.
"As far as what we want to win, a number of wins, where we want to fit in the standings, that'll take care of itself at the end of the year," Shyiak said. "We've got to mold this group as quickly as possible, find out what our team is, find out what our identity is and progress from there. We just want to get better every single day and approach it that way."