Over a span of just five short seasons, St. Cloud State went from its highest highs to its lowest lows. From the viewpoint of the Huskies' ninth-place WCHA finish of a year ago, memories of the 31-win season of 2001 are awfully fuzzy.
That's about the same view Bob Motzko has about his first team in St. Cloud. The former Minnesota assistant coach became Craig Dahl's assistant in the offseason, then launched into the top spot when Dahl resigned at the end of August. Motzko still has an interim title before his name, but there are few who believe he won't be the one in charge when a permanent replacement is named.
He has a lot of the same cast as Dahl did last season, which is a statement that might not inspire much confidence in a team coming off its worst finish in the WCHA. But there are two X-factors with the Huskies this season: Motzko and goaltender Bobby Goepfert.
It's a distinct possibility that the newness of Motzko as the head coach — or simply the change in power — will shake the Huskies out of the funk that has settled over the team for the better part of the last two seasons.
"The one thing that continually was said to me throughout the summer when I was around Craig and Fred Harbinson, the other assistant here, is these guys are a lot better than people think," Motzko said. "You're going to see that we're a lot better than people think. The more I've been around the guys, I'm pretty encouraged by those words."
Goepfert has been hyped as the future of the St. Cloud program since he decided to transfer there from Providence. This season, he'll have to prove he was worth the wait, as many think he is.
The Huskies were inconsistent in goal last season, with Tim Boron getting most of the starts ahead of Jason Montgomery. Goepfert, who was 15-9-3 in 2003-04, his last season at Providence, will have to have a solid season for St. Cloud to make a defensive gain.
"He's ready to go," Motzko said. "He's got a track record of being an outstanding goalie. The other goalie that's back, Timmy Boron, who was a sophomore last year, had moments last year of being a very, very good goaltender. So goaltending looks to be a strong point of this hockey team."
In the other areas of the game, there is a great deal of doubt paired with a dash of uncertainty.
Will Andrew Gordon be able to follow up on his impressive freshman campaign? Will Joe Jensen hit a higher level of scoring as a senior? Is there enough scoring to get the Huskies out of the depths of the WCHA in offense?
St. Cloud had only two players with 10 or more goals last season — tied with Alaska-Anchorage for the fewest — and desperately needs to right that to keep up with other high-scoring teams this year.
Justin Fletcher and Casey Borer have good reputations around the league for their defense, but inexperience at the position as a whole seemed to bring the Huskies down and their goals against average up last year.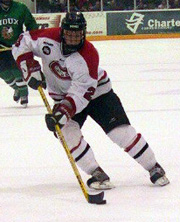 All over the lineup, the team needs some breakthrough seasons, and Motzko thinks it can get them.
"The big thing that happens in college hockey every year — and we have to have it here this year and we have to hope for it — is you always have the element of the unknown," Motzko said. "There's someone that has that big breakthrough season, and we're really leaning heavily that we have to be a program that is encouraged by that someone else is going to step forward, be it a Konrad Reeder or one of our freshmen."
There's hope around the St. Cloud program that last season was indeed rock bottom for the program. Dahl often said that he believed the team was at the end of a two-year rebuilding cycle last season.
If that's the case, the Huskies need to start bouncing back this season.
"The players, they're just hoping to find out how big a jump they can take and that they think last year where they finished was not a true indication of where the program is," Motzko said. "It was just a year where someone had to fall there and they got picked. Traditionally in the last few years this program has been much higher in the standings."
So is a new direction in order from Motzko and his charges? He isn't willing to go that far yet.
"We're in the WCHA, the strongest league in college hockey, and we are taking the direction our whole league is taking, that we are fighting for survival and fighting for our place in our league and getting the best student-athletes we can to get in our program, and so I would be very cautious to ever use the word 'new,'" Motzko said.
"This league continues to reinvent itself, it seems, with the great tradition, and that's what St. Cloud has to do right now. We have to reinvent ourselves again to stay up in the pack in this league."