Numbers can be powerful, but not all-telling.
Colorado College returns 91 percent of its goal-scoring from a year ago, most of it in the forms of Hobey Baker Award winner Marty Sertich and award finalist Brett Sterling.
It has 21 players returning from the team that tied Denver for the WCHA regular-season championship and made its first trip to the Frozen Four under coach Scott Owens.
A strong, seven-member senior class has won 81 games in its first three seasons.
So is the bar raised for the Tigers this season? Do they have to do better than just make the Frozen Four for the season to be a success? The expectations on CC may be higher, but key lost elements make it difficult for the Tigers to get into specifics.
"We feel that we have the potential to hopefully get deep and far into the postseason," Owens said. "But I think we have some things we need to sort out, with losing Mark Stuart and the leadership component and reorganizing our defensive corps a little bit. And we're always looking over our shoulder. The projected top teams in this league are scary right now. I hope we're capable of doing some of the things we did last year and then maybe executing better at the very end."
They knew the end of last season, which came with a humbling 6-2 loss to rival Denver in the national semifinals — all six Pioneers goals were on the power play — would leave them without goaltender Curtis McElhinney. But when the NHL resumed after its lockout, Stuart's time of impending departure came around, too.
Stuart, the league coaches' pick for defensive player of the year last season, was as important to the team as a whole as he was to the defense because of his strong leadership abilities.
Those responsibilities will fall to four senior forwards, Owens said — Sertich, Sterling, Trevor Frischmon and Joey Crabb. They'll have to pull together a team that faces questions on defense and in goal.
Three defensive regulars are gone, and it's not only their experience that they're taking. Richard Petiot is 6-foot-4; Brady Greco is 6-foot-3; and Stuart is 6-foot-2. Losing that kind of size in the defense will force a reorganization in addition to the replenishing of the CC defensive corps.
That leaves juniors Brian Salcido and Lee Sweatt with big roles this season. Junior Brandon Straub, who played only 10 games last season, is expected to see more time. Freshmen Cody Lampl and Jake Gannon should get right into the mix.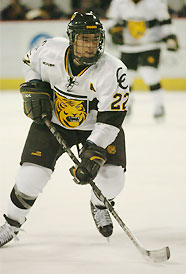 "We drop off a little bit with size and some defensive play, but we just mostly need to reorganize it and figure out who's going to be able to play with whom," Owens said. "I still think we have the people to make it work, we've just got to put it together the right way."
McElhinney's graduation leaves Matt Zaba to get the majority of the work this season. Zaba is hardly inexperienced — he has made 41 appearances in his first two seasons and had to fill in as the full-time starter two seasons ago when McElhinney had mononucleosis — but he'll be watched to see whether he can handle plenty of work.
Freshman Drew O'Connell and little-used junior Chris Kawano will get some playing time, but it appears that Zaba will be the mainstay in the CC goal.
"He's played a lot of quality games for us and so it's not like we're putting a young kid in there," Owens said. "I think we're able to put a pretty good veteran in there, and he's a good goaltender as well."
If all else fails, the Tigers should have their offense to fall back on. They were fourth nationally in scoring last season behind the All-American duo of Sertich and Sterling.
Losing Stuart takes a bite out of the Tigers — even if it was in many circles an expected departure — but having the nation's top two scorers of a year ago return for their senior seasons was comforting for CC.
Still, the Tigers have to provide the backup scoring that was critical last season. Crabb had 16 goals, while Aaron Slattengren added 12 and Frischmon 10. That senior trio has to contribute again, and CC is expecting more out of sophomores Derek Patrosso and James Brannigan while hoping for points from freshmen Chad Rau and Andreas Vlassopoulos.
"There's a lot of guys, but I think there's a lot of potential with them," Owens said.
Owens recognizes that this team has issues to overcome, but he said there's also a certain level of continuity from last season that will help out.
"A lot of the pieces, a lot of the philosophies are the same," he said. "A lot of the power-play personnel is the same. It's getting the defensive corps organized. … We'll probably play very similarly, we'll have a lot of the same beliefs, we have a lot of the same personnel in key spots, we return a lot of scoring. But it doesn't always just happen that you pick up where you left off. There's new dynamics, new chemistry and we've got to work on that."