With its third Frozen Four appearance in the five-year history of the NCAA women's hockey tournament, St. Lawrence solidified its status as one of the nation's elite programs. But while the Frozen Four banners have been perennial, the championship banners have not – at either the conference or national level. Could this be the year the Saints finally get over the hump?

If the ECACHL coaches are right, that answer is yes. The Saints earned eight of 11 first-place votes in the league's preseason poll with good reason. They return four of their top five scorers, six defensemen and their top two goalies, giving them far and away the most veterans of any of last year's Frozen Four contenders.
Harvard, winner of the last three ECACHL regular season titles and the last two postseason titles, has typically been the Saints' nemesis. St. Lawrence is just 0-9-3 against Harvard dating back to 2001, a run that includes two ECAC and two NCAA tournament defeats. Expectations for the Crimson this season have been muted since the team lost two-fifths of its top power play unit to graduation and the other three-fifths to the Olympic camps. Yet Harvard did take three of four points from St. Lawrence in 2002 with a roster of comparable inexperience, so the Crimson can never be taken lightly.
Dartmouth, the league's third perennial Frozen Four contender, has seen lofty preseason expectations deflate under the burden of injuries in each of the past two seasons. This season might be different with less pressure of expectations, fewer distractions to national team callups, and perhaps additional help in the net. And the team returns Tiffany Hagge, one of the most dynamic scorers left in college hockey.
Aside from the usual powers, no conference will be as deep and unpredictable as the ECACHL. The league has several teams that seem capable of finishing anywhere from second to eighth this season. Yale and Princeton, each with all-star goalies, should be capable of maintaining their success, although each also lost a superstar to the Olympic camp. Former power Brown seems headed back on the right track behind strong freshman and sophomore classes. Both Colgate and third-year program Clarkson have made rapid progress in recent years with no signs of slowing down this season. Either could have the kind of breakthrough results that Yale had a year ago by advancing to the ECACHL semifinals.
Rounding out the league is Cornell, Quinnipiac, and Union. Quinnipiac joins the league for its first season after going winless in College Hockey America a year ago. Next year, the league will welcome D-I newcomer Rensselaer, who is playing this season as an independent. The addition of RPI will make the ECACHL the first D-I league to have matching membership among its men's and women's programs.
In a change from recent seasons, the 2006 ECACHL Championships will be held at the site of the highest seed instead of a predetermined location. If the prognostications hold true, the ECACHL's best will be headed to the North Country come March.
1. St. Lawrence
2004-05 Record: (28-8-5, 14-3-3 ECACHL)
Head Coach: Paul Flanagan (142-60-8, 7th season) was the ECAC and AHCA National Coach of the Year in 2001, and he has led St. Lawrence to three Frozen Four appearances in five seasons.
2004-05 Stat Highlights: The Saints were a steady eighth in the nation in both scoring offense and defense. Special teams were an area of weakness as the Saints were just 15th and 14th on the power play and penalty kill, respectively. SLU led the conference in penalty minutes.
Key Departure: All-League forward Rebecca Russell (32-38-70) figured on more than half of the Saints' goals and finished her career as the school's all-time leading scorer.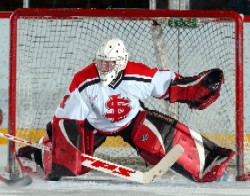 Key Returnees: The Saints return all the defensemen and the top two goalies from a year ago, and although Russell is a big loss at forward, the team still has plenty of firepower. In net, the Saints have Findlay transfer Jess Moffat, a former CHA tournament MVP who was among the nation's top goalies down the stretch of last season. Sophomore goalie Meaghan Guckian, one of the Saints' ECAC All-Rookie players at every position a year ago, earned the bulk of first half starts. Combined the two were about as successful as Rachel Barrie, the Saints' All-American goalie who departed in 2004. At defense, junior Abbie Bullard and sophomore Annie Guay have both been All-Rookie selections, and Guay and senior Laurie Ross both have Canadian U-22 experience. At forward, the Saints are led by Preseason All-League selection Emilie Berlinguette (22-25-47), who was one of the nation's hottest players down the stretch of last season. Chelsea Grills (20-23-43) was the 2004 ECAC Rookie of the Year, and Sabrina Harbec (16-20-36) was a 2005 All-Rookie selection at forward.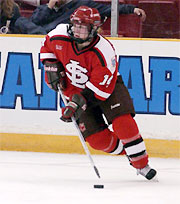 Key Newcomers: Sophomore defenseman Kerri Wallace, an WCHA All-Rookie selection and Canadian Under-22 captain, transfers to St. Lawrence from Minnesota State to toughen an already strong defense. Freshman Alison Domenico is expected to have an immediate offensive impact after posting (11-26-37) numbers to be the No. 2 scorer for the NWHL's Ottawa Raiders, a team that included former Saints standout Ricki-Lee Doyle. Carson Duggan and Lisa Batchelor both played at an elite level with the Edmonton Chimos of the WWHL.
Outlook: St. Lawrence is stacked with talent of all ages, so a third straight Frozen Four appearance would be no surprise. The Saints faltered in 2002 the last time expectations were nearly this high, but this team is far deeper. The biggest question mark appears to be whether all that St. Lawrence talent can work together to be successful on the penalty kill and power play, where the team struggled a year ago. No one has ever won an NCAA title without being among the national leaders in special teams, and the Saints will have to improve in that area to reach that height. As usual, St. Lawrence's early schedule is brutal, with six of the first nine games coming against Minnesota, Mercyhurst (2), Providence, Dartmouth and Harvard. With a strong performance there, the Saints could very well establish themselves as the team to beat.
2. Dartmouth
2004-05 Record: (27-8-0, 16-4-0 ECACHL)
Head Coach: Mark Hudak (51-16-2, 3rd season) has led Dartmouth to a No. 1 national ranking and Frozen Four appearance in each of his two seasons and has served seven seasons on the program's coaching staff.
2004-05 Stat Summary: Dartmouth was third nationally in scoring and power play but just 13th and 16th in scoring defense and penalty kill, respectively.
Key Departures: Four of the teams' top five scorers and All-League defenseman Alana BreMiller are not back this season. Seniors Cherie Piper (23-37-60), Katie Weatherston (38-15-53), and Gillian Apps (16-26-42) are all training with Team Canada, and captain Meagan Walton (11-29-40) has graduated. Junior goalie Christine Capuano (12-2-0, 1.93, .903) whose career was marked by flashes of brilliance and injuries, did not return. Sarah Parsons, Dartmouth's top recruit, was selected to the U.S. national team before she arrived.
Key Returnees: Tiffany Hagge (27-21-48) is the second-leading returning goal scorer in the nation, and she was especially hot in the second half. Junior Caroline Ethier (11-7-18) has been the top scorer of her class. Senior Kate Lane (15-6-0, 2.61, .891) has been Dartmouth's No. 1 goalie in the last two Frozen Fours.
Key Newcomers: Freshman Carli Clemis was a top goalie with the U-18 Alberta team and could give Lane immediate competition for the goaltending job. Forward Maggie Kennedy was the top scorer for the Connecticut Polar Bears club. Forward Kelly Marcotte stood out among the youth with the Oval X-Treme. Shannon Bowman was a member of the Canadian national inline team.
Outlook: This is the most inexperienced roster Dartmouth has had since the 1999-2000 team that had no seniors but still advanced to the national tournament. Last year Dartmouth struggled with a short roster, compounded by injuries and national team callups, and although this year's team only has one more player, this roster should at least provide more unity and stability throughout the season. Goaltending remains a question mark, but it can only get better from what Dartmouth had last season.
3. Harvard
2004-05 Record: (26-7-3, 17-1-2)
Head Coach: Katey Stone (227-103-13, 11th season), the ACHA Coach of the Year in 1999 and the ECAC Coach of the Year in 1999 and 2005, led Harvard to the national title in 1999 and appearances in the last three NCAA championship games.
2004-05 Stat Summary: Harvard's special teams were solid as usual with a power play ranked second in the nation and a penalty kill ranked fourth. The team was fourth in total offense and sixth in total defense.
Key Departures: Harvard is the only team in the nation to lose its top five scorers. Start with Nicole Corriero (59-32-91) who set the single season goal-scoring record a year ago. Linemates Julie Chu (13-56-69) and Sarah Vaillancourt (25-42-67) are with Team USA and Team Canada, respectively. All-ECACHL defenseman Ashley Banfield (9-32-41) has graduated and junior Caitlin Cahow (6-29-35) was selected to her first U.S. national team.
Key Returnees: Harvard will need an even bigger season from goalie Ali Boe (22-6-2, 1.86, .912), who overcome a rough start and became a difference-maker down the stretch. Jennifer Raimondi (8-15-23) with 68 career points is Harvard's top returning scorer. Both juniors Katie Johnston (5-13-18) and Jennifer Sifers (6-6-12) have been playing on Harvard's top two lines for most of their careers.
Key Newcomers: Harvard's in the best shape on the defensive end with two 5'10 recruits, Kati Vaughn and Lauren Herrington. Vaughn is a standout at Choate and the Connecticut Polar Bears, like Harvard superstars Angela Ruggiero and Julie Chu before her. Brittany Martin looks to continue Chanda Gunn's tradition of strong Californian goalies in college hockey.
Outlook: Harvard was a top 10 team in a similar transition period of 2002. While this team is stronger in net with more defensive depth than four years ago, it lacks the obvious impact scorers. Harvard has consistently built one of the top power play units in the country since 1999, even in 2002, but never before has the team lost its entire top unit. A number of different players will have to step up into new roles. Harvard teams this decade have consistently done as good or better than preseason predictions, largely thanks to strong conditioning through the course of the season. On paper, the Crimson appears to have too many holes to contend for the league or national title, but if any team's earned the benefit of the doubt relative to what's on paper, it's this one.
4. Princeton
2004-05 Record: (16-10-5, 10-7-3 ECACHL)
Head Coach: Jeff Kampersal (135-113-21, 10th season) led the Tigers to back-to-back 20-win seasons from 2002-2004. He was the ECAC Coach of the Year in 2001-02.
2004-05 Stat Summary: Princeton was a disappointing 13th nationally in offense and 9th on the power play. The defense was 7th overall but just 11th on the penalty kill.
Key Departures: The team was set to return its nine leading scorers until No. 2 scorer Liz Keady (15-13-28) earned a selection to the U.S. national camp. The team lost three seniors to graduation, mostly defensive players, including former All-Rookie selection Katharine Maglione.
Key Returnees: Roxanne Gaudiel (15-10-5, 1.88, .926) ranked among the nation's best goalies a year ago. All-League junior Dina McCumber (3-18-21) is the leading returning scoring defenseman nationally. Juniors Kim Pearce (15-15-30), Laura Watt (9-17-26), and senior Heather Jackson (6-17-23) are the top returning scorers overall.
Key Newcomers: Princeton's incoming class fills its defensive holes with three recruits in that area. One defender of note is Katherine Dineen, who played for the same Minnesota Thoroughbred team as Princeton standouts Nikola Holmes and Megan Van Beusekom. The team also brings in two forwards and a goalie.
Outlook: Princeton struggled to score last season, its first since the graduation of All-League forward Gretchen Anderson, and the loss of Keady obviously won't help in that regard. That said, the Tigers' ECACHL rivals aside from St. Lawrence also have less offensive punch than a year ago, so Princeton could win more low-scoring games. Defensively, Princeton started strong but faded down the stretch, giving up four goals or more in five of its last 10 games, after going 20 straight games without allowing four goals. The Tigers will be challenged to regain that good form, especially while working younger players in on the defensive end.
5. Colgate
2004-05 Record: (16-15-4, 9-7-4 ECACHL)
Head Coach: Scott Wiley (44-53-8, 4th season), a St. Lawrence alum, was the ECAC Coach of the Year in 2003-04.
2004-05 Stat Summary: Colgate was 6th in the conference on total offense and was tied for 2nd in total defense. The power play was 5th and the penalty kill was 3rd. The Raiders took the second-fewest penalties in the conference.
Key Departures: The team loses leading scorer Amanda Barre (20-19-39) and former All-League goalie Rebecca Lahar (10-10-0, 2.43, .906).
Key Returnees: Junior goalie Brook Wheeler (6-5-4, 1.76, .931) was as good or better than Lahar throughout the season. Seniors Becky Irvine (14-25-39) and Allison Paiano (14-18-32) give Colgate plenty of returning firepower, and defenseman Tara French (2-15-17) was the 4th-leading scorer and a Canadian U-22 selection.
Key Newcomers: Good things seem to come in pairs for Colgate, as the program recruited pairs of forwards from both the Syracuse Stars and the Bowness Bruins in Calgary. The team brings in 5'11 defenseman Clancy Todd from Ontario and All-N.E. Prep defenseman Kiira Dosdall.
Outlook: The Raiders have been stuck at seventh-place for three straight seasons, but with no irreplaceable losses to graduation and league rivals getting hit hard by the Olympic absences, this could be the year they finally make a move.
6. Yale
2004-05 Record: (16-15-1, 12-7-1 ECACHL)
Head Coach: Hilary Witt (37-51-6, 4th season), a former Northeastern star, was the ECAC Coach of the Year in 2002-03.
2004-05 Stat Summary: Yale was just 7th in conference scoring offense and 8th in scoring defense. The power play was 9th and the penalty kill was 7th, atypical numbers for a team that placed fourth in the conference.
Key Departures: Yale lost two key players on the defensive end, captain and second-leading scorer Erin Duggan (11-16-27), and U.S. national team selection Helen Resor (7-11-18), a sophomore.
Key Returnees: Senior goalie Sarah Love (14-13-1, 2.65, .907) was a preseason All-League selection. Juniors Jenna Spring (13-15-28) and Kristin Savard (9-15-24) and senior Deena Caplette (10-16-26) are the top returning scorers.
Key Newcomers: Carry Resor gives Yale its third straight recruiting class with a Resor, joining cousin Helen and sister Nina. Yale has seven recruits in all, including 5'10 forward Sarah Tittman from Wisconsin.
Outlook: 2004-05 was a record-breaking season for Yale, and it'll be tough to improve on that success. Love at times has looked like the best goalie in the country, but Yale had a long stretch of inconsistency in the defensive end a year ago. With the team more inexperienced on the blue line now, it probably won't get any easier.
7. Brown
2004-05 Record: (15-15-2, 11-8-1 ECACHL)
Head Coach: Digit Murphy (276-129-36, 17th season) is the winningest active coach in the sport, and she last led Brown to ECAC titles in 2000 and 2002.
2004-05 Stat Summary: Brown had impressive special teams with the conference's third-best power play and second-best penalty kill, but was in the middle of the pack otherwise..
Key Departures: Forward Jessica Link (16-12-28) was the team's top scorer. Her senior year was injury plagued, but she had accounted for more than half of Brown's offense as a junior. All-League defenseman Amy McLaughlin (5-11-16) transferred to UNH for her final season of eligibility.
Key Returnees: Sophomore Hayley Moore (11-15-26) is an All-Rookie selection and the top returning scorer. Junior Kathryn Moos (7-15-22) is a great all-around athlete. Myria Heinhuis is Brown's All-League defenseman. Duties in net were split between Stacey Silverman and O'Hara Shipe.
Key Newcomers: Kim McManus, sister of recent Brown graduate Krissy McManus, was the leading scorer for Lawrence for the last two years and a perennial All-League player. Goalie Nicole Stock was a two-time Prep team MVP for Choate, and she could get playing time right away.
Outlook: After a disappointing season with a senior class plagued by injuries, this year should be a step back in the right direction for Brown, even if it doesn't result in a higher finish in the standings. There's plenty of talent in the younger classes, so this team could be a national contender again in a couple years.
8. Clarkson
2004-05 Record: (13-17-6, 7-12-1 ECACHL)
Head Coach: Rick Seeley (83-45-13, 3rd season) started up the Clarkson program after bringing success to D-III Manhattanville.
2004-05 Stat Summary: Clarkson took the fewest penalties in the ECACHL and was in the middle of the pack otherwise.
Key Departures: A fledgling program, Clarkson had no losses to graduation.
Key Returnees: Junior Jill Nolan (14-7-21) led a balanced Clarkson scoring attack. Kira McDonald (10-15-3, 2.25, .917) earned the bulk of Golden Knight starts.
Key Newcomers: The team brings in two forwards and three defensemen to complement 18 returning players. Among them is defenseman Kelsey Fletcher, a Ms. Minnesota hockey finalist, Micheleeen Devine, the top scorer in Alberta midget play, and a pair of players from the Quebec U-22 team.
Outlook: Despite always not getting the results, the Golden Knights always earned praise last season for how hard they worked. With strong goaltending and improved experience and depth, the Golden Knights should be capable of pulling a few more upsets this season.
9. Quinnipiac
2004-05 Record: (5-26-2, 0-12-0 CHA)
Head Coach: Michael Barrett (21-72-6, 4th season) is in his fourth season with the Bobcats since a winning run with the Sacred Heart program.
2004-05 Stat Summary: Quinnipiac was near the bottom nationally in scoring offense and defense and last nationally on the power play.
Key Departures: Gillian Gallagher (8-9-17) was the team's leading scorer.
Key Returnee: Sophomore Aimee Whittaker (10-6-16) was the team's top goal scorer as a freshman.
Key Newcomers: The incoming freshmen class of seven loaded with Ontario talent should provide a big boost to Quinnipiac in its first season of ECACHL play. Defensemen Nicolette Leone and Trudy Reyns and forward Hayley McMeekin all have NWHL experience.
Outlook: After slipping to five wins last season, the Bobcats should take a step forward this season and debut ahead of Cornell and Union – teams they've handled in recent years. It'll be tough for them to get ahead of Clarkson, who they took one of four points from in last season's weekend series.
10. Cornell
2004-05 Record: (3-22-3, 3-16-1 ECACHL)
Head Coach: Doug Derraugh (1st season, Cornell '91) is serving as interim coach while Melody Davidson coaches the Canadian national team.
2004-05 Stat Summary: Cornell was at or near the bottom of the conference in most categories with the penalty kill being a particular area of weakness.
Key Departures: The team graduated just three seniors, two on the defensive end.
Key Returnees: Brianne Schmidt (9-7-16) led the team in scoring a year ago. Senior Jen Munhofen has been the top scorer in the past.
Key Newcomers: Cornell has four recruits, led by Brianne Gilbert, an MVP with the Toronto Junior Aeros.
Outlook: Cornell should be more competitive this season, but it will be tough to move up in the standings in this league.
11. Union
2004-05 Record: (5-27-1, 0-20-0 ECACHL)
Head Coach: Tim Gerrish (5-27-1, 2nd season) is a former Middlebury assistant coach and current U.S. women's national team assistant.
2004-05 Stat Summary: Union was last in the league in scoring offense and defense and near the bottom in other categories.
Key Departures: The team graduated just four seniors.
Key Returnee: Junior Elisa Nichols (14-5-19) scored twice as many goals as any Union player.
Key Newcomers: Union has eight incoming recruits.
Outlook: Union was a bit more competitive last season, its second in D-I, and the progress should continue this season, but the program still has a long way to go before escaping the league cellar.