One could make a case that Minnesota State didn't have many things going in its favor in an eighth-place campaign a year ago. It did have David Backes and Travis Morin, and one of the best things going into this season is they're both back to help the Mavericks in their drive to get back among the WCHA's top teams.
In his first two seasons in the WCHA, Backes has emerged as one of the league's most exciting players, even if his team wasn't among the conference's best. When he was paired with Morin last season, the Mavericks had a great one-two punch to drive their offense.
But the defense wasn't up to par. If that issue can be shored up by a more experienced group this season, Minnesota State figures to have a decent chance to make inroads toward a better season.
"For the first time in a while, we're going to have an experienced team again," Mavericks coach Troy Jutting said. "I think we've got some older kids again now and we've got experienced defensemen and a good group of experienced forwards back, so I think that'll be a big asset for us."
The Mavericks return three 10-goal scorers — Backes, Morin and sophomore Ryan Carter — and have potential for more offense if they can stay healthy, but that won't mean much if the team doesn't get better defense and goaltending.
Minnesota State ranked 54th of 58 NCAA Division I teams in defense last season, and none of the three goaltenders who played was able to crack the .900 mark in save percentage.
The Mavericks were merely average on the penalty kill last season, and that's an area to which Jutting is pointing as a spot for improvement.
"In our league it's tough enough as it is and when you're playing a man down it becomes very tough," he said. "And we've got kids back there [on defense] now that are experienced veterans. We've played a lot of freshmen and sophomores the last two years and our league can be very unforgiving in that respect. I think now we've got an experienced defensive corps but we've also got two freshman goaltenders out of three kids, too."
Junior Chris Clark, who started 15 games last season, is the only returner. He's joined by newcomers Dan Tormey and Mike Zacharias. Jutting pointed out that there has been no shortage of quality seasons from WCHA freshman goaltenders recently, but said any of the three could emerge as the starter.
"I think it's a situation where you'll probably see two goalies go for a while at least, if not the whole season," Jutting said. "It's definitely a situation that needs to resolve itself through playing time. I think it'll take us a while to get to that point, but I do like all three of them."
In front of them, the Mavericks need good seasons out of juniors Kyle Peto and Chad Brownlee and sophomore Steve Wagner, among others. Peto is known more as an offensive defenseman but his experience is vital.
Wagner got a lot of minutes as a freshman and Jutting said he should be one of the league's better defensive defensemen in time.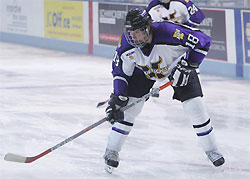 "I just think those kids now are at that stage mentally that they won't be getting rattled and they understand the situations they're going into," Jutting said. "They're all talented enough and now they've been there enough where they understand what it's going to take to be successful, and I think that's the biggest key in this league."
Up front, the Mavericks need more consistent performances from a handful of players. If Brock Becker and Jeff Marler can stay healthy, if Rob Rankin can chip in and if Austin Sutter and Joel Hanson can reach their potential, Minnesota State will have enough offense.
Backes and Morin need to go to the next level, too.
"I think any time you look at our league, teams that are successful, they usually have a couple of kids that are just a little bit different," Jutting said. "Every player in the league is a good player; it's usually those couple of difference-makers that allow you to have a chance to be successful in the league. With David and Travis now being juniors and both of them having pretty good freshman and sophomore seasons, I think they're ready to take the next step and hopefully become those difference-maker players in our league."
Remember that this is a team whose six seniors were on the team that tied for second place in their freshman year, so there's a memory of success there that could fuel them.
"I think they're excited to get back there," Jutting said.