Throughout the season, USCHO.com staffers Scott Brown and Jim Connelly will offer their views on the previous weeks' action, alternating writing duties (and occasional potshots at each other) every Tuesday. Brown will focus on the West and Connelly on the East, in a regular column exclusive to USCHO Extra.
Rush To Judgment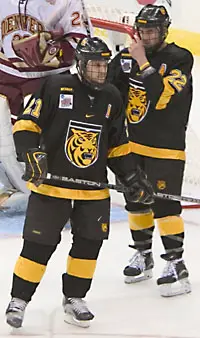 After the season's first few weeks, the muttering around the nation was about the WCHA. Just months after placing four of its teams in the national semifinals — a first not just for hockey, but for any NCAA sport — the league took its lumps in early nonconference play.
There was then-No. 1 Minnesota's 0-1-1 opening weekend at home against Alaska-Fairbanks; Minnesota State and Minnesota-Duluth both getting swept by defending CHA champion Bemidji State; Mercyhurst, out of Atlantic Hockey, taking a game from Michigan Tech; and Wisconsin splitting with St. Lawrence to open its regular season.
That's hardly the slate one expects from college hockey's "power conference."
So is the WCHA done? Hardly.
Despite some tough times, the league's reputation hasn't suffered much with voters in the USCHO.com/CSTV poll — a regionally-balanced group of Division I coaches and media representatives that captures the mood of those in the know around the country.
When Monday's poll came out, the WCHA had five of the nation's top 10 teams, headed up by Colorado College at No. 1. The combined mark of those five squads — CC, North Dakota, Minnesota, Wisconsin and Denver — was 22-9-3. And seven of their nine losses had come against teams currently ranked in the Top 20 themselves.
With conference play now under way, the WCHA won't get much of a chance to prove itself again until the holiday season rolls around. But it's a little early to declare a power shift.
And By The Way…
Now that we're done explaining away the WCHA's slow start, you might be interested to know which conference is doing the best in nonleague play. The statistics below come from USCHO's interconference stats page, one of the many neat little tidbits stashed around the site.
Here are the numbers as of Tuesday morning, Nov. 1:
Overall Nonconference Records:
Atlantic Hockey: 7-15-1 (.326)
CCHA: 19-13-2 (.588)
CHA: 10-18-0 (.357)
ECACHL: 26-14-2 (.643)
Hockey East: 18-16-1 (.529)
WCHA: 16-20-2 (.447)
Vs. The "Big Four"
Atlantic Hockey: 4-13-1 (.250)
CCHA: 15-11-2 (.571)
CHA: 8-15-0 (.348)
ECACHL: 13-12-1 (.519)
Hockey East: 12-14-1 (.463)
WCHA: 13-15-2 (.467)
Now, these numbers are hardly perfect, since they don't tell you exactly who beat who, but they are a reasonable stab at the truth. Notice the conferences that come up at the top: the ECACHL (if you count games against all other conferences), and the CCHA (if you only count the so-called "Big Four" conferences, taking out the CHA and AHA).
So which of the Big Four conferences has the worst record against its three established brethren? Surprise! It's Hockey East, a hair behind the WCHA at 12-14-1 (.463).
(That frantic tapping you hear is Jim Connelly rushing to compose his counterpoint for next week's Tuesday Morning Quarterback.)
Bucking Broncos
Ohio State and Western Michigan have built up a healthy rivalry over the past few seasons, and with the Broncos' "Lawson Lunatics" rocking for the Buckeyes' visit, a win for WMU over the then-No. 4 Bucks was hardly out of reach.
But two wins? That's what Western did, knocking off OSU Friday by the score of 5-1 before rallying from a three-goal second-period deficit to complete the sweep the next night, 5-4.
In the aftermath, Buckeye head coach John Markell gave credit where it was due. The word "great" was used both nights by Markell in describing the Broncos.
"They [Western Michigan] are a great team," said Markell after Saturday's game. "They are gonna climb right up the ladder [in the CCHA]."
Now, Markell's kudos were well-deserved — but the funny thing is that this would be the same Western Michigan team that got beat, 5-2, by second-year varsity program Robert Morris to open the season — a win that RMU head coach Derek Schooley identified as the biggest in the program's brief history.
So what gives?
Well, one thing that gave against Robert Morris was the Broncos' goaltending. Western Michigan head coach Jim Culhane had prearranged to use regular netminder Daniel Bellissimo for the first 40 minutes, and then to put in Scott Foster. The fact that the game was an unexpected 2-2 tie after two periods made no difference.
"We had talked and I don't go back on my word," Culhane said at the time. "I said to the guys going in, 'Dan is going to play the first two [periods] and Scott is going to go in the third.'"
Props to Culhane for keeping his promise, though in this case the result wasn't pretty. One minute and eighteen seconds after Foster entered the game, Colonials captain Kurt Wright put the game winner past him. Foster gave up two more goals on a total of seven third-period shots and Robert Morris coasted home with the win.
Suffice it to say that against Ohio State, there were no such issues. Bellissimo played every minute of both games, and made 73 saves as the Broncos were outshot 78-36 for the two-game series and still earned the sweep.
No Sure Things
The NCAA's offseason crackdown on hitting from behind was a direct result of the hit last season by Denver's Geoff Paukovich on North Dakota forward Robbie Bina that ended Bina's season, and cost him this one as well.
As we've already said in this space, the change in enforcement was well-considered, and plenty of players have already been slapped with the new no-excuses five-minute major and game misconduct this season.
But no rule can protect perfectly, especially in a contact sport, as this weekend's North Dakota-Denver series demonstrated. The fear leading up to the weekend in Grand Forks was that UND's players would seek revenge for the hit on Bina, a concern that proved unfounded.
But a season-ending injury was nonetheless sustained. Just minutes into Friday's contest, Sioux defenseman Matt Smaby lined up Pioneer forward Brock Trotter for a check behind the UND goal, and the result was that Smaby's skate sliced right through Trotter's Achilles tendon.
"He completely severed his Achilles heel tendon, along with two of the three major muscle groups that surround that area," Denver head coach George Gwozdecky said Saturday night, once the extent of Trotter's injury became known.
"He won't even be able to probably start skating for at least eight months. This is a very severe injury. It's not career-threatening, but because of the severity of the injury it's going to take a long time to rehab."
Eyewitness accounts indicated that the check was clean, but Trotter is still done for the year. Several months will pass before the freshman from Brandon, Man., will skate again — and this time, no rule could have prevented the injury, short of one that would ban checking.