Upset Hounds
Just one week after dropping below .500 and to the bottom edge of the USCHO.com/CSTV poll, Boston University played the role of rebound team of the week, ending two winning streaks over the weekend with wins over Vermont and Maine.
The wins came at a good time, as the Ice Dogs were on their way to a potential dismal start and last weekend had to beat Vermont, which entered 7-0-0, and Maine, which had won seven straight and held an 8-1-0 record.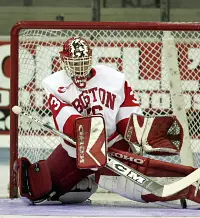 BU, on the other hand, had suffered a brutal 7-4 road loss to Massachusetts-Lowell the previous weekend before winning an exhibition game against the U.S. Under-18 team in overtime.
So what led to this BU resurrection? You can start with the play of goaltender John Curry.
In Friday's 4-2 victory over Vermont, Curry did what he had to do, making 19 saves on the night. On Sunday, though, in the 2-1 road upset of Maine, Curry played what coach Jack Parker said was like the "John Curry of last year."
"From the get-go, he was like, 'shoot and see what happens,'" said Parker.
In addition to the solid play of Curry, BU's defensemen put on two impressive performances, one that was obvious in limiting Vermont to only 21 shots on goal on Friday, and the other in Sunday's game that took a little more analysis and commentary.
According to Curry, as good as his performance was on Sunday, it was his defense that helped him along, particularly late in the game.
"We had some huge blocked shots," said Curry. "The defense played great. They have a lot of experience now. They are making the difference out there."
So which version of this Jekyll-and-Hyde team should we expect to see going forward? You guess is as good as mine. Last weekend's results catapulted the Terriers in the poll, to No. 14.
This weekend upcoming, though, will be a tell-tale sign as the BU defense will have to stifle the league's top offense when New Hampshire comes to town on Friday night. The Wildcats rank second only to Vermont in goals per game, averaging 3.37 overall.
Expecting the Unexpected?
Okay, someone tell me that I'm not the only person who was absolutely and completely stunned at the fact that Quinnipiac swept its first weekend of ECACHL league play, beating Harvard and Dartmouth, 5-2 and 7-5, respectively.
As many strange and exciting things have happened thus far this season, that just felt like a complete shocker.
I've covered Atlantic Hockey back to its days as the MAAC Hockey League. I've seen Quinnipiac team after Quinnipiac team play well within the league year after year, but once outside of league play, you'd see the Bobcats falter.
It was no surprise to see the "Q" picked dead last in the preseason ECACHL poll. And the fact that the Bobcats won non-league games against clubs like Bentley, Robert Morris and RIT didn't shock me one bit. Sure, Quinnipiac had improved from last season and they should be able to get by these clubs.
So when I read the scores Friday night and saw that Quinnipiac had upset No. 15 Harvard, I did a double-take. But then reasoning set in. It was Quinnipiac's opener in ECACHL play. It was very easy for them to come out fired up playing in front of 5,000-plus at the Hartford Civic Center (by far the largest home crowd Quinnipiac's ever drawn).
If you look at the scoresheet, Quinnipiac did score an early goal which, with a large crowd, can take the visitors off their game. So I pretty much talked myself into the fact that Quinnipiac's opening win in league play was more a result of circumstance than skill.
Then Saturday night happened.
There's no way that you can ignore two wins in the opening weekend. This is not a team winning as a result of circumstance. These wins come because of talent.
Quinnipiac spent an entire year recruiting for this moment. Coach Rand Pecknold and his assistants stepped up to the plate and hit a home run with their recruiting class. Not many teams (if any, in the country) have a rookie with nine goals and 13 points (the stats of Quinnipiac's David Marshall).
Add to the mix a couple of other point producers and a goalie (rookie Bud Fisher) who has a 6-1-0 record, a 1.90 goals against average and a .918 save percentage, and it's easy to see this is one talented freshman class.
Oh, and junior defenseman Reid Cashman is third in the nation in scoring with 16 points.
All of this raises one question: how many other teams in Atlantic Hockey are that close to success?
The fact of the matter is that Quinnipiac, by moving to the ECACHL, added seven scholarships to its program, giving it 18, the NCAA maximum. Atlantic Hockey schools, since their days under MAAC leadership, have always played with a cap of 11 scholarships. Might schools like Mercyhurst, which has had a pretty nice start to its season as well, be an even larger force to reckon with if 18 scholarships were available?
If Quinnipiac is any benchmark, the answer would be yes.
Understand me well — I'm not saying that Quinnipiac is now competitive with Michigan, Minnesota or Wisconsin. But the Bobcats turned heads this weekend. They proved that low-budget hockey can eventually emerge into a large enough program to compete and win games.
Oh Puh-leese
Am I the only one who wanted to vomit a week ago when my counterpart, Scott Brown, tried to sell us a pile of garbage?
Brown was trying to "pump down" the performance of Hockey East outside of its conference this season, noting that it has the worst record of the Big Four teams against the Big Four conferences.
Sure, Hockey East has posted a below-.500 record against the CCHA, WCHA and ECACHL combined, but that's hardly reason for panic. Still, Hockey East has a plus-.500 record in non-league play and is an impressive 6-4-1 against WCHA opponents, which most allege to be the strongest conference.
The most concerning thing about non-conference play for Hockey East is its record against its neighbor, the ECACHL. Hockey East teams are a combined 3-7-0 against the ECACHL, numbers that may need a little more investigation.
The typical top four in Hockey East — Boston College, New Hampshire, Maine and Boston University — have accounted for only one loss (BU's to Rensselaer) to ECACHL teams. That means that the ECACHL has been picking up most of its wins against the bottom of the conference.
Still, you can't overlook the ECACHL's non-league record. The conference is an impressive 8-0-1 against Atlantic Hockey, 5-2-0 against the CHA, and as mentioned 7-3-0 against Hockey East. The .643 non-league winning percentage for the ECACHL is the best among the six conferences. That's something noteworthy.
Is there a definable difference between the East and the West? Right now, I don't think so. But if one league is standing out right now, it seems to be an eastern one: the ECACHL.