Manning the blue line at only 5-9, 180 pounds, the diminutive Lee Sweatt excels as one of Colorado College's top defensemen. But he doesn't play the game bigger than he is. Sweatt uses superior speed, vision and maturity to earn playing time and respect from his coaches.
And, in turn, he has earned respect from the ice hockey community for the sport that helped develop those qualities: inline hockey.
Sweatt and defensive partner Brian Salcido faced a challenge this season in filling the skates of departed Tiger blueliners Brady Greco and Mark Stuart, who left the team to pursue professional careers last summer. The juniors have succeeded, leading the team to a 12-5-1 record and No. 5 ranking as of Dec. 9.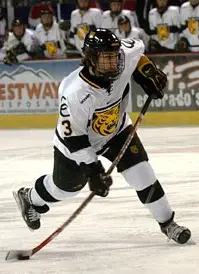 With deference to the coaching staff that recruited and now instructs Sweatt, Colorado College fans should thank inline hockey for inspiring and developing one of the Tigers' most dependable and creative defenders.
"I started ice hockey when I was five years old," began Sweatt, who sat eagerly anticipating a mid-week practice. "For the first three or four years I was playing I really wasn't very good. My parents asked me if I wanted to play roller hockey in order to get more time playing. So whenever ice hockey season was over in the summer I would play roller hockey. It kept me in contact with the sport all year."
The additional access to hockey in any form stirred the talent that lay dormant in the budding athlete. It also forced the development of skill sets not often emphasized in the ice version of the sport. With inline hockey's wide-open play — thanks to four-on-four action and lack of offsides or icing infractions — and its no-contact policy, players value stickhandling, vision and speed above qualities such as strength and size.
"There's a lot more open play which allows for a lot more creativity," explained Sweatt. "When you're playing four-on-four and no contact you get to try some things that you wouldn't have the confidence to do in ice hockey right away. So what I do in roller hockey translates over into ice hockey."
While Sweatt, an Elburn, Ill., native, spent the winters of 2001-03 with the Chicago Mission midget team and Chicago Steel of the United States Hockey League, he turned his attention to inline hockey in the summers, becoming active in the USA Hockey InLine National Junior Program. His acceleration both on his blades and up the USAHIL depth charts earned him the chance to try out for the program's national team in 2002.
"At first I thought he was too young, but the more I watched him the more I thought I should at least invite him to our national camp," said Dan Brennan, manager of the ice and inline coaching education program for USA Hockey and coach of the USAHIL national team. "He never quits on a play, in practice and in games. He brings an element of tenacity to his game. And I think that if people who have seen him on ice ever saw him on wheels, they'd be shocked at how fast he can fly."
Sweatt made the team as a 16-year-old and represented the United States alongside teammates often 10 years his senior at the 2002 International Ice Hockey Federation InLine Hockey World Championship in Germany. He went on to play at the IIHF Inline World Championship each subsequent season, earning a gold medal in 2004 and a bronze earlier this year.
"Having played in Germany myself, I like the opportunity these guys have to play some international competition," said Colorado College head coach Scott Owens, who played three seasons with the Kempten Ice Hockey Club between 1980 and 1984.
"It's a very worthwhile, broadening experience for them as people," he continued. "The fact that he's playing with older guys is an interesting dynamic as well. It's a positive thing, because they're playing with 30-year-old men and against older guys. They're looking up to the older guys and hopefully drawing something from that."
USA Hockey views Sweatt as an invaluable key to its national teams medaling in each of the past three years.
"He skates so well that he's able to jump up in a play and is able to get back if there's a turnover," said Aaron Kriss, coordinator of coaching and player development for USAHIL. "He's as fast if not faster than most of these older guys who play on a professional level."
Sweatt's maturation through international play and interaction with older players translated into early success with the Tigers. In 2003-04, the true freshman finished second among Colorado College defensemen and first in his class with 16 points (4-12).
"I think that his time with roller hockey helped him as a freshman," reflected Owens. "He was thrown right in immediately with older guys, and it really helped his transition."
Sweatt's puck-handling skills and tremendous vision learned from his summers on inline rinks translated well onto the frozen ponds of NCAA ice hockey.
"You can see it in his creative side of things," said Owens. "He has a creative look and feel, and it's been great for his skill development."
"The old school of thought is that (inline hockey) actually hurts you," added Sweatt. "But a lot of today's great college players like (Colorado College's) Brett Sterling and (Denver's) Gabe Gauthier played roller hockey and benefited from it. Coaches can't say that it's bad, because it's helped create top-notch players."
Sweatt doesn't attribute all his success in ice hockey to the inline game. In fact, he appreciates the differences between the two sports and enjoys practicing the different skill sets equally.
"I love both in different ways," he said. "I love ice hockey because it's a little more serious and you get to hit people. That aspect of the game I absolutely love. And I like the direction that ice hockey is heading in too, as it's becoming more of a finesse game and less of a clutch-and-grab game. In roller hockey you get to be as creative as you want."
Sweatt's passion for both sports passed on to his younger brother Bill, who will join Lee at Colorado College next season.
"My parents saw (inline hockey) as beneficial to my ice hockey career, as it started paying dividends right away," explained Sweatt. "So my brother followed suit and got into it when he was only five or six years old."
Bill plays forward and garnered even more international experience by playing both with the USAHIL national team in 2005 and, on the frozen stuff, with the U.S. Under-18 team for the past two years.
"Playing-wise they're as opposite as night and day," compared Brennan. "But they both have that Sweatt tenacity and work ethic. Billy plays much more of an offensive style. He's a playmaker, where Lee's more of an in-your-face, get-it-done kind of player. But I think they complement each other."
Though the two will team up for what Tigers fans hope will be a memorable season next year, Lee Sweatt knows this year could be special as well for the Colorado College icers. He hopes that even after his days in Colorado Springs, Colo., are done, however, he can still play the game that helped bring him invaluable experience and his Tigers so much success.
"I love playing roller hockey," he said smiling. "I've been exposed to three countries playing roller hockey that I never would have been able to otherwise. I'm definitely going to try to continue for as long as I can."