The Hobart Statesmen may have lost to St. Norbert, 5-4, in overtime in the national semifinal game, but that does not overshadow the fact that few teams in college sports have performed a rebuilding job like the one Hobart hockey has accomplished the past four years.
When Hobart coach Mark Taylor came to Geneva, N.Y. to take over a program that was more used to losing than winning, he knew he had to bring in recruits that would help him turn the program around. This year's senior class began that movement in the positive direction.
"These guys have made me a better coach," Taylor said. "They got this program to where it is. I want the alums to know they left it on the ice tonight. These guys can hold their heads up high."
One of those key recruits was defenseman Greg Gallagher who yesterday was named second team All-American. The 6′-1″ captain from Framingham, Mass. has been a mainstay for the Statesmen for the past four years, contributing to their turnaround. In those four years, Hobart set a school record with four straight winning seasons, for a combined mark of 63-32-11. Previously, they only had four winning seasons in their entire history.
He's played the more traditional role of a blueliner — feeding the goal scorers rather than scoring them himself. This year, he may only have had five goals, but he has 18 assists for 23 points, the nation's 11th best amongst defensemen. For his career, he scored 14 goals but accumulated 51 assists.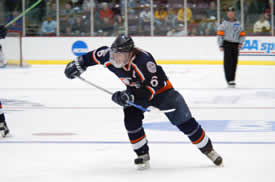 "Some guys worked extra hours to earn money and like Gallagher, were still above a 3.0 student," Taylor said. "It's a great class. If you are looking for a good man to hire…" Taylor looked over at Gallagher.
What convinced Gallagher to come to a program that didn't have a winning season for nine years?
"He's sitting right next to me," Gallagher said looking over at his coach. "I can't explain right now what it means to me. Best decision of my life. I know that."
While killing penalties, Gallagher uses his size to muscle opponents away from the crease. On the power play, he controls the flow from the right point. When the teams are at full strength, Gallagher does what it takes to help his team.
"They brought this program to a place for the future classes at Hobart," Taylor said.
Gallagher, in his four short years, has helped lead the Hobart Statesmen from perennial non-contenders to national contenders.