Much discussion through the week focused on whether or not other sporting events would attract most of the local sports fans and leave few for the women's Frozen Four. An NCAA men's basketball regional at the Metrodome, the state boy's high school basketball tournament, and a Gopher men's hockey regional game in Grand Forks, N.D. are bound to attract their share of attention.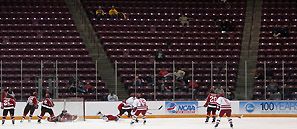 However, the biggest problem facing the women's championships at Mariucci Arena was that so few people even knew that the competition was taking place.
A sampling of 15 people at various locations around the Twin Cities revealed only one who knew that the hometown Gophers would be defending their NCAA championship.
"Sure, tonight at 7 versus New Hampshire," said a grocer stocking produce. "I'm thinking about going."
However, he said he had been unaware that Minnesota had a team for eight years, until meeting some of the Gopher players at a state fair booth last summer.
The rest of the public — at a bank, a convenience store, sports bar, and public library, did not have a clue about the Frozen Four or women's hockey in general. Many said they weren't really sports fans. Others preferred a different sport. One woman said she had attended girls' hockey in high school, but had not time for it since.
On the University of Minnesota campus, students were more aware of the program's existence, but still did not plan to attend the game. A female student sheepishly admitted she had season tickets for men's hockey, but had never been to a women's game.
It would appear that the first step for women's hockey is not to worry about competing products, but rather to educate the potential fan base that the product exists.