Golden Gopher center Ryan Potulny has decided to forgo his senior year of eligibility and has signed a professional contract with the Philadelphia Flyers of the National Hockey League, the University of Minnesota announced Wednesday.
"With the year that Ryan had, I can fully understand that he feels ready for the next level," Golden Gopher head coach Don Lucia said. "He has elevated his play in each year that he has been at the University of Minnesota. After scoring 38 goals this season, I think Ryan has proven that he is ready to take the next step in his hockey career.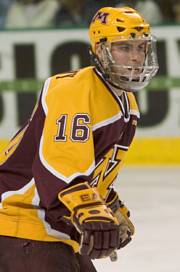 "He has been a tremendous asset and ambassador for Gopher Hockey, and we wish him nothing but the best as he embarks on his professional hockey career."
Potulny was an All-WCHA First Team honoree and 2006 Hobey Baker Memorial Award Finalist after posting career-high totals in points (63), goals (38) and assists (25). Potulny ranks first in the WCHA in points, points per game (1.54), goals, goals per game (0.93), and power-play goals (17), fifth in game-winning goals (four), sixth in power-play points (17-9–26), 11th in assists and 13th in assists per game (0.61).
His points, goals, points per game average, goals per game average and power-play goals all rank first in the nation. He had 18 multi-point games and 11 multi-goal contests this season. Potulny had at least one point in 30 of 41 games this season and a goal in 22 contests. UM was 25-4-1 when he recorded a point and 17-4-1 when he scored a goal. Potulny had 10 three-point games this season, including four hat tricks.
He was a three-time WCHA Offensive Player of the Week this season and earned National Player of the Month honors for February with 9-2–11 in six games.
Potulny finishes his career in 53rd place on Minnesota's all-time list for career points with 68-50–118, and 24th on the school's career goals chart with 68. Potulny also ranks 10th on UM's season goals list and fourth on the school's season power-play goals list with 17.
Potulny was drafted by the Philadelphia Flyers with 87th overall pick in the third round of the 2003 NHL Entry Draft. He becomes the first Golden Gopher to leave school early for the NHL since Thomas Vanek (Buffalo), Keith Ballard (Phoenix) and Jake Taylor (N.Y. Rangers) signed following the 2003-04 season.