"We are going to disband (after the upcoming season). We're telling college hockey we're folding. We're going to make it a national issue. Who's going to step up?" — Niagara head coach Dave Burkholder, to the Niagara Gazette.
The cat, as they say, is out of the bag — and this particular cat could flash some wicked claws.
The "we" in Burkholder's comments is College Hockey America. And by "stepping up," he means the possibility of some or all of the league's teams joining the other five Division I conferences, which is sure to be a topic of discussion at the annual coaches' meetings in Naples, Fla., this week.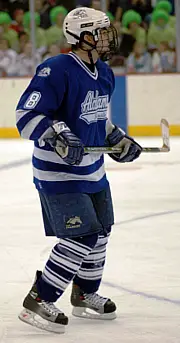 A little history is in order. The CHA began play as Division I's sixth men's conference in 1999-2000 with seven founding members: Air Force, Alabama-Huntsville, Army, Bemidji State, Findlay, Niagara and Wayne State (though WSU's varsity program did not start play until the following season).
The brainchild of Air Force head coach Frank Serratore and others, with administrative assistance from WCHA commissioner Bruce McLeod, the CHA handed the commissioner's reins to longtime Bemidji State head coach R.H. "Bob" Peters, after whom the league's postseason championship trophy is named.
Bemidji State and Alabama-Huntsville were acquainted from Division II, where the two schools competed often for the national title, winning six between them during the 1990s. Air Force had a longtime Division I program dating back to the '60s, while Niagara's D-I program started in 1996 and Findlay had just shifted its athletic program into Division II from the NAIA shortly before the CHA's formation. Army was a longtime D-I program as well, and a former ECAC member before moving to an independent schedule.
The new league made sense in that Division II was drying up — to the point where there were so few teams that the NCAA no longer sponsored a championship — and with existing D-I programs also needing a home, the CHA was born.
The problem is that the CHA was built on shifting sand. The geography was a challenge from the start, with teams as far-flung as Colorado, New York and Alabama needing to get together on a regular basis.
And the schools themselves weren't always committed to hockey or to the league. Army left after just one season in the CHA to join the MAAC Hockey League (now Atlantic Hockey). Four years later, Findlay abruptly folded its varsity hockey program, leaving the CHA with five members — one shy of the magic number of six needed to retain an autobid to the NCAA tournament.
The CHA solved that problem by recruiting varsity newcomer Robert Morris, though even at that time many thought the Colonials were a more natural fit for Atlantic Hockey.
But five is the loneliest number once more. With Air Force scheduled to join Atlantic Hockey next season, the CHA is again below the minimum of six. Talk that arose before the 2005-06 season about adding Kennesaw State — a school currently without a varsity program — has so far come to nothing, although that possibility is not closed since election-year issues in Georgia reportedly delayed the funding Kennesaw State had earmarked for hockey.
The CHA plans to play the 2006-07 season as a five-team league. It can retain its NCAA autobid for up to two years without a full complement of six teams, but once it got back to six, it would have to give up the autobid one season for each year that it used it with less than six.
That unpleasant possibility isn't exactly likely to spur interest from potential new members, which brings us back to Burkholder's comments.
If the CHA does indeed fold, the consequences across college hockey are potentially vast. Consider the following:
With only five viable leagues, there's very little growth opportunity for Division I men's hockey. There are currently 59 men's teams in D-I, and cramming that many schools into five leagues means there's not much room for anyone else to join the party. Not that anyone might want to: the demise of the CHA would likely send a signal to schools considering hockey that the sport can't support new programs.
Without the CHA, Alabama-Huntsville may have to abandon varsity hockey. UAH head coach Doug Ross has been among the most optimistic CHA insiders about the league's survival. But then again, Ross has to be. That's because among the league's five remaining teams, the Chargers have the least chance of getting into another conference. There's really no Division II to go back to, UAH is not a geographic fit for any existing D-I league, and the Chargers can't plausibly operate as an independent since most teams won't travel to play them at home without a conference schedule to mandate it. That's not to mention the near-impossibility of making the NCAA tournament without an autobid to win.
The league's other teams would not be locks to find new homes. The CCHA is reportedly considering Niagara and Wayne State — whose head coach, Bill Wilkinson, is well-known in CCHA circles as the former bench boss at Western Michigan. That would make for a 14-team league, which could get unwieldy even though both schools are reasonably good fits geographically. Robert Morris, which offers only eight scholarships, is a natural for Atlantic Hockey, but that league is up to an even 10 members next season, and might not be in the mood for an odd number. (Having said that, the possibility of adding Navy as well would give the AHA 12 teams and all three service academies, a more palatable concept.) And though Bemidji State is geographically nestled within the WCHA, its arena (John S. Glas Fieldhouse, with only 2,500 seats) would hamper a potential bid without a new building — for which funding could prove elusive.
Other prospects are less likely. Niagara has previously expressed interest in the ECACHL, but was rebuffed in favor of Quinnipiac (with Holy Cross the putative runner-up) the last time that issue came up, when Vermont left for Hockey East. And the CHA was once reportedly targeting Merrimack, but the reconfiguration that would conceivably provoke — including the possibility of current AHA member Connecticut, a big state school like most of Hockey East's members, joining the league — is far-off.
And if those teams can't get into other conferences, that raises the possibility that…
Losing multiple teams from the varsity ranks could imperil the 16-team NCAA tournament. Men's ice hockey is one of the few NCAA championships that makes money, but most of the profit comes from the Frozen Four, not the regionals. And men's hockey has one of the lowest ratios of teams to tourney bids in the entire NCAA, at a ratio of less than 4:1. Men's basketball, by comparison, is over 5:1, even though there are 65 teams in the Division I tournament. And hockey as a sport doesn't always have much pull with NCAA management, since relatively few schools sponsor it at the varsity level. Going back to 12 teams in the tournament is not out of the question if three or four varsity squads disappear from D-I in the wake of the CHA's end.
Finally, one last thought.
The loss of the CHA could accelerate the possibility of a Big Ten hockey conference. Depending on your allegiances and regional affiliation, this is either an exciting development or a terrible omen. If CHA teams were to be absorbed into existing leagues, college hockey ends up with as many as 59 Division I teams packed into five conferences, some of which would have as many as 14 members.
Cozy, no?
That gridlock could stoke the fire beneath the always-bubbling pot of a Big Ten league, which would potentially be composed of Michigan, Michigan State, Ohio State, Minnesota, Wisconsin and a sixth team like North Dakota, Penn State (which would have to move up to varsity from club status) or Notre Dame.
Since most of those schools are consistent NCAA tournament contenders (with Notre Dame back on the rise under new head coach Jeff Jackson, and Penn State potentially able to bring muscle to a new varsity program), the move would create a superconference that would wield extra power at the highest levels of the NCAA management structure. That's because the Big Ten, unlike current Division I hockey leagues, is a multisport conference with a strong national profile.
Ironically, thanks to the vagaries of the PairWise Rankings, membership in such a powerhouse conference could make it more difficult for its members to make the national tournament. No matter how good a school's nonconference record is, it would be hard for, say, a fourth- or fifth-place team with a sub-.500 conference record in the Big Ten to make the NCAAs under the current selection system. That could either blow up the Big Ten idea — or start people thinking about a new process for picking the national tournament.
We're speculating here, folks: few in positions of authority are talking about the Big Ten joining college hockey's close-knit fraternity. Heck, former Miami and Harvard head coach Mark Mazzoleni once famously said that a Big Ten conference would kill college hockey. But it's out there, and it's probably closer to reality if the CHA really does fold.