I never thought I'd say this.
Good for Jack Johnson!
The Michigan defenseman, actively being pursued by the Carolina Hurricanes to leave school and join the NHL Stanley Cup champs for the season, has basically told the 'Canes to hold their wind for at least another season.
Good for Jack Johnson!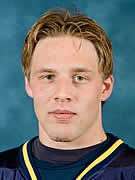 While there were many things Johnson did and said last season that have not made me a big fan of his, two things are true. He competes like a player ready for the next level, and he would be a much better pro by staying under the wing of one of hockey's best coaches (not just NCAA hockey, but all of hockey) in Red Berenson, and his staff of Mel Pearson and Billy Powers.
Let's face it. Michigan has produced a ton of NHL players, most of whom stayed the four years. Ask Eric Nystrom if he thought it was worth staying through his senior year despite being a high first-rounder by Calgary. He'll tell you, yes, it was. Trust me; I've asked him and his father, who knows a thing or two about success in the NHL.
With no disrespect intended to the Hurricanes, whose coach was a four-year collegian himself, how about letting Johnson play his sophomore year without the threat of trading his rights if he doesn't flee Ann Arbor?
In an article in the Raleigh (N.C.) News-Observer, Carolina general manager Jim Rutherford tells writer Luke Decock, "There are a lot of guys on the Hurricanes that I would not consider trading under any circumstances, but the fact is that we have a pretty good player who is not here yet and not in any hurry to get here. We'd have to listen to anyone who calls."
Oh please. Stop it.
Johnson's steady improvement last year was noticeable to those of us who spend our time in the NCAA hockey world. Johnson is probably ready to play at the NHL level, but when it comes to judging players based on more than their on-ice attributes, I think Johnson needs to stay at Michigan.
Look at some defensemen who have jumped early. Matt Carle comes to mind. Carle was ready to play in the NHL last season prior to embarking on a Hobey Baker season at Denver. Carle, off-ice, is a quiet, composed kid who gives you the impression that he really has his act wired tight. He was very businesslike on and off the ice, and looked mature beyond his years.
His decision-making was terrific; he never looked like he was affected by the pressure of being an elite player, and he was a rock for Denver for three seasons, during two of which he was part of an NCAA title team.
Johnson is a fun-loving kid who gives you the impression that his act at the NHL level might not mesh in a room run by the ultimate professional in former Michigan State Spartan Rod Brind'Amour. Johnson is goofy, will speak his mind, and is not afraid to stir the pot. When he almost killed Michigan State defenseman Tyler Howells last season with a late and unnecessary hit, he seemed to think that Howells' lack of toughness, and not his wanton disregard for double-teaming a defenseless opponent was the problem.
I admired Johnson for speaking his mind. However, his remarks lead me to believe that he has a little growing up to in terms of maturity before playing with the big boys.
But enough about Johnson. Sounds like I don't like the kid. Not true. I called him "the manchild" during a game we broadcasted on CSTV last season, and that is what he is. I love the way he plays; tough, aggressive, jumps in the play, contributes offensively, and can dominate a game. Imagine how well he'll do that in two seasons after this one, his senior year.
The point here is twofold. Johnson is making a great choice by staying. The Hurricanes, by publicly "threatening" to trade him if he doesn't sign, are acting irresponsibly. Maybe Johnson wants out of the Carolina fold. I would say it could be appealing to have his skill package wind up in a hockey hotbed like Toronto, Detroit, Montreal, Minneapolis, or Boston if Carolina can't wait.
I'll say it one more time. Good for Jack Johnson, good for Red Berenson, and good for the Michigan hockey program.
Berenson has been on record saying that "if a player is ready for the NHL and wants to leave school early, I'll drive him to the airport myself." No signs of Berenson and Johnson at Detroit Metro, so I'm guessing that Berenson sat with the Johnson family, explained the positives of both options (including the opportunity to graduate with a degree from Michigan, which is pretty darn good), and Johnson decided to stay put.
Once again, good for Jack Johnson. It is nice to see an elite underclassman decide that it is OK to stay in school.