Geneseo has chosen Chris Schultz as head men's ice hockey coach.
Schultz replaces Jason Lammers, who accepted a position as an assistant coach for Ohio State. Lammers left after one season behind the bench for Geneseo, guiding the Ice Knights to their second straight SUNYAC title.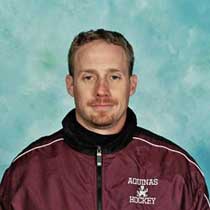 A native of Rochester, N.Y., Schultz was the assistant coach at Geneseo for three seasons and returns to the program after three seasons as the head coach at Aquinas Institute, a Rochester Catholic high school.
Schultz led Aquinas to a 54-14-3 record, including reaching the New York State Class A finals in 2006 and winning the New York State Section V Class A title in 2005. In addition, Schultz coached the Rochester Selects in the Bowman Cup Showcase in 2005 and received Section V Coach of the Year honors in 2004.
Schultz takes over an Ice Knights program that is the two-time defending champion of the SUNYAC and which has made two consecutive trips the NCAA Division III tournament.
A 1997 graduate of Geneseo, Schultz captained the team during the 1995-96 and 1996-97 seasons. In addition, Schultz's three-year tenure as Geneseo's assistant coach included the recruitment of the senior classes of the Ice Knights' recent SUNYAC titles.
"It has been a career aspiration to return to my alma mater as the head hockey coach," said Schultz. "I have followed the team closely over the years and am looking forward to working with a talented, intelligent group of men."
In addition to his coaching duties, Schultz will be responsible for the management of the Ira S. Wilson Ice Arena and will serve as the liaison to the Genesee Finger Lakes Youth Hockey organization.
"I am confident that Chris Schultz will be an outstanding leader for our program," said Marilyn Moore, director of intercollegiate athletics and recreation. "His dedication to the game and his commitment to Geneseo, especially our alumni and the community, will keep our program at the top of Division III ice hockey for years to come."