Colorado College head coach Scott Owens didn't pull any punches when he said this might be a retooling year for his Tigers.
Losing one of the best one-two scoring punches in the league in former Hobey Baker winner Marty Sertich and linemate Brett Sterling, as well as veteran blueliner Brian Salcido, this team has perhaps the biggest holes to fill of any team in the league.
When asked if his team may have to turn to the freshmen if things go sour down the road, Owens admitted that that time might already be here.
"Our goal really is to be … a good second-half team," Owens said. "We know we're going to have some growing pains here initially. People are going to have to be patient, but we do think we have a pretty good group we can work with."
Part of the problem is that very few of the team's upperclassmen have ever been asked to play a primary role on this team because Sertich and Sterling were always ahead of them.
Outside of Chad Rau's 13 goals, the most productive returning scorers only had to score seven goals last year as the Tigers found their way into their 10th NCAA tournament in the last 12 years.
For them to get back to that point this season, goaltender Matt Zaba is going to have to be nearly flawless in net, especially in the first half of the season as his teammates try to grow and develop into an offensive team.
"The kind of year that we could experience, in terms of retooling a little bit, (the freshmen) are going to be given opportunities to develop," Owens said.
Two things jumped out after a loss to the University of Calgary last weekend. First, the Tigers put 52 shots on goal and scored just twice. Owens also said that the best offensive player on the ice for his team might have been 18-year old Billy Sweatt.
Despite the talent of Sweatt, for Colorado College to put up a fight this year, those two situations have to be the exception, not the rule.
Up Front
There are so many questions to be answered here. Can Sweatt and his fellow rookies adapt to the WCHA quick enough to really be difference-makers? Can the veterans step up?
The returning forwards had 44 goals last year, while Sterling had 31 alone. The Tigers have to find a way to make up for the loss of 81 goals.
"We lost a lot of upperclassmen that played key roles for us for two years," Owens said.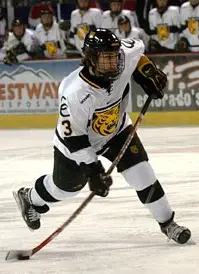 He will look towards players like Jimmy Kilpatrick, Derek Patrosso and Braydon Cox to fill in some gaps by committee.
On the Blue Line
Despite the loss of Salcido, this is another WCHA team which is pretty well-stocked on the blue line.
Owens particularly likes the fact that there is not an overabundance of defensemen from one class or another. Senior Lee Sweatt will lead the returning group. He had 21 points last season.
One player to watch will be rookie Kris Fredheim, who put up 14-32-46 for Notre Dame of the SJHL last year.
In the Crease
If the Tigers do find success, it will be probably be a major credit to Zaba. He was 20-14-2 with a .909 save percentage and 2.52 GAA last year, but will likely need to put up more than the four shutouts he posted last season to give his team a chance.
"Having Matt Zaba back will help us cover up a lot of our early-season mistakes," Owens said.
Patience, Tigers fans! If Zaba can keep this team in contention throughout the first half of the year, maybe this team could be a surprise after the new year.