For several years now, the Dartmouth Big Green have been touted as the team to beat in the ECACHL. That expectation reached its fruition last season with a regular-season championship, shared with Colgate. The Big Green came so close to making the NCAA tournament, but couldn't get over that hump.
Perhaps this year, it's time.
"Capturing the [regular-season] title was a great step for our program," said head coach Bob Gaudet. "When you look back at where we began a number of years ago and to think that we could win a championship, it was a dream come true and a big step for this program. We want to continue to build on that momentum.
"When we lost in Albany, it refocused our guys. We left not thinking we won a regular-season championship, but that we want more. We have a number of players attending pro camps and that's good motivation for the guys; they have a feeling about how they are in comparison to a professional player. We have a number of guys with a sense of urgency about them "
The Big Green will look to fill some of the offense lost from last season. Mike Ouellette and Eric Przepiorka have graduated, but David Jones (17-17-34) returns as the leading scorer. He will be joined by Tanner Glass (12-16-28) to form the basis of the offense.
"We have a good nucleus of forwards who will be able to get the job done for us," said Gaudet. "Glass, Jones and Nick Johnson (15-10-25) will be more than ready to bear the scoring weight.
"The guys have continued to make excellent progress. David Jones is a heckuva good player, and Nick Johnson is a legitimate sniper. J.T. Wymon is a big strong kid. He broke his ankle in the last weekend of the regular season and we missed him. He's going to be there."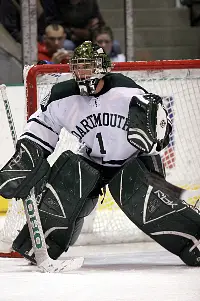 There should also be some push from four incoming forwards — Josh Gilliam, T.J. Galiardi, Joe Gaudet and Rob Smith — to help out.
"All four of our incoming players can score," said Gaudet. "Depending on how they transition to the college game, they should all contribute greatly to our program."
Grant Lewis and Ben Lovejoy will be the anchors on the Big Green blueline. Lewis, in particular, is arguably one of the best in the league, if not the nation.
"He's played a lot of hockey for us," said Gaudet of Lewis. "I think he's one of the top d-men in all of college hockey. He's a consistent performer who can do all the little things well."
Mike Devine (.915 save percentage, 2.32 GAA) returns this season as well. He played 30 games last year, taking the starting job and running with it.
"He was a real difference in our team," said Gaudet. "He was always good for a save and very rarely did he get beat on the first shot. He stole some pucks for us, which won us some games."
The Big Green have what it takes to consistently be at the top of the ECACHL. Can they take the next step to the Dance? There's no reason why not, especially if Dartmouth goes out on the right foot.
"We want to have a better start," said Gaudet. "At the beginning last year, we tried to do a lot of fancy things early; it's not even a reflection on our players. I think we didn't get out of the gate [well]. We turned the puck over a lot trying to be fancy. This year we are going to be better prepared, and not make the game too complicated."
"Our kids are a little bigger and stronger, while visibly more explosive," observed Gaudet. "The strength coach did an unbelievable job. We are a determined team. We've got some big holes to fill, but I know it's going to happen."
Thanks to Mike Volonnino for his contributions.