When we last saw Yale, the Bulldogs had been beaten by Dartmouth in the ECACHL quarterfinals after a thrilling two-game win over Union in the first round.
When we last saw Yale, we also saw Tim Taylor behind the Bulldog bench for the last time.
The Bulldogs decided to make a change, naming Yale alum Keith Allain as the next head coach of the program.
"It's a great opportunity and I'm thrilled to be back at Yale," said Allain. "This summer has been an interesting one because I'm getting to know the guys and what we have.
"[Taylor's] impact on Yale, Yale hockey, and me personally has been profound. I enthusiastically embrace the challenge of building upon his legacy while taking the Yale hockey program to the next level."
Taking over a program is difficult work, there is no doubt about it, and that's where some of the people that have been around in the past help out.
"A lot of credit goes to C.J. (Marattolo)," said Allain of his assistant coach. "He's been around and he has been a help all the way around. And Wayne Dean (Yale's Associate Athletic Director) has been around the league for many years and has been nothing but a resource for me."
Allain, a former goaltender, will be in charge of Alec Richards, who had a fine freshman campaign for the Bulldogs, finishing the season with a .912 save percentage and a 3.02 GAA. With a year under his belt and the tutelage of Allain, Richards could become a star in college hockey.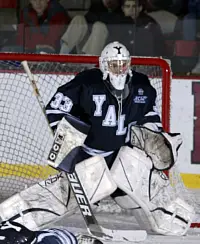 But a lot of that depends upon the defense. The Bulldogs return five defensemen from last season, led by Bill Leclerc. Matt Cohen also returns, this year as the captain of the team.
The defense will need to get involved offensively, as Leclerc and Cohen were the top two point-getters on defense that return, generating 12 goals and 12 assists last season. This means more offense is needed, especially on the power play.
Up front the Bulldogs need to find offense as well. Jean-Francois Boucher (13-10-23) is the only returner of the top four forwards offensively for Yale, and the only one with more than eight goals. Michael Karwoski (4-13-17) returns up front, as do Brad Mills (8-8-16), Blair Yaworksi (4-10-14) and David Meckler (7-3-10).
Sean Backman, Greg Beller, Chris Cahill and Mark Arcobello look to join the lineup and add some punch.
The Bulldogs can move up in the standings, but will need to get a great sophomore campaign from Richards, while Allain must gel his forwards and defense in order to find some goals. If so, the Bulldogs may capture home ice for the playoffs.
"I have great memories of the energy and passion that can only be found in a sold-out Ingalls Rink," said Allain, "and I can't wait for opening night."
Thanks to Mike Volonnino for his contributions.