Heading into the final weekend of NCHA action last season, sixteen different playoff scenarios were still in play. First through seventh place were all up for grabs, and fourth through sixth were not settled until overtime of the final game of the season.
With a season as competitive as 2005-06 was, it's hard to imagine the NCHA being capable of putting on a worthy encore performance.
It just may.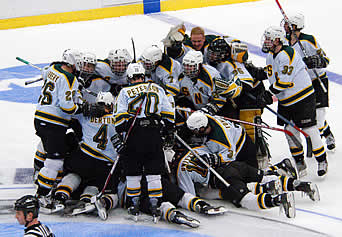 Rarely is a league as stacked top to bottom as the NCHA is this season. For the first time in at least a decade, it's feasible to look at one of possibly seven teams in the league and think "this team could win the league," only to moments later look at the same team and think "this team could finish seventh."
Blowin' in the Wind
There is an inherent diffculty in attempting to forecast a conference that refused to sort itself out last season. Where even to begin? A good starting place would seem to be the coaches as after all, who would know better than them, right?
Here is what I learned:
From Lake Forest head coach Tony Fritz, "The bottom is much better. The league is as good as or better than it was last season."
Wis.-Stevens Point head coach Joe Baldarotta tried to clear things up by explaining, "One more goal for us last season and we take third. Instead we took fifth. It's that tight."
As Fritz and Baldarotta both coach teams who were tangled up in the battle for third last season, maybe it would make sense to ask St. Norbert coach Tim Coghlin.
Naturally, the view from the top should be a clear one.
Coghlin attempted to shed light on the issue by stating that "the league looks to be that way again. I don't know if any one team is dominant enough to run it wire to wire. It really does look wide-open."
Hoping the view from near the top, let's try Steve Freeman, head coach at Wis.-River Falls, last season's NCHA runner-up.
"I've been around a long time, and I can't remember when the league has been this close. Ever," he said.
As a pattern was beginning to establish itself, St. Scholastica head coach Mark Wick was not one to break the trend.
"This year is going to be the same as last year. It may be even more competitive this year."
As coaches have a habit of being humble about their own team's potential while being more than willing to laud their opposition with praise, it's easy to chock these opinions up as being nothing more than typical coach jargon. A deeper analysis confirms however, that these guys just may be onto something. With the league taking on a surprisingly familiar look this season, it actually is fitting that the coaches themselves aren't too sure about the state of a league that was incredibly tight last season.
The Times They Aren't a Changin'
Familiarity may not even be a strong enough word to describe the NCHA this season as the league returns an overwhelming 81% of its players for the 06-07 campaign. Even more telling is the actual breakdown of the players returning.
On the offensive side of things, NCHA players scored a total of 1,973 points last season of which 1,507, or 78%, were scored by players who return for 06-07. Among these are seventeen of the top twenty 05-06 NCHA scorers.
Defensively, NCHA goalies played a total of 13,713 minutes last year with 9,941, or 73%, being logged by returning players. League goaltending depth becomes even more apparent if eighth place Wis.-Eau Claire is eliminated from the analysis. The remainder of the league then returns 82% of its goaltending.
Furthermore, aside from the graduation of goalie Steffan Braunlich from Wis.-Eau Claire, these statistics are not skewed by any one team. Rather, almost every team in the league returns the lion's share of its productivity. For fun, lets take a cursory glance at what each team has returning.
St. Norbert: They do lose their top two offensive threats, but after that return seven of the next top eight. Also return All-Americans on defense and in goal.
Wis.-Superior: Lose starting goalie and three of their top six scorers, but return the rest of their top 19.
Wis.-River Falls: Return starting goalie, not to mention fourteen of their top fifteen scorers.
Lake Forest: Top six scorers return, as do a tandem of second-year goalies that already have seen substantial league action.
Wis.-Stevens Point: Top seven scorers return along with number one netminder.
St. Scholastica: Top two goalies and top nine scorers return. It's also worth noting that all nine top offensive returnees will only be sophomores.
Wis.-Stout: Lose two of their top four scorers, after which all but seven points of offense is back. Don't expect anything new in net as all three goalies also return.
Wis.-Eau Claire: The only team to go through a roster overhaul.
The sheer quantity of firepower returning in the league this season is ample enough evidence to suggest the NCHA is in store for another wild season. With so many of the same players back for their respective teams, there is no reason to expect these same teams to not battle it out down to the final Saturday of the season.
Bringing it all Back Home
For the first time since 2000 the Division III Frozen Four will be held in the West Region. Once again being held at Wessman Arena in Superior, Wis., the opportunity to potentially play for a championship at a "home" arena is serving to be extra motivation for some teams in the NCHA.
"Another thing is that the Frozen Four is finally out West again this season," said Coghlin. "No question it's extra motivation as it's an exciting event to attend. We've been fortunate to have made a couple Frozen Fours and this one will be a great event to attend whether or not we are playing in it."
Freeman had similar sentiments stating, "Absolutely it's a big deal. Being out here again should serve as extra motivation for our guys. It's a great event to attend even if I'm not on the bench."
While Wis.-River Falls and St. Norbert are just two many NCHA teams who may have their eyes set on Superior, the team that might have the most to play for is Wis.-Superior. Having come one win away from the Frozen Four last season, the Yellowjackets are a perennial threat who would no doubt love to play for a national title on their home ice.
With much of the league looking forward to an in-region Frozen Four, the added pressure of a chance to play for a title near home is just more fuel to what is already expected to be an extremely competitive NCHA fire. Fasten your seat belts.
No Time to Think
What does this all tell us? It tell us that this could be the most entertaining NCHA season in ages. It tell us that any single point earned in conference play could carry extreme importance come February. It tells us that although everyone knows what to expect from each team individually, no one knows what to expect from them collectively. And most importantly, it tells us that I'm not fooling anyone here as neither me nor anyone else has a clue what will happen.
That won't deter me from guessing however, so here is a team by team breakdown of the league along with my preliminary guess at how the league will end up. Emphasis on the word "guess".
Click on any team name at the top of a section below to view its individual season preview.
2006-07 NCHA (In Reverse Order of Predicted Finish)
[nl]Wisconsin-Eau Claire
Head coach: Luke Strand, second season overall and at Wis.-Eau Claire (2-21-4)
2005-06 overall record: 2-21-4
2005-06 NCHA record: 0-12-2 (8th in NCHA)
Key returners: F Brooks Lockwood, sr. (8-7-15); D Kyle Garner, sr. (1-9-10)
Key losses: F Chip Dunleavy (13-4-17); G Steffan Braunlich (2-19-2, 3.50, .895)
2006-07 projected finish: Eighth
Outlook: As Luke Strand and the Blugolds enter their second season together, it's apparent that they have nowhere to go but up. In what is certainly good news, the rebound may have already begun last season.
[nl]Wisconsin-Stout
Head coach: Terry Watkins, 11th season overall and at Wis.-Stout (101-157-13)
2005-06 overall record: 15-13-0
2005-06 NCHA record: 6-8-0 (7th in NCHA)
Key returners: F Andrew Stearns, sr. (14-8-22); Cory Mozak, so. (4-12-16); F Matt Mlynarczyk, sr. (6-9-15); F Jake Erickson, so. (6-6-12); D Todd Wynia (5-6-11 in 2004-05); G Matt Koenig, so. (6-6-0, 3.04, .897); G Mike Stone, jr. (9-7-0, 3.19, .909)
Key losses: D Mike Kautz (7-8-15); F Justin Huth (4-17-21)
2006-07 projected finish: Seventh
Outlook: The Blue Devils surprised the league last season by knocking off Wis.-River Falls in the first round of the NCHA playoffs. Though they dropped their semifinal game at St. Norbert, there is still plenty of optimism surrounding this year's club.
[nl]Lake Forest
Head coach: Tony Fritz, 29th season overall and at Lake Forest (331-348-46)
2005-06 overall record: 15-13-0
2005-06 NCHA record: 7-7-0 (4th in NCHA)
Key returners: F Mike Kneeland, so. (15-25-40); F Tyler Canal sr. (14-17-31); G Brandon Kohuch, so. (9-5-0, 2.82, .925); G Scott Campbell, so. (6-8-0, 2.97, .924); F Brian Lee, jr. (9-9-18)
Key losses: F Tyler Steen (4-6-10); D Bryan Lafevor (3-9-12); F Cory Wilson (7-5-12); D Andrew Ferrier (1-1-2)
2006-07 projected finish: Sixth
Outlook: The Foresters are anchored by a pair of second year goalies in Brandon Kohuch and Scott Campbell. Much like last season, it is expected time will be split between the two — a luxury that head coach Tony Fritz is happy to have.
[nl]St. Scholastica
Head coach: Mark Wick, 3rd season overall and at St. Scholastica (20-27-7)
2005-06 overall record: 15-10-2
2005-06 NCHA record: 6-7-1 (6th)
Key returners: F Joey Martini, so. (17-14-31); F A.J. Tucker, so. (9-21-30); F Trevor Geiger, so. (12-12-24); D Kelly Reynolds, so. (2-13-15); F Jake Nelson, so. (8-12-20); G Steve Bounds, so. (9-7-2, 2.76, .904), G Tyler Johnson, jr. (6-3-0, 2.57, .893)
Key losses: F Curtis Markewich (4-8-12); F Dustin Sieben (7-3-10); Shawn Bartlette (5-6-11)
2006-07 projected finish: Fifth
Outlook: The cat is out of the bag on the Saints. Although they dropped their final two games last season and fell to sixth in the conference, the Saints are coming off their first winning season in twenty years and definitely won't be sneaking up on anyone this time around.
[nl]Wisconsin-Stevens Point
Head Coach: Joe Baldarotta, 16th season overall and at Wis.-Stevens Point (258-153-36)
2005-06 overall record: 12-11-4
2005-06 NCHA record: 6-6-2 (5th)
Key returners: G Marcus Paulson (10-8-3, 2.88, .893); F Sean Fish, so. (9-16-25); F Russell Law, so. (13-9-22); F Rolf Ulvin, sr. (8-16-24); F Dan Francis, sr. (9-7-16 in 2004-05)
Key losses: D James Jernberg (3-8-11)
2006-07 projected finish: Fourth
Outlook: Only a 2-2 tie in the final game of the season kept the Pointers from locking up home ice in the playoffs last year. For Stevens Point to improve on what ultimately ended up being a fifth place finish, they must find a way to be more consistent.
[nl]Wisconsin-Superior
Head Coach: Dan Stauber, 7th season overall and at Wis.-Superior (127-36-22)
2005-06 overall record: 18-10-3
2005-06 NCHA record: 7-5-2 (3rd)
Key Returners: F Nate Rein, so. (16-13-29); F Myles Palliser, sr. (10-14-24); D Derek Paige, jr. (0-11-11)
Key Losses: G Mathieu Bonnelly (13-5-2, 2.22, .917); F B.J. Radovich (15-9-24); F Jay Dardis (4-14-18); F Derek Miller (7-14-21)
2006-07 projected finish: Third
Outlook: If things fall correctly for the Yellowjackets, 2006-07 could be a season of destiny. Having a history of playoff success, as well as being the last NCHA team to win a national title, Superior is bound to be mindful of the opportunity to play for a national championship on home ice.
[nl]Wisconsin-River Falls
Head Coach: Steve Freeman, 11th season overall and at Wis.-River Falls (199-85-19)
2005-06 overall record: 17-7-3
2005-06 NCHA record: 9-4-1 (2nd)
Key Returners: G A.J. Bucchino, so. (10-5-3, 2.08, .938); F Derek Hansberry, so. (18-16-34); F Tyler Dahl, jr. (9-22-31); F Pat Borgestad, jr. (13-13-26)
Key Losses: D Mike Salmela (3-12-15)
2006-07 projected finish: Second
Outlook: The Falcons' new logo is about the only new thing they will be sporting this season. Returning a starting goaltender and fourteen of their top fifteen scorers, the Falcons are in prime position to improve on last season's NCHA runner-up finish.
[nl]St. Norbert
Head Coach: Tim Coghlin, 14th season overall and at St. Norbert (270-87-29)
2005-06 overall record: 25-5-2
2005-06 NCHA record: 10-2-2 (1st)
Key Returners: G Kyle Jones, jr. (24-4-2, 1.76, .919); D Andrew Derton, sr. (10-24-34); F Marc Belanger, jr. (11-18-29); F Kurtis Peterson, sr. (12-9-21); D Sheldon Wing, sr. (7-16-23); F Jeff Hazelwood, so. (7-19-26)
Key Losses: F Connor Hughes (22-22-44); F Andy Cote (21-15-36); F Spencer Carbery (11-12-23)
2006-07 projected finish: First
Outlook: In a league that seems bent on making things as convoluted as possible, it's only fitting that the defending champions were the ones who had to bear the most significant losses to graduation. Eleven players are gone from last season's Green Knight roster, eight of whom were forwards.